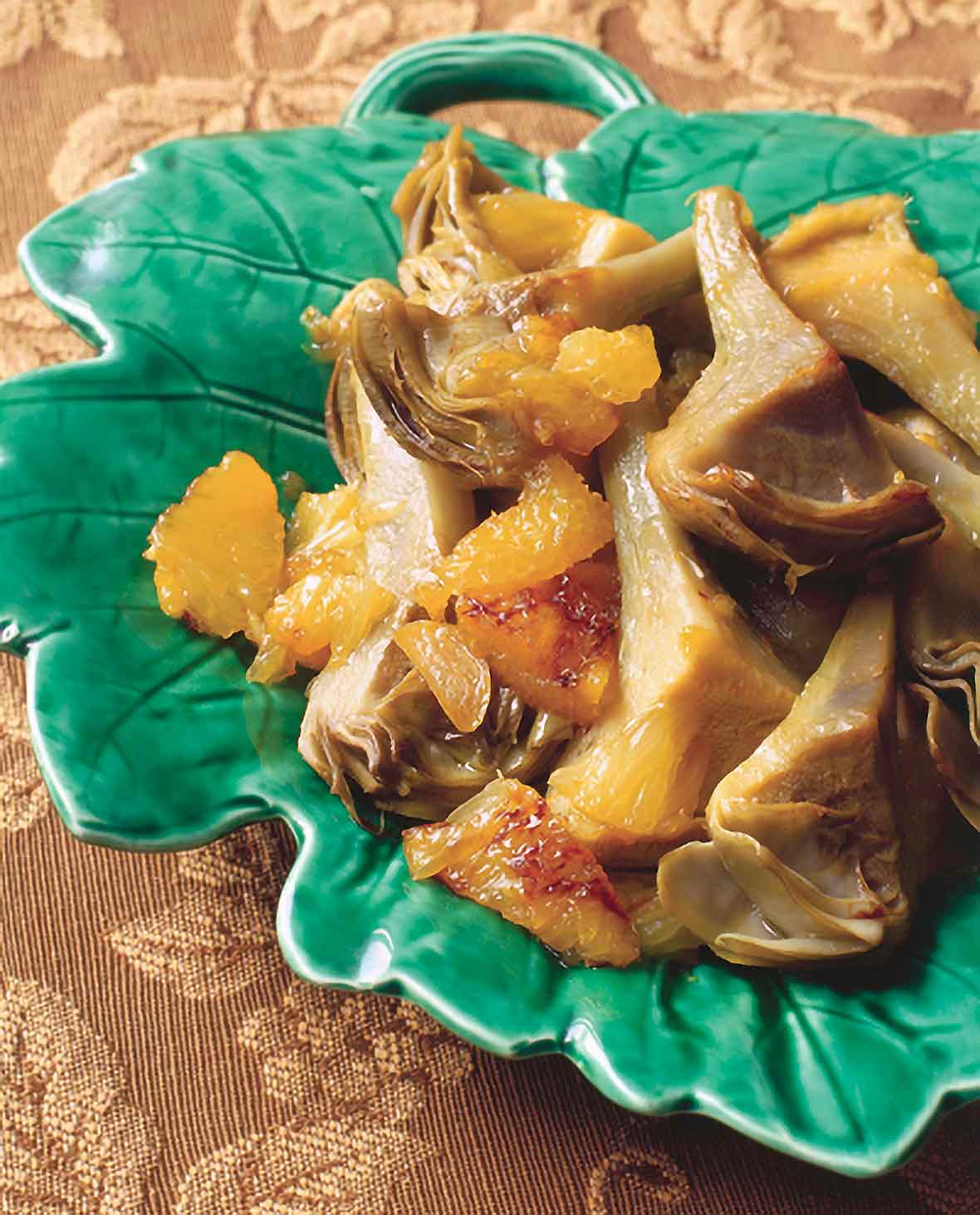 This rich and bright combination of artichokes and oranges is one of the most delightful in the North African Jewish repertoire. Similar to many vegetable compote type dishes in which lots of citric juice keep the outside of vegetable rigid, the inside has the soft and unctuous texture of bone marrow.–Paula Wolfert
LC In Paula We Trust Note
Artichokes, oranges, garlic and coriander—all in a single recipe? It may seem unlikely, but we trust Paula Wolfert, and you should, too. She knows exactly what she's doing.
Compote of Artichoke, Orange, Coriander, and Mint
Quick Glance
20 M
1 H, 20 M

Serves 4 to 6
Ingredients
Email Grocery List
12 flat-leaf parsley leaves

3 large artichokes

1 lemon, halved

2 tablespoons extra-virgin olive oil

2 garlic cloves, peeled and sliced

Juice of 1 orange

3 teaspoons sugar

1 teaspoon salt

1/2 teaspoon freshly ground pepper

2 oranges, peeled, white membrane removed and sectioned (approximately 1 cup)

Pinch of ground coriander

Salt and freshly ground pepper, to taste

2 sprigs mint
Directions
1. Preheat the oven to 350°F (175°C).

2. Fill a large bowl with cold water. Crush the parsley leaves in your hand and add them to the bowl. Trim the artichokes by first snapping off the tough outer leaves near the base. Use a stainless steel knife to cut off the stems, then trim the crowns to within 1 1/2 inches of the base. Use a melon baller to scoop out the hairy chokes and scrape around the inner sides to widen the cavity. Use a small knife to carefully trim the leaves then pare any remaining hard green parts. As you work with each artichoke, rub it with the one of the lemon halves to prevent discoloration. Cut each bottom in half and keep submerged in the parsleyed water.

3. Heat 2 tablespoons of olive oil in a flameproof earthenware or stainless shallow saucepan, add the garlic and saute gently for 1 minute. Add the orange juice, juice of the remaining lemon half, sugar, and the salt and pepper. Cook, stirring for an instant. Drain the artichokes and add them to the pan along with 1/3 cup of the parsleyed water. Stir to combine. Cover with a circle of crumbled, wet parchment paper, and set the pan in the oven to bake for 1 hour.

4. Remove the dish from the oven and place it on the stove. Discard the paper. Add the orange sections and ground coriander, and cook over medium high heat, stirring occasionally, until the liquid turns a nutty brown and the artichokes and oranges are well glazed, about 5 minutes. Remove from the heat, allow to cool to room temperature and correct the seasoning with salt, pepper, a few drops of lemon juice, and a drizzle of fresh oil. Serve cool or chilled the following day decorated with fresh sprigs of mint.
Compote of Artichoke, Orange, Coriander, and Mint Recipe © 2003 Paula Wolfert. Photo © 2003 Christopher Hirsheimer. All rights reserved. All materials used with permission.
If you make this recipe, snap a photo and hashtag it #LeitesCulinaria. We'd love to see your creations on Instagram, Facebook, and Twitter.