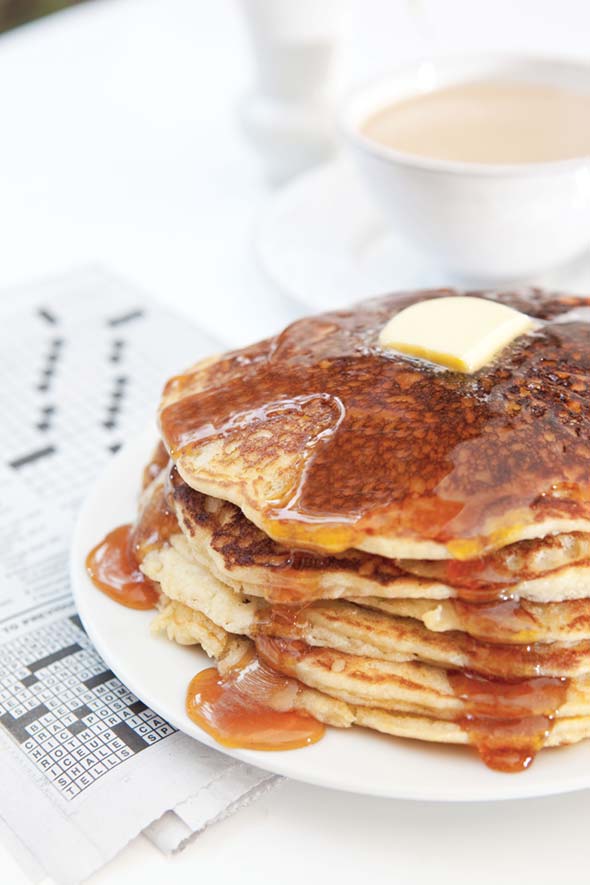 Yup. Pancake Day.
You may know today better as Mardi Gras, Fat Tuesday, or even, if you're of a certain age, Shrove Tuesday. Yet they each share the same origins. See, "shrove" comes from the Old English term "shriving," which means a confessing of the sins. This cleansing of the soul was mandatory for all churchgoers prior to the somber days of religious reflection designated as Lent. Given that Lent commences with Ash Wednesday, the Tuesday before it was the last chance to shrive. Hence Shrove Tuesday.
A little patience, please. We're getting to the pancakes.
Lent itself—those 40 loooooooooong days between Ash Wednesday and Easter–has always been signified not just by a spiritual detox but a physical one as well, requiring abstinence from all manner of everyday indulgences. On the do-not-ingest list is anything fatty fat fat. Butter. Eggs. Milk. In those not so hygienic Middle Age days, such highly perishable commodities would just go to waste if not consumed prior to Ash Wednesday. (Remember, back then you couldn't cheat on Fridays.) So thrifty housewives had to think of a way to put to good use the last of their butter, eggs, and milk by Shrove Tuesday.
Such as pancakes.
It's not difficult to understand how the name translated in not-so-pious circles to—say it with us—Pancake Day. And so Shrove Tuesday became known as a day to parake in a little sumpin' sumpin' special leading up to the days of privation that followed. Cleanse the soul, indulge the body.
And so who are we to turn away tradition? Although we're as happy as the next penitent person to be granted an excuse to make hot cakes, we thought it rather confining to restrict the butter-egg-milk gluttony to just pancakes. Below you'll find a little inspiration in case you find yourself giddy and overwhelmed by options, regardless of whether  you're Christian, Buddhist, Jewish, or Rastafarian, and no matter if you have no intentions of abstaining in the days to come.—Renee Schettler Rossi
Pancake Recipes
Gluten-Free Sunday (or Any Day) Pancakes
Clinton St. Bakery Company Pancakes
Whole-Wheat Pancakes with Strawberry Sauce
A Little Sumpin' Sumpin'  Besides Pancakes
Salted Butter Tart
Funnel Cakes
Bacon, Egg, and Cheddar Scones
Coffee Spice Cake
Gianduia Brownies
Chocolate Torte
Pain Perdu with Crème Fraîche and Raspberries
Rich Vanilla Ice Cream
Thankful Butterscotch Cake
Parmesan and Gruyère Cheese Soufflé
German Chocolate Cake with Coconut-Pecan Filling
Bourbon Milk Punch
Deep-Dish Brioche French Toast
Chocolate French Mousse Cake