Pickled spring vegetables–asparagus, carrots, radishes, green beans, and snap peas–are pickled for as little as 8 hours. They offer the crunch and flavor you want in a snack without being filling. Serve them with a vinaigrette spiked with mustard seeds and lemon.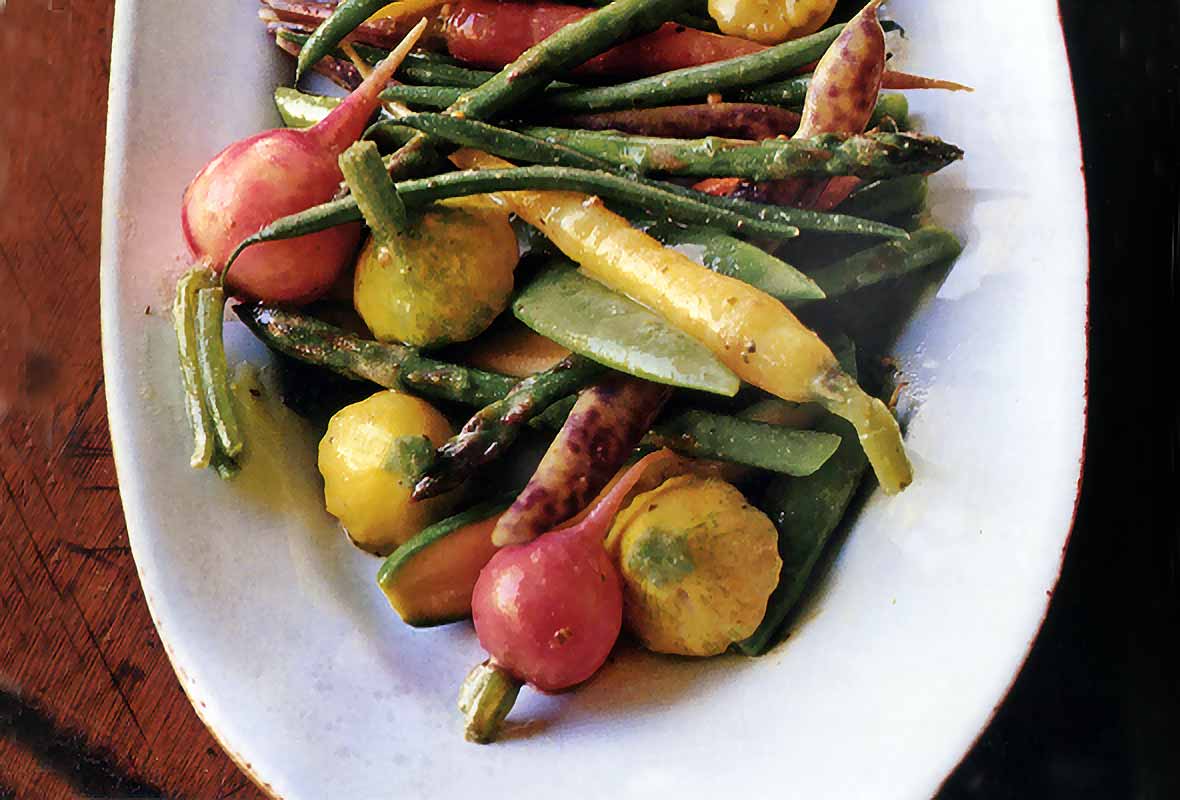 Pickled spring vegetables have all the crunch and flavor you want in a snack without being at all filling. I make big batches and put them in canning jars to give away to my friends. They look really pretty and taste great. They keep refrigerated for 2 weeks. Originally published May 23, 2011.–Sara Foster
LC A Fickle Pickle Note
To some, a pickle isn't a pickle unless it's sealed in a glass jar and put up to last through the winter. It's a definition that's worked for quite some time, although to some of us, it seems a little exclusive. So we bring you this quick refrigerator rendition, which elegantly defies such old-fashioned notions, dispensing with canning jars and basement shelves and instead working its magic in a big bowl in the fridge. It's a less robust, arguably more refined taste than the pickles of your childhood that intensifies the longer you leave the vegetables to soak up its goodness. You might say it imbues spring vegetables with a fickle pickle flavor.
Take note that if you plan on transferring the vegetables to tall canning jars and gifting them, you'll need to double or triple the pickling ingredients in order to have sufficient liquid to cover the veggies. You'll also need to craft a note that explains the pickles are best when kept in the fridge and noshed within a week or two–although we don't think that last part will be a problem.
Pickled Spring Vegetables
Quick Glance

(1)

20 M
8 H

Serves 10 to 12
Print Recipe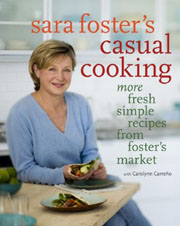 Ingredients
Email Grocery List
For the pickled spring vegetables
For the mustard seed vinaigrette (optional)
Directions
Make the pickled spring vegetables
Combine the vinegar, sugar, mustard seeds, thyme, bay leaves, and water in a medium saucepan and bring to a boil.
Place the vegetables in a large heatproof bowl and pour the boiling pickling liquid over them. Cover and set aside for about 5 minutes, stirring once.
Meanwhile, fill a large bowl with ice water. Scoop the vegetables out of the pickling liquid and transfer them to the ice bath, reserving the pickling liquid. Let the vegetables chill in the ice bath until they're completely cooled. Meanwhile, let the pickling liquid come to room temperature.
Drain the vegetables and transfer them to a large bowl. Pour the cooled pickling liquid over the vegetables and season to taste with salt and pepper. Cover and refrigerate for at least 8 hours or up to 2 weeks, depending on the desired intensity of flavor. (If the vegetables are left for merely a day or so, the pickle flavor will be quite faint; the flavor will intensify the longer they are allowed to steep in the liquid.) Stir the pickles as often as you think of it.
Make the mustard seed vinaigrette (optional)
Stir the vinegar, lemon zest and juice, mustard seeds, mustard, and garlic together in a small bowl. Gradually whisk in the olive oil. Season with salt and pepper to taste. (May cover and refrigerate for up to 1 week. Whisk before using.)
Assemble the pickled vegetables
Remove the pickled vegetables from the liquid, discarding the liquid. If desired, toss the vegetables with the mustard seed vinaigrette. Arrange on a platter and crunch to your heart's content.
Print Recipe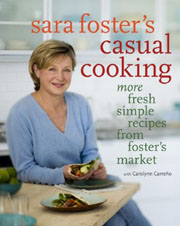 Recipe Testers Reviews

I love pickles! Quick pickles are even better when you want pickles immediately and don't want to wait around. This is a simple recipe that produces delicious results. I prefer to eat the pickles straight out of the brine, and the mustard seed vinaigrette gilds the lily if you choose to toss the pickles in it. There was a touch too much mustard in the vinaigrette itself, so adjust accordingly to taste.

The taste of these pickled spring vegetables threw me at first, accustomed as I'd become to the rich, roasted flavor of my usual winter recipes. My puzzled taste buds soon realized that they were experiencing the distinctive freshness of each asparagus spear, carrot, and pea pod. The light pickle enhanced their flavors, though I liked them better on the second day when the pickle was a bit more pronounced. The vegetables retained their crispness and beautiful color. The vinaigrette was light and tangy—a great accompaniment to the veggies, but not a necessity. A lovely spring presentation.
Pickled Spring Vegetables Recipe © 2007 Sara Foster. Photo © 2007 Quentin Bacon. All rights reserved. All materials used with permission.
If you make this recipe, snap a photo and hashtag it #LeitesCulinaria. We'd love to see your creations on Instagram, Facebook, and Twitter.