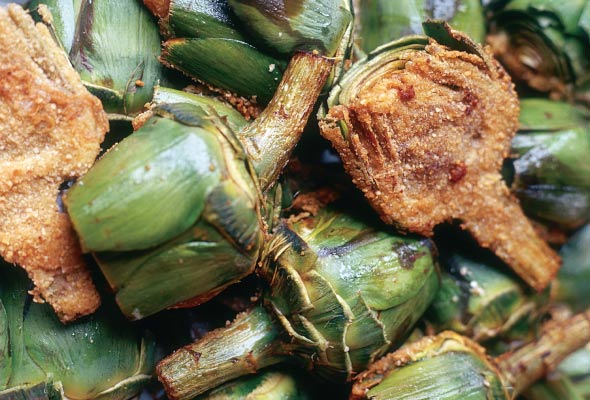 The artichokes in this recipe are split in half lengthwise, stuffed with ground meat, and then cooked. Medias appeared in Aleppo courtesy of Spanish Jews who arrived in the Ottoman lands after Ferdinand and Isabella's Edict of Expulsion. The word media is Spanish for "half."–Poopa Dweck
LC Sauce on the Side? Note
If, like at least one of us, you're rather picky and sometimes prefer your sauce on the side, simply sweat the stuffed artichokes unsauced in the Dutch oven, adding a few more drops water as necessary, and simmer the tomato sauce in a separate skillet for the requisite time. It's as simple as that.
Artichoke Halves Stuffed with Beef
Quick Glance
45 M
1 H, 15 M

Serves 8 to 10
Print Recipe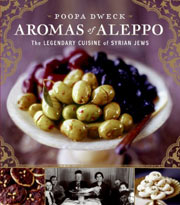 Ingredients
For the beef filling

6 artichokes

1 pound ground beef (or you could substitute ground lamb or even a sweet sausage, bearing in mind it will release more fat during cooking)

2 large eggs

1 teaspoon ground allspice

1 teaspoon kosher salt

1 cup matzah meal

2 tablespoons extra-virgin olive oil

1 cup vegetable oil

For the tomato sauce

Two 8-ounce cans tomato sauce

Juice of 2 lemons (about 6 tablespoons)

1 teaspoon sugar

1 teaspoon kosher salt, plus more to taste

1 cup water
Directions
Make the ground beef filling and stuff the artichokes

1. Cut each artichoke in half lengthwise, remove the hairy choke, and trim 1 inch of bracts (leaves) from the top.

2. In a bowl, combine the beef, one egg, the allspice, and salt and mix well. Spoon some of the filling into the cavity of each artichoke, packing the filling tightly and making it flush with the cut surface of the artichoke.

3. Place the remaining egg in a shallow dish and lightly beat it. Place the matzah meal in another shallow dish. Working with 1 artichoke half at a time, dip the cut side first in the egg, then dredge it in the matzah meal, then set the artichoke half aside.

4. Pour the olive oil in a Dutch oven and set aside. Heat the vegetable oil in a skillet over medium heat. Add as many stuffed artichokes, filling-side down, as will fit without crowding the skillet. Cook until the breading is golden brown, about 2 minutes. Place the artichokes, filling side up, in a single layer in the Dutch oven. Repeat with the remaining stuffed artichokes.

Make the tomato sauce

5. Combine the tomato sauce, lemon juice, sugar, salt, and water in a bowl.

6. Sprinkle the stuffed artichokes with salt to taste. Cook over medium heat for 3 minutes, or until the artichokes begin to sweat. Pour the sauce over the artichokes, increase the heat to medium-high, and bring to a boil. Then reduce the heat to low, cover, and simmer until the stuffed artichoke hearts are fork-tender about 30 minutes. Serve with the sauce spooned over the top.
Artichoke Halves Stuffed with Beef Recipe © 2007 Poopa Dweck. Photo © 2007 Quentin Bacon. All rights reserved. All recipes and photos used with permission of the publisher.
If you make this recipe, snap a photo and hashtag it #LeitesCulinaria. We'd love to see your creations on Instagram, Facebook, and Twitter.