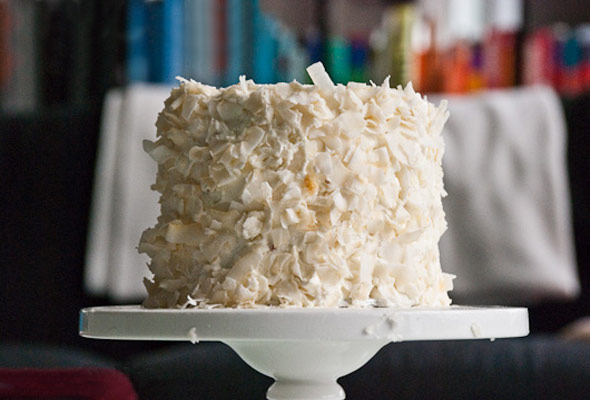 Coconut cupcakes are cute. But a coconut cake commands attention in a way that cupcakes just can't muster. It's sorta like that scene in "Bull Durham" where Kevin Costner calls Susan Sarandon cute and her response is "Cute? Baby ducks are cute, I HATE cute! I want to be exotic and mysterious!" I think a lot of cupcakes feel that same way.
To clarify, we got nothing against cupcakes. Especially not the tender, moist, light, perfectly coconut-y cupcakes that this coconut cake recipe is based upon. But there's a time and a place for everything. Steph, the blogger at Momofukufor2 responsible for this cake incarnation, seems to share this sentiment, having conjured this stunning coconut layer cake from what was a cute coconut cupcake recipe. Her cake version elicits oohs and aahs and gasps from anyone who beholds it for the first time, yet she's quick to offer up a kind word for the cuter cupcake creation. "This recipe bakes up great as cupcakes as well, but I find cake so much more festive." So do we, Steph. So do we. Still, if cupcakes are your thing, no judgment here. We've got your cupcake variation below the recipe.–Renee Schettler Rossi
How To Make Chic Coconut Curls
Notice those chic coconut curls on the coconut cake in the photo above? (How could you not?!) The graceful ribbon-like lengths lend a little ooh la la to cakes and cupcakes alike. How'd we get 'em? Easy. We bought 'em. Just look for natural coconut flakes at your local health-food store. Or search for those key words online (or, even easier, click here).
Coconut Cake
Quick Glance

(1)

25 M
1 H, 15 M

A tall 6-inch or 4 1/2-inch cake or about 20 cupcakes
Print Recipe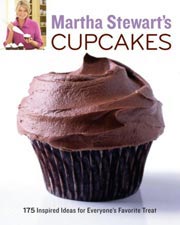 Special Equipment: Three 6-inch round cake pans or four 4 1/2-inch round cake pans
Ingredients
Email Grocery List
Directions
Preheat the oven to 350°F (176°C). Line three 6-inch round cake pans or four 4 1/2-inch cake pans with parchment circles cut to fit. Butter and flour the paper and the pans.
In a large bowl, combine the flour, baking powder, salt, and shredded coconut.
In a small bowl, combine the coconut milk and vanilla.
Beat the butter and sugar with an electric mixer until light and fluffy. Add the eggs and egg whites and mix well. Add 1/3 of the flour mixture to the butter mixture, switch to a spatula, and stir just until incorporated. Then add 1/2 of the coconut milk mixture and stir just until incorporated. Repeat, adding 1/2 of the remaining flour mixture, then the remaining coconut milk mixture, and ending with the remaining flour mixture. Do not overmix.
Divide the batter evenly among the cake pans. Bake until the top of the cake springs back when pressed lightly with a fingertip and a toothpick inserted in the center of each cake comes out clean, 20 to 25 minutes if using 6-inch pans and 30 to 40 minutes if using 4 1/2-inch pans. The cakes will not color appreciably, so don't rely on its hue as an indication of doneness. Place the cakes in their pans on a wire rack and let cool completely.
Working with one cake at a time, place the wire rack on top of the cake pan and invert the cake onto the rack. Then carefully invert it again so it's right side up. Repeat with the remaining cakes. Using a serrated knife, carefully slice off the mounded top of each cake to create a flat surface. (Reserve the sliced portion for nibbling, making into cake balls, or layering with sweetened whipped cream.)
Place a trimmed cake on a cake stand or platter. Spread a generous portion of Seven-Minute Frosting over the top. Place the second cake atop the first cake and very thinly coat the top with frosting. Then stack the third (and, if using, fourth) cake on top and very thinly coat the top and sides of the stack of cakes to seal in the crumbs. This is called a crumb coat. Then generously slather the cake with the rest of the frosting. Quickly sprinkle some of the coconut over the top of the cake before the frosting sets and will no longer let the coconut adhere. Then quickly and gently press the rest of the coconut onto the sides of the cake. Behold!
Print Recipe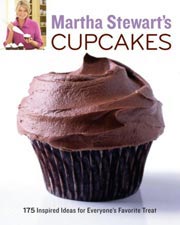 Coconut Cupcakes Variation
When it comes time to divvy the batter between the springform or cake pans, instead spoon it into muffin tins fit with paper liners, filling each fully. You should have enough batter for about 20 cupcakes. Bake until a toothpick inserted in the center of a cupcake comes out clean, about 20 minutes. Cool the cupcakes completely in the tins on a wire rack. Once the cupcakes are cool, mound frosting on the tops and then quickly sprinkle with flaked or shredded coconut before the frosting sets.
Recipe Testers Reviews
Coconut Cake Recipe © 2009 Adapted from Martha Stewart . Photo © 2009 Momofukufor2. All rights reserved. All materials used with permission.
If you make this recipe, snap a photo and hashtag it #LeitesCulinaria. We'd love to see your creations on Instagram, Facebook, and Twitter.