This potato pancake with cheese and bacon, called a truffade in French, is simple to make. Potatoe slices are fried in lard or olive oil, and Cantal or Gruyere cheese and bacon bits are stirred in. To make a hearty meal of it the Auvergne way, serve it with meaty pork sausages.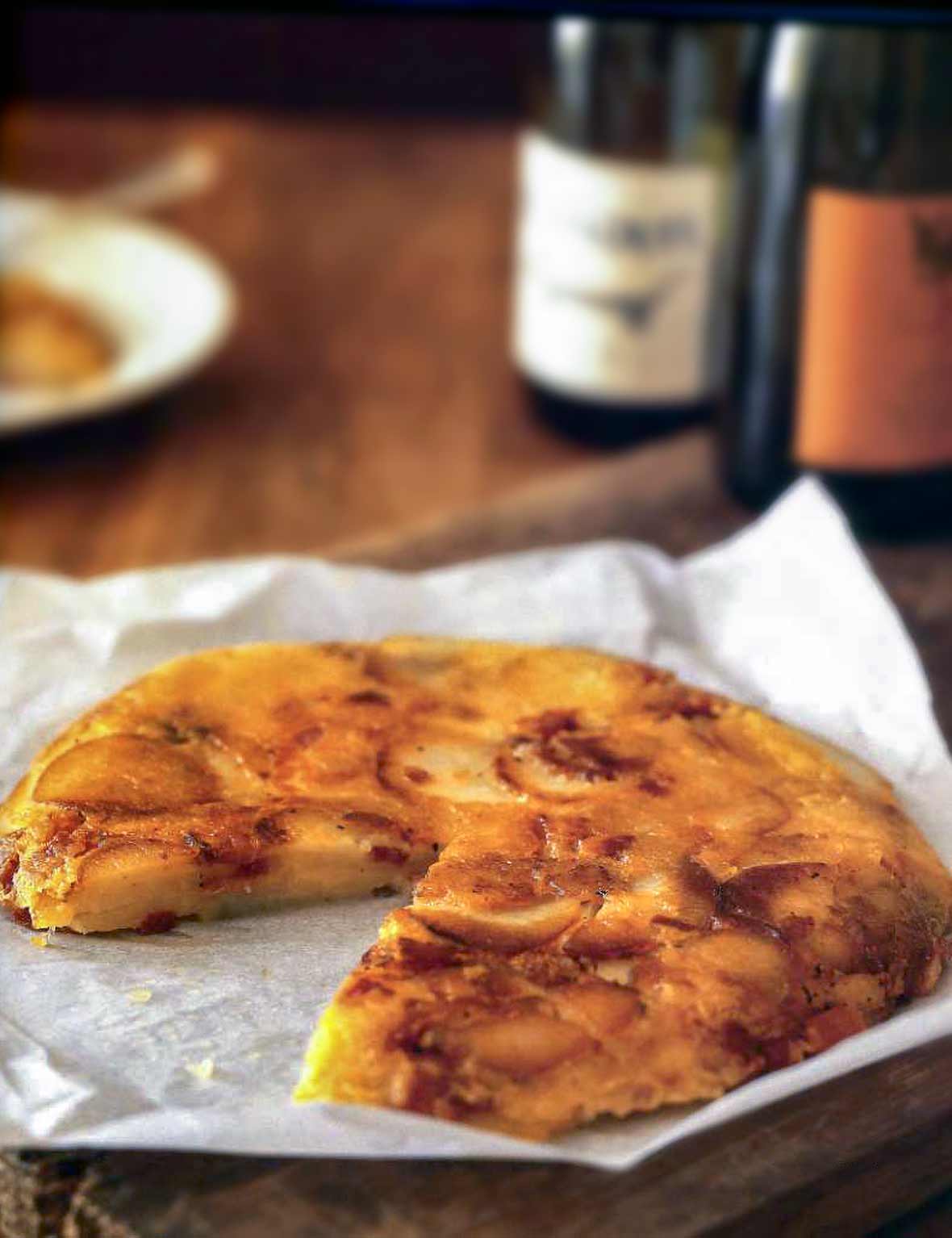 If you can't afford truffles, you indulge in truffade, say the inhabitants of the Auvergne, notoriously among the coldest and most rugged areas of France. Often served with sausages, truffade is a potato cake recipe flavored with bacon and laden with cheese as a buttress against the worst weather. Nippy Cantal is the local hard cheese, although Gruyère may be substituted. Originally published May 9, 2007. –Anne Willan
Potato Cake with Cheese and Bacon Recipe
Quick Glance
10 M
40 M

Serves 4
Ingredients
5

ounces

lean bacon (140 g)

2

tablespoons

lard or mild olive oil (30 ml)

2

pounds

baking potatoes (907 g)

, peeled if desired and thinly sliced

Salt and freshly ground black pepper

, to taste

8

ounces

Cantal or Gruyère cheese (226 g)

, diced or cut into thin, narrow strips
Directions
1. Trim any rind from the bacon. Cut the bacon into slices 3/8 inch thick. Stack the slices and cut them crosswise into short strips. In a 10-inch (25 cm) deep-sided skillet over medium heat, fry the lardons (this is just a fancy French word for bacon chunks) until they release their fatty goodness in the form of bacon drippings, 2 to 3 minutes. Do not let the bacon brown. Remove the bacon with a slotted spoon and place on a paper towel-lined plate.

2. Add the lard to the skillet, return to medium heat, and wait until it melts. Toss in the potatoes and sprinkle them with salt and pepper. (Be judicious with the salt as the bacon may make the potato pancake salty enough.) Reduce the heat to low, cover, and cook for 5 minutes. Stir in the lardons and continue to cook, uncovered, over low heat, tossing or stirring often, until the potatoes are tender and some of the potatoes are lightly browned, 20 to 25 minutes. Don't worry if some of the potatoes get crushed, as this will help hold the potato pancake together.

3. Stir in the cheese and season again with salt and pepper. Using the back of a spatula, press down on the potatoes to make them even in the skillet. Turn the heat to medium-high and let the potato pancake cook, without stirring, until the bottom is browned, 3 to 5 minutes, pressing on the cake occasionally with the back of the spatula to hold it together. When the potato cake, or truffade, is done, it should be brown around the edges and starting to pull from the sides of the pan.

4. Take the skillet off the heat, run a knife around the edge of the cake to loosen it, and then turn it out onto a warmed plate or platter or serve it straight from the skillet. Cut into wedges and serve hot.
Hungry for more?
Chow down on these:
Potato Cake with Cheese and Bacon Recipe © 2007 Anne Willan. Photo © 2007 France Ruffenach. All rights reserved.
Hey, there. Just a reminder that all our content is copyright protected. Like a photo? Please don't use it without our written permission. Like a recipe? Kindly contact the publisher listed above for permission before you post it (that's what we did) and rewrite it in your own words. That's the law, kids. And don't forget to link back to this page, where you found it. Thanks!