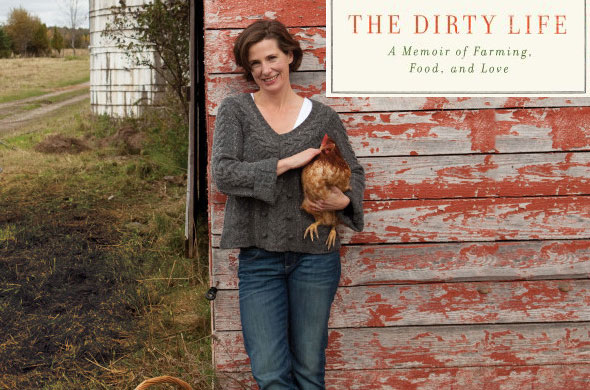 LCBC "GET EXCITED" UPDATE: We've just learned that the author, Kristin Kimball, is now planning to participate at the start of each of our Twitter discussions on June 11 and 14 (see times below). Please be sure to join us, bringing your questions and well-deserved compliments.
Last month we launched the Leite's Culinaria Online Book Club, to great response. Dishing with readers about Gabrielle Hamilton's Blood, Bones & Butter, we learned that LC book clubbers are a particularly insightful, opinionated, honest, and earnest bunch. We wouldn't have it any other way.
Now we're inviting you to continue this communal reading experience with our second LC Book Club selection, The Dirty Life: A Memoir of Farming, Food, and Love by Kristin Kimball (Scribner, reprint edition, April 2011). Another true account of a woman's search for nourishment, this book nevertheless guarantees a substantially unique view of what it means to build intimacy through food. Far from New York City's East Village, locale of Hamilton's restaurant world, Kimball finds a different kind of grittiness in agricultural life—a life for which she's admittedly less than prepared.
Because we can't bear the thought of anyone missing out, for The Dirty Life we'll hold two discussions: Saturday, June 11, from 2-4 p.m. EST and again on Tuesday, June 14, from 9-11 p.m. EST. Whichever date suits you, you've got plenty of time to acquire a copy of the book and start reading. The conversations will take place live via our Twitter stream @LeitesCulinaria, using the hashtag #LCBookClub.
Of course, we're more than happy to respond here, too, for those who either don't have a Twitter account or who want to contribute thoughts in a format longer than 140 characters. If you plan on participating in this round of reading, or if you have suggestions for the club in general, please feel free to leave a comment below—we'd love to hear from you!
More about The Dirty Life:
"In this poignant, candid chronicle by season, Kimball writes how she and Mark infused new life into Essex Farm, and lost their hearts to it. By dint of hard work and smart planning—using draft horses rather than tractors to plow the five acres of vegetables, and raising dairy cows, and cattle, pigs, and hens for slaughter—they eventually produced a cooperative on the CSA model, in which members were able to buy a fully rounded diet. To create a self-sustaining farm was enormously ambitious, and neighbors, while well-meaning, expected them to fail. However, the couple, relying on Mark's belief in a 'magic circle' of good luck, exhausted their savings and set to work. Once June hit, there was the 100-day growing season and an overabundance of vegetables to eat, and no end to the dirty, hard, fiercely satisfying tasks, winningly depicted by Kimball." —Publisher's Weekly
We hope you'll join our LC Book Club discussion on Saturday afternoon, June 11, or on Tuesday evening, June 14. In the meantime, if you're hungry for more delicious literature, take a look at these Literary Lunch Break writings: