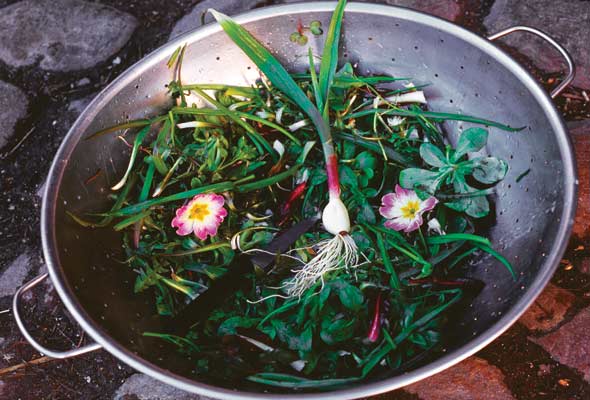 This dates from a time when herbs were scarce in the winter; when spring arrived, people would be desperate for any micronutrients they could find, especially in the far north, and they would crave the bitter taste of the year's newest greens and weeds. If you know what you're looking for, you can make delicious salads from a huge variety of greens. The traditional seven greens might include some of the following: chives, sorrel, wood sorrel, scorzonera or salsify leaves, mache, parsley, ground elder, samphire, wild arugula, chervil, the last of the kale, overwintered spinach, fava bean greens, or tiny dandelion greens collected while they still have strange violet-purple and red colors and resemble tiny octopus.–Camilla Plum
LC We Confess Note
We left something out of Camilla Plum's lovely recipe. Intentionally. Her original called for hard-cooked eggs and a creamy, roux-based, mustard sauce of sorts in addition to the vinaigrette. Forgive us, Camilla, but we found a sparer incarnation of this recipe, one that lets the inspired and eclectic taste of each of its seven greens shout out, to be a little more compelling—not to mention practical. Heck, this time of year, we've even dispensed with the vinaigrette, relying instead on the simplest dribble of oil to slick the greens. The salad is delicate enough to go with eggs sunnyside up and sturdy enough to withstand a side of steak. Still, for those who'd rather not forsake Scandinavian tradition, we tucked those extra ingredients aside, beneath the recipe. Far be it from us to dictate how you take your weeds.
Seven Greens Salad
Quick Glance
5 M
5 M

Serves 4
Print Recipe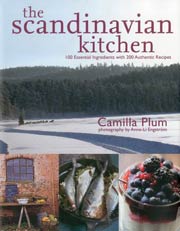 Ingredients
4 cups mixed spring greens, preferably from the greenmarket

1/4 cup extra-virgin olive oil

2 tablespoons cider vinegar

1 teaspoon honey

Salt and freshly ground black pepper
Directions
1. Rinse the greens under cool running water very carefully. Let them dry on a clean dish towel.

2. Whisk together the oil, vinegar, honey, salt, and pepper. Place the greens in a colander or a large serving bowl, dribble with the dressing, and gently toss.
The Original Way Variation:
For those who can't fathom a salad greens without a little more sustenance, this approach is for you.
Put 4 eggs on to boil. Keep a close eye on them as you want them almost but not completely hard-cooked. Meanwhile, melt 4 tablespoons butter in a saucepan over medium heat, without letting it color. Mix in 2 tablespoons flour, stirring it constantly, and let it bubble for a minute to cook away the floury taste. Add 1 3/4 cups whole milk to the pan, a little at a time, taking care to incorporate it thoroughly before adding any more. Let the sauce simmer, stirring almost constantly, for about 10 minutes. You can add more milk if the sauce is very thick—it must be pourable. Drain the eggs, rinse under cool running water, peel and halve lengthwise. Remove the saucepan from the heat and add 4 tablespoons coarse-grain mustard, 2 tablespoons Dijon-style mustard, salt, and pepper. The sauce must not boil again after the mustards are added, or the taste will disappear. Let cool ever so slightly and then spoon just a little onto the greens. Top each serving with an egg.
Seven Greens Salad Recipe © 2011 Camilla Plum. Photo © 2011 Anne-Li Engström. All rights reserved. All recipes and photos used with permission of the publisher.
If you make this recipe, snap a photo and hashtag it #LeitesCulinaria. We'd love to see your creations on Instagram, Facebook, and Twitter.