This Cheddar crust apple pie is made with extra-sharp Cheddar baked into the crust. The filling is made with sweet Golden Delicious apples. Savory, sweet, and entirely compliment worthy.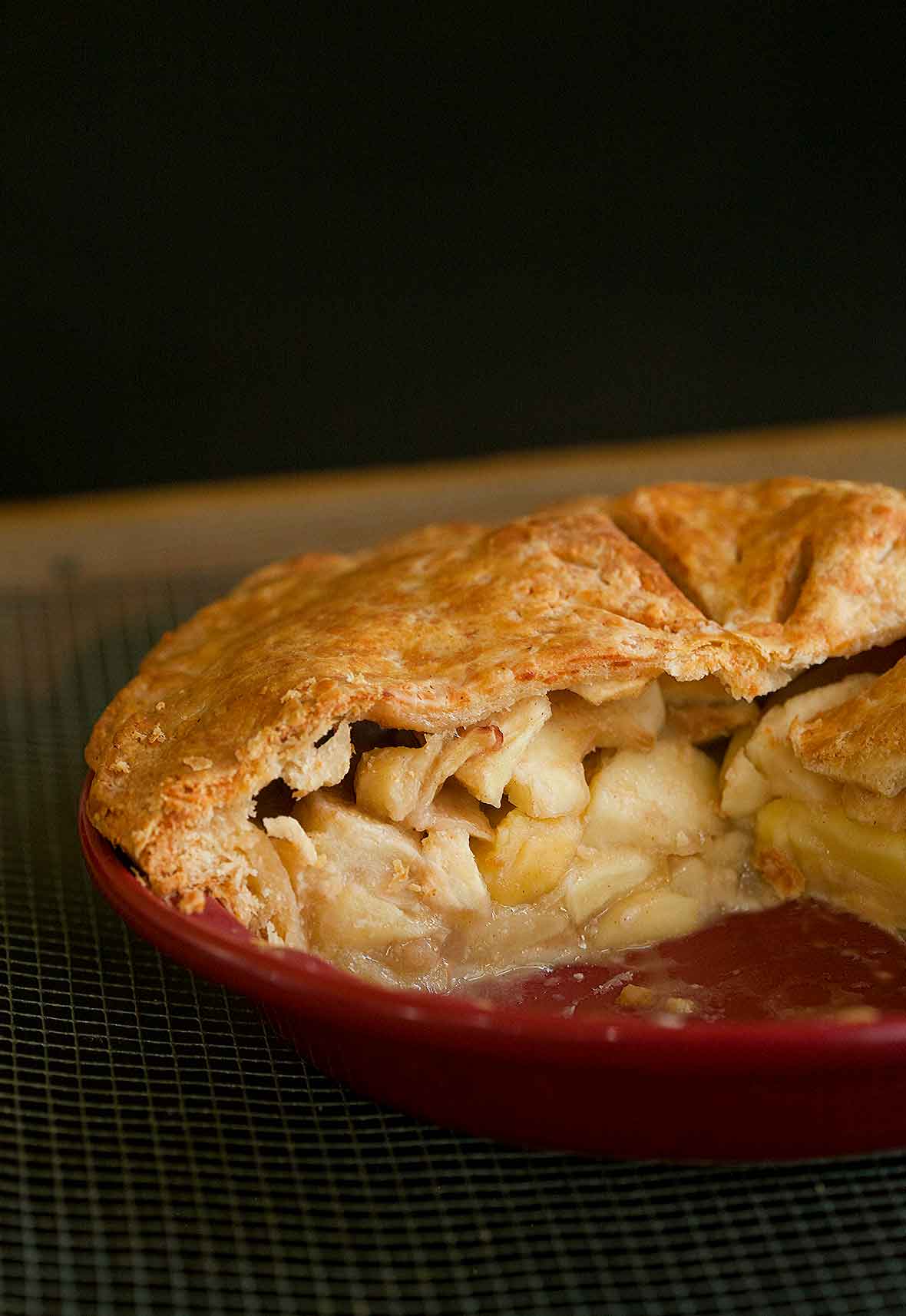 Since I was a kid, I've always loved the combination of apple and Cheddar cheese. And, apparently, I'm not the only one. A Connecticut neighbor can't wait for the temperature to cool so he can cut slices of "New York Cheddar so sharp you can cut your tongue on it" and place it on top of his wife's hot apple pie. I've gone one better. Instead of merely slapping on a slice of cheese, I grate the Cheddar and incorporate it into the crust. That way the Cheddar bits bake and bubble to a golden brown, lending a distinct, robust flavor to the pie. Originally published May 30, 2000.–David Leite
How to Divide Pie Dough for a Two-Crust Pie
We're about to let you in on a pie crust trick that Grandma should've taught you. (Hey, maybe she did.) When you're about to divvy the mound of party dough into two—one piece for the top crust, one for the bottom crust—make the portions slightly unequal. Without delving into geometry or algebra or calculus, suffice it to say, you need a little more surface area for that bottom crust—since it has to go up the sides and fold under the top crust.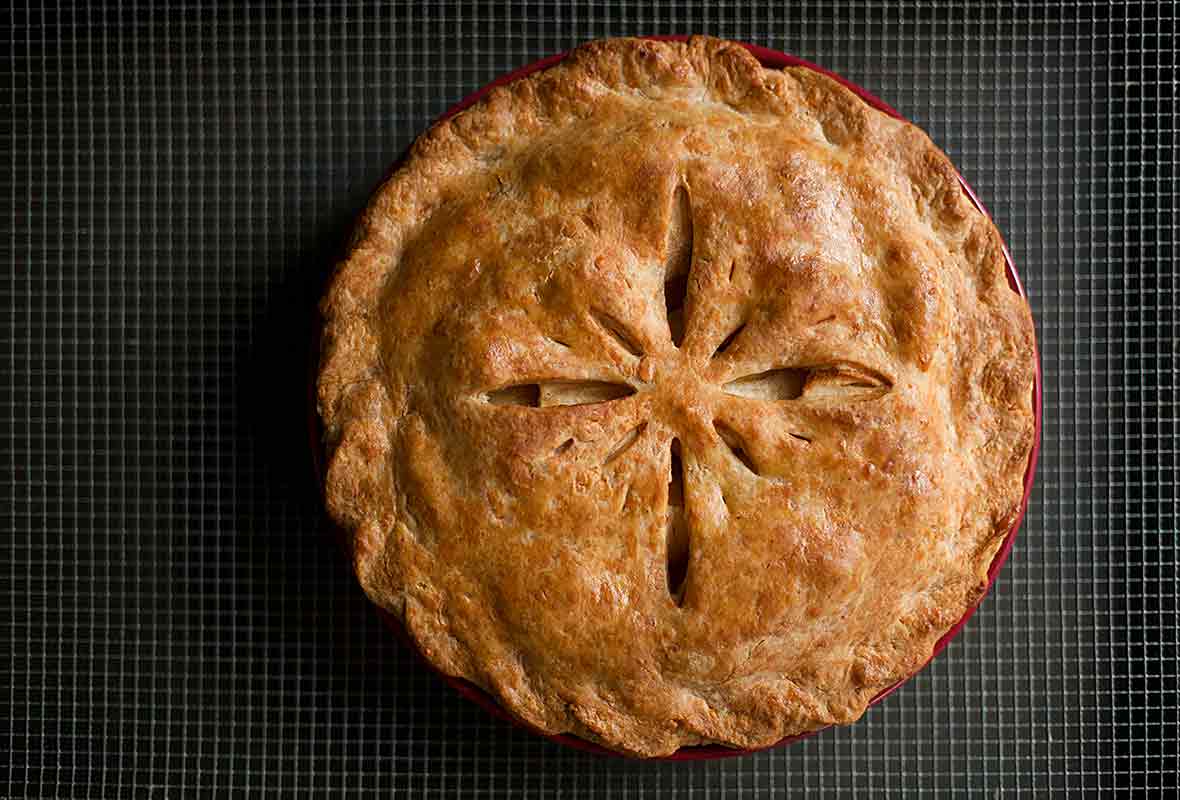 Cheddar Crust Apple Pie Recipe
Quick Glance
40 M
3 H, 40 M

Serves 8
Ingredients
For the cheddar crust

1 1/4

cups

unbleached all-purpose flour

1/4

cup

cake flour

1/4

teaspoon

salt

1

stick (4 ounces)

unsalted butter

, frozen solid, then slightly thawed

2

tablespoons

lard or vegetable shortening

, frozen solid, then slightly thawed

1

cup

grated extra-sharp Cheddar cheese

2

teaspoons

white vinegar

, mixed with 1/3 cup ice water
For the apple filling

6 to 7

large

Golden Delicious apples

(3 pounds)

2

tablespoons

fresh lemon juice

1

cup

granulated sugar

, plus more for sprinkling

1/3

cup

unbleached all-purpose flour

3/4

teaspoon

ground cinnamon

1/2

teaspoon

salt

2

tablespoons (1 ounce)

unsalted butter

, softened

1

large

egg

, beaten with 1 tablespoon cold water for glaze
Directions
Make the Cheddar crust

1. In the bowl of a food processor fitted with a metal blade, combine the flours and salt. Cut the butter and lard into small pieces, add to the bowl and process 5 seconds. Add the cheese and pulse on and off 2 times to mix.

2. With the motor running, pour in enough of the vinegar mixture in a slow, steady stream for the dough to form a ball; process for 10 to 15 seconds.

3. Turn out the dough onto work surface. If it appears too dry, work in 1 to 2 more teaspoons water. Shape the dough into a 6-inch disk, wrap it in plastic, and chill at least 2 hours (or overnight) before using.

Make the apple pie filling

4. Crank the oven to 425°F (220°C).

5. Peel, core, and cut the apples into 1/16-inch slices. Immediately toss the apple slices in a large bowl with the lemon juice to prevent them from turning brown.

6. Whisk together the sugar, flour, cinnamon, and salt. Add this mixture to the apple slices and toss gently to coat evenly.

Assemble the pie

7. Divide the dough into 2 unequal pieces, one slightly larger than the other. (The slightly larger piece is for the bottom crust. Didn't you read the headnote?!) On a lightly floured work surface, roll the larger piece into a round about 13 inches in diameter. Carefully transfer the dough round to a 9-inch pie plate and fill with the apple slices. Using your hands, shape the apples into a firmly packed mound slightly higher in the center than at the sides. Dot the apples with butter. Trim the edges of the bottom crust to a 1 1/2-inch overhang.

8. Roll out the remaining dough into a 11-to12-inch round, and carefully arrange it over the apple pie filling. Trim the edges of the top crust to a 1 1/2-inch overhang. Fold the top crust under the edge of the bottom crust, press together, and flute decoratively using your thumb and forefinger. Cut three 1 3/4-inch slashes in center of top crust to allow air to escape.

Bake and cool the pie

9. Bake the pie for 20 minutes. Reduce the temperature to 375°F (190°C) and continue baking 30 to 40 minutes longer, or until the pastry is golden brown and the juices are bubbling. No more than 10 minutes before the end of baking, brush the Cheddar crust with the egg glaze and sprinkle with sugar.

10. Cool the pie on a wire rack until slightly warm or room temperature before slicing and serving.
Hungry for more?
Chow down on these:
Cheddar Crust Apple Pie Recipe © 2014. Photos © 2014 David Leite. All rights reserved.
Hey, there. Just a reminder that all our content is copyright protected. Like a photo? Please don't use it without our written permission. Like a recipe? Kindly contact the publisher listed above for permission before you post it (that's what we did) and rewrite it in your own words. That's the law, kids. And don't forget to link back to this page, where you found it. Thanks!