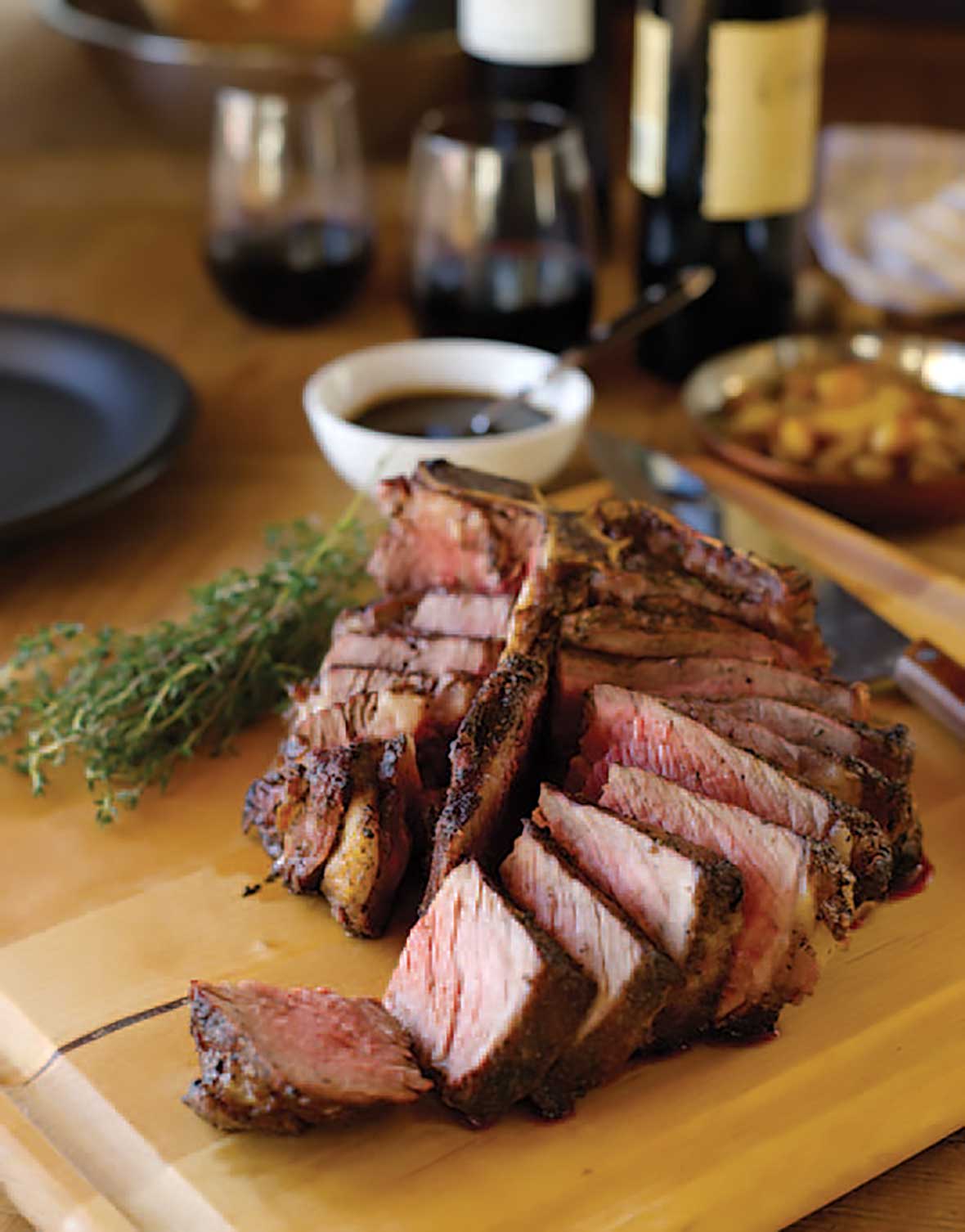 So you feel like grilled porterhouse steak? This one is a monster! For all of the card-carrying carnivores out there, this steak recipe will turn you on. Porterhouse is a great cut because it's like two steaks for one—on one side of the bone you have the tender filet and on the other, the firm New York strip steak. Grilling with wood chips is a common way to infuse flavor into meat, but for extra oomph, I turn to herb-infused smoke instead. Tossing damp woody herbs like thyme (rosemary would work here as well) directly onto the fire lends a distinctive earthy essence. The intoxicating smell makes your belly grumble and always has a "wow factor" with guests.–Michael Schwartz
Grilled Thyme Smoked Porterhouse Steak
Quick Glance
15 M
1 H, 15 M

Serves 6 to 8
Print Recipe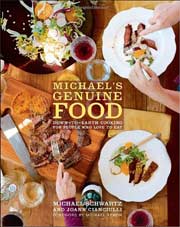 Ingredients
One 3- to 4- pound porterhouse steak (about 4 inches thick)

1 big bunch fresh thyme

2 tablespoons kosher salt

1 tablespoon freshly ground black pepper

1 tablespoon extra-virgin olive oil, plus more for the grill rack
Directions
1. Preheat a gas or charcoal grill to medium-low. Let the steak stand at room temperature for at least 30 minutes.

2. Take 6 sprigs of the thyme and strip the leaves from 6 sprigs of thyme. Finely chop the leaves. You should have about 1 tablespoon. Place half of the remaining thyme sprigs in a small bowl, cover with cool water, and soak for 10 minutes while heating the grill.

3. Pat the porterhouse steak dry and rub both sides with the chopped thyme, salt, and pepper, pressing to adhere. Drizzle both sides with the oil and rub the grill grates with oil to prevent sticking. Place the steak on the grill, close the lid, and grill for 8 minutes for medium-rare. Open the lid and, using tongs, carefully lift up the grill grate and toss half of the soaked thyme sprigs directly onto the gas burner or coals so they smolder, imparting an amazing aroma and flavor. Rotate the meat a quarter turn to "mark" it. Close the lid and cook for another 8 minutes. Open the lid and again, carefully lift up the grill grate and set the remaining soaked thyme directly on the fire. Turn over the steak and cook for 8 minutes, rotate, and cook for 8 minutes more. Check the internal temperature of the steak with an instant-read thermometer; it should be about 125°F (51 °C) for medium-rare.

4. Transfer the porterhouse steak to a cutting board and allow to rest for at least 10 minutes so the juices can settle before carving.

5. To serve, cut the porterhouse away from the bone and place the bone on a serving platter. Cut the steak into 1/4-inch-thick slices and reassemble the slices, overlapping slightly, around the bone. Scatter the remaining thyme sprigs on top.
Grilled Thyme Smoked Porterhouse Steak Recipe © 2011 Michael Schwartz. Photo © 2011 Ben Fink. All rights reserved. All recipes and photos used with permission of the publisher.
If you make this recipe, snap a photo and hashtag it #LeitesCulinaria. We'd love to see your creations on Instagram, Facebook, and Twitter.