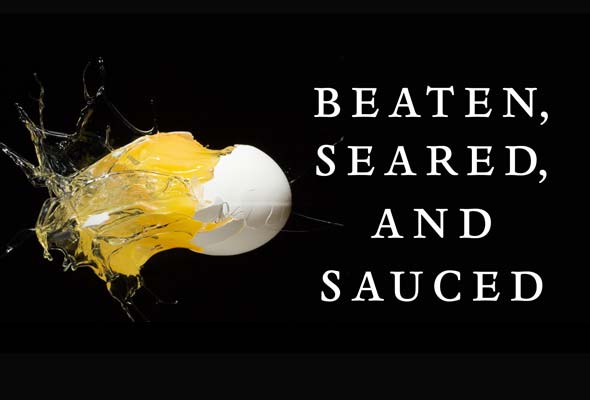 Join author Jonathan Dixon in the pages of his tell-all book—and meet him during our Twitter chats!—to discover what it's really like to be an aspiring chef and student at the prestigious Culinary Institute of America. We'll be gathering questions for Jonathan in advance, so be sure to read our new club procedure below and leave your comments on this post before the chat dates.
While our last read, The Dirty Life, had us pondering the dirt (or lack of it) on our work boots, this time you'll want to borrow some houndstooth pants and sharpen your kitchen knives. Our next selection, Beaten, Seared, and Sauced: On Becoming a Chef at the Culinary Institute of America (Clarkson Potter, May 2011), takes you behind the scenes at the CIA and might just make you rethink the career-changing fantasy that kicks in each time you watch Food Network with a pint of ice cream in hand. Or it could hasten your application process, who knows. Either way, you'll be forewarned.
At the ripe (we'll not say "old") age of 38, Jonathan Dixon decided to pursue his passion for cooking and enrolled on scholarship at the CIA. Throughout the grueling trajectory of this education, Dixon confronted, as all aspiring chefs must do, the gaps between dream and reality. Although Dixon's extra years sometimes put him at odds with his younger classmates, the added wisdom of those years are all for our benefit. Dixon's narrative is compelling, insightful, and rich in day-to-day detail. It's the next best thing to being there.
Joining the LC Book Club is easy. Here's what you'll do:
Read the book. (Obvious, but entertaining.)
Think about questions you'd like the author to address in our real-time chats. Leave those questions in the comments section of this post; we'll collate them and get to as many as possible during our discussions with Jonathan Dixon, who has generously agreed to participate.
Join one or both of our two discussions with the author on Twitter: Tuesday, August 16, from 9-11 p.m. EST and again on Saturday, August 20, from 2-4 p.m. EST.
Conversations take place live via our Twitter stream @LeitesCulinaria, using the hashtag #LCBookClub.
If you're not a Twitter fan, or just can't make the dates, that's OK. Check back here after August 20, and we'll post some Q & A highlights from the author.
Meanwhile, read what none other than Dorie Greenspan has to say about Beaten, Seared, and Sauced:
"How lucky for those of us who are fascinated by food and the people who make it that Jonathan Dixon chose to go to the CIA and to write about it. All about it. With wit and insight and a hefty dose of humor. You could probably learn just a smidgen more if you went to the CIA yourself, but it wouldn't be nearly as much fun as sitting in your favorite chair, sipping your favorite drink, and reading Jonathan's story."—Dorie Greenspan, author of Around My French Table
We hope you'll join our LC Book Club discussion on Tuesday evening, August 16, or on Saturday afternoon, August 20. In the meantime, if you're hungry for more delicious literature, why not catch up on these prior LC reads: