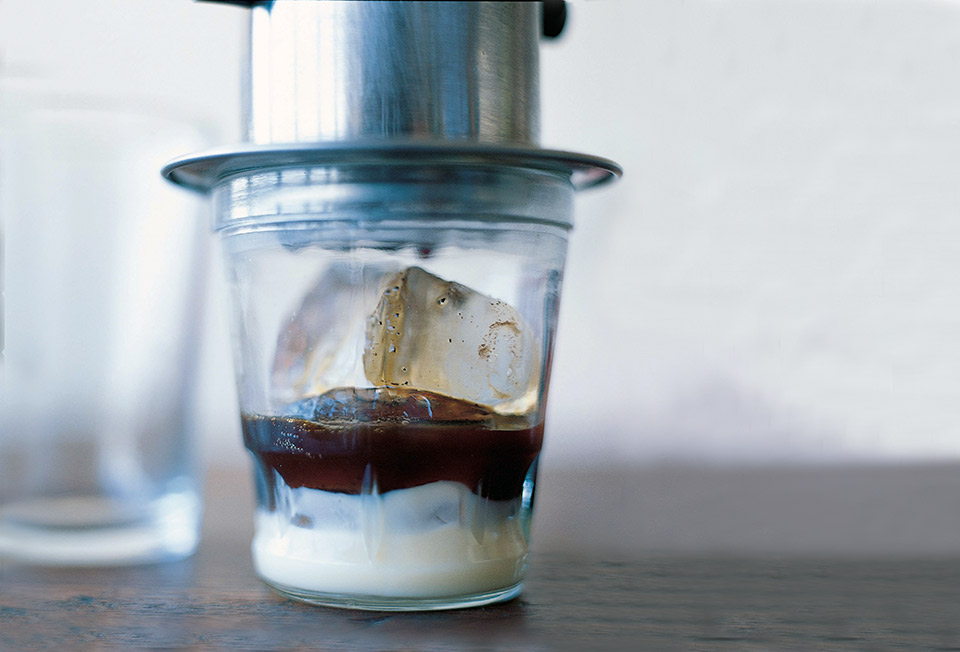 We confess, our favorite version of Southeast Asian coffee is this Vietnamese iced coffee, flavored with sweetened condensed milk. You'll find it served in restaurants and also at street stalls. If you're having Southeast Asian coffee first thing in the morning, you might want to drink it hot, with no ice. As the day warms up, the iced version becomes irresistible, on its own or to finish off a meal.–Jeffrey Alford and Naomi Duguid
LC Well Worth the Wait Note
Bear with us for a brief history lesson: Coffee came to southeast Asia during colonial times, introduced by the French and grown in the mountains of Indochina, er, Vietnam, as well as Laos and Cambodia. As Alford and Duguid describe it, the preferred cuppa is bracing, hot, thick, and smoky, brewed in an individual Vietnamese coffee filter stacked atop each cup or sturdy glass and designed to force boiling water to slowly, slowly drip through the grounds. Sweetened condensed milk, as the story goes, came into play because fresh milk was a little too perishable to be practical in this climate—either that or the French simply sneered at goat milk. Anyways, the cloyingly sweet tinned pantry staple worked like a charm, especially with the robust coffee mixed with chicory that was common in the colonies (not to mention New Orleans). You can see where we're going with this. Just stir a little gooey sweet goodness into any strongly brewed iced coffee or espresso, regardless of whether it's hot-brewed, cold-brewed, or Vietnamese-brewed, and succumb.
Vietnamese Iced Coffee
Quick Glance
5 M
15 M

Serves 4
Print Recipe
Ingredients
12 to 16 ice cubes

1/2 cup sweetened condensed milk, at room temperature

3 cups hot, strongly brewed coffee or espresso, or, if using the filter-and-drip method, about 4 rounded tablespoons ground coffee (try making this with a robust chicory coffee, such as Café du Monde, and you won't regret it.)
Directions
1. Place 3 or 4 ice cubes and a long-handled spoon in each of four tall glasses.

2. Pour 2 tablespoons sweetened condensed milk in each of four small cups and then pour in some coffee.

3. Vietnamese iced coffee calls for some pageantry, so set in front of each person a tall glass of ice cubes a spoon, a small cup of coffee, and a small spoon. Instruct your guests to stir the coffee thoroughly with the small spoon while it's still quite hot (otherwise the condensed milk won't dissolve so well). Then instruct them to pour the coffee over the back of the spoon and into the tall glass. (The long-handled spoon will prevent the hot liquid from shattering the glass.) Stir it briskly, making an agreeable clatter with the ice cubes.

4. Sip slowly.
Filter-and-Drip Variation (as in the above photo)
Place 3 or 4 ice cubes in each of four squat glasses.
Pour 2 tablespoons sweetened condensed milk into each glass.
Place a small Vietnamese metal coffee filter on top of each glass, fill it with a heaping tablespoon ground coffee or espresso, then pour in enough almost-boiling water to nearly reach the rim of the filter. Place the lid of the filter in place. Now wait. The coffee ought to drip, rather than stream, through the filter, taking anywhere from 5 to 15 minutes. When done, instruct everyone at the table to remove the filter from the glass and stir briskly.
Sip slowly.
Recipe Testers Reviews
Vietnamese Iced Coffee Recipe © 2000 Jeffrey Alford and Naomi Duguid. Photo © 2000 Richard Jung. All rights reserved. All recipes and photos used with permission.
If you make this recipe, snap a photo and hashtag it #LeitesCulinaria. We'd love to see your creations on Instagram, Facebook, and Twitter.