This Vietnamese iced coffee, or ca phe sua da, is made with sweetened condensed milk and strongly brewed coffee or espresso. Irresistible any time of day. Here's how to make it at home.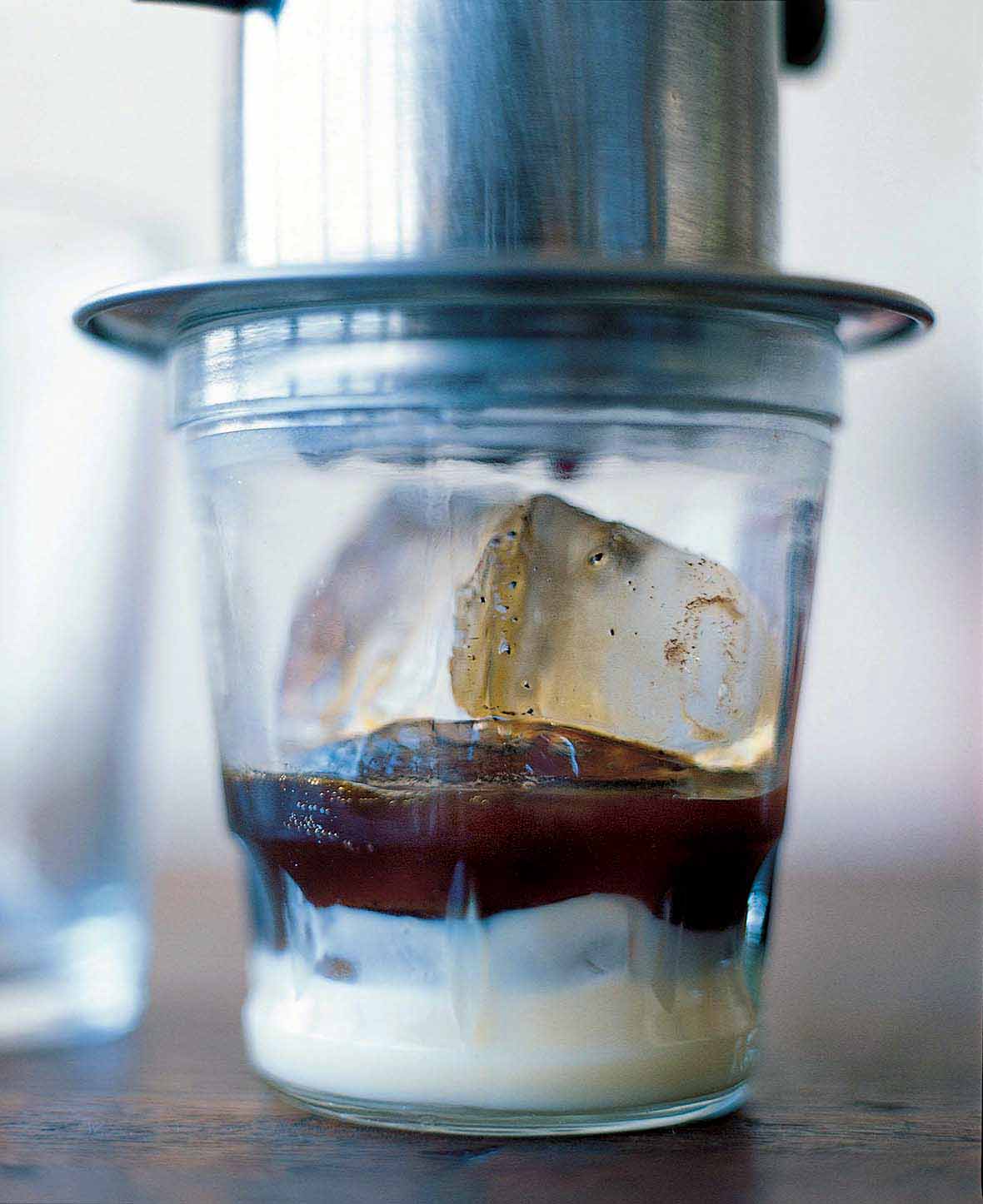 You'll encounter Vietnamese iced coffee at restaurants and street stalls throughout Southeast Asia. And, increasingly, in the states. The moment you first encounter it, wherever you are, you're going to have an irrepressible desire to know how to make it at home. Keep in mind, it calls for a little patience in its preparation and a little pageantry in its presentation. The preferred cuppa is bracingly strongly brewed coffee, preferably made in an individual Vietnamese coffee filter* which forces boiling water to slowly, slowly drip through the grounds. But you can stir a little gooey sweet goodness into any strongly brewed iced coffee or espresso, regardless of whether it's hot-brewed, cold-brewed, or Vietnamese-brewed. And then succumb to its seductive charms.–Renee Schettler
Vietnamese Iced Coffee | Ca Phe Sua Da
Quick Glance

(1)

5 M
15 M
Serves

4
Print Recipe
Ingredients
Email Grocery List
Directions
In each of 4 tall glasses, place 3 or 4 ice cubes.
In each of 4 small cups, pour 2 tablespoons sweetened condensed milk and top off each cup with the coffee.
Set a tall glass of ice cubes and a small cup of coffee in front of each person. Give everyone a spoon, preferably long-handled. Instruct everyone to stir the coffee thoroughly to dissolve the sweetened condensed milk.
Then instruct everyone to place the spoon in the tall glass and pour the coffee over the back of the spoon. (Pouring the coffee onto the metal prevents the hot liquid from shattering the glass.) Stir briskly. Sip slowly. Originally published July 31, 2011.
Print Recipe
How Do You Make A Vietnamese Coffee With The Filter-and-Drip Technique? (note: as in the photo featured above)
Any strongly brewed coffee will work. But for the classic ca phe sua da experience, place 3 or 4 ice cubes in each of 4 squat glasses. Pour 2 tablespoons sweetened condensed milk in each glass. Place a small Vietnamese metal coffee filter (available at Asian markets or online) or a camping coffee filter (available at IKEA or REI or online) on top of each glass, fill it with a heaping tablespoon ground coffee or espresso, and pour in enough almost-boiling water to nearly reach the rim of the filter. Place the lid of the filter in place. Now wait. The coffee ought to drip, rather than stream, through the filter, taking anywhere from 5 to 15 minutes. Stay patient. Let it be a moment of zen for you. When done, remove the filter from the glass and stir briskly. Sip slowly.
Recipe Testers Reviews
Vietnamese Iced Coffee | Ca Phe Sua Da Recipe © 2000 Jeffrey Alford and Naomi Duguid. Photo © 2000 Richard Jung. All rights reserved. All materials used with permission.
If you make this recipe, snap a photo and hashtag it #LeitesCulinaria. We'd love to see your creations on Instagram, Facebook, and Twitter.