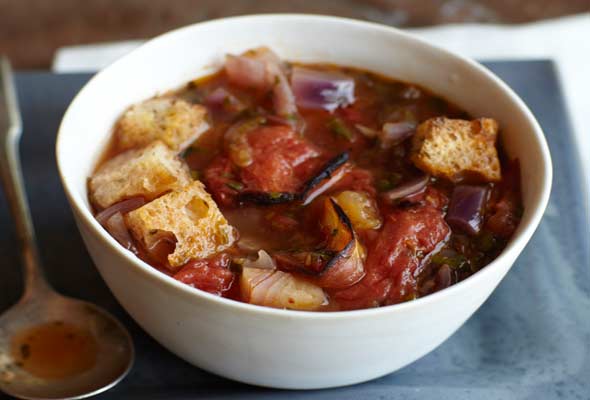 From Roma to cherry to beefsteak, any kind of tomato can be used to make this soup. You can play around with the colors of the tomatoes, too. Look for heirloom varieties at your local farmers' market: They might be red, orange, yellow, purple, even green.–Ann Gentry
LC This is So Not Gazpacho Note
Given its deep, robust taste, texture, and tint, this recipe is the antithesis of gazpacho—or any chilled tomato soup, for that matter. But don't take our word for it…
Roasted Tomato Soup
Quick Glance
20 M
1 H, 15 M

Serves 6 to 8
Ingredients
Email Grocery List
For the soup

4 pounds ripe tomatoes, cored and quartered

1/4 cup plus 2 tablespoons extra-virgin olive oil

1/4 cup balsamic vinegar

12 large garlic cloves, roughly chopped

3 teaaspoons fine sea salt

1 teaspoon freshly ground pepper

1 to 2 small red onions, coarsely chopped

1/4 cup lightly packed chopped basil leaves

2 tablespoons finely chopped flat-leaf parsley leaves

1 to 1 1/2 tablespoons finely chopped sage leaves

5 cups cold water

For the optional herbed croutons

1/2 loaf crusty French bread (about 8 ounces), crust removed, cut into 1/2-inch cube

1/2 teaspoon dried basil

1/2 teaspoon dried dill

1/2 teaspoon dried rosemary

1/4 teaspoon freshly ground black pepper

1/8 teaspoon fine sea salt

2 tablespoons extra-virgin olive oil
Directions
Make the soup

1. Preheat the oven to 450°F (232°C).

2. In a large bowl, toss the tomatoes with 1/4 cup of the olive oil, the vinegar, garlic, 2 teaspoons of the salt, and the black pepper. Transfer the tomato mixture (including all of its liquid) to a large, heavy rimmed baking sheet. Arrange the tomatoes in a single layer, skin side down. Roast until the tomatoes are charred on the edges, about 40 minutes. Let cool slightly. Slip the skins off the tomatoes.

3. Meanwhile, heat the remaining 2 tablespoons olive oil in a heavy pot over medium heat. Add the onions and the remaining 1 teaspoon salt and cook, stirring often, until the onions are quite soft, about 10 minutes. Add the basil, parsley, and sage and sauté for about 1 minute.

4. Stir in the roasted tomatoes and garlic along with all the accumulated juices from the baking sheet and bring to a simmer. Add the water and simmer gently just until the flavors meld, about 8 minutes. If a smoother consistency is desired, blend all or a portion of the soup with an immersion or standing blender.

Make the croutons

5. While the soup simmers, reduce the oven temperature to 375°F (190°C). Toss the bread cubes, basil, dill, rosemary, black pepper, and salt in a medium bowl. Drizzle the oil over the herbed bread cubes and toss to coat. Arrange the bread cubes in a single layer on a rimmed baking sheet. Bake until the croutons are golden brown, stirring occasionally to ensure even browning, about 15 minutes. Let cool.

6. To serve, ladle the soup into bowls, garnish with some of the croutons, if you please, and serve. (This soup is best eaten the day it is made, but it can be covered and refrigerated for up to 1 day. To rewarm, bring the soup to a simmer over medium heat, stirring occasionally and adding water to thin the soup to the desired consistency.)
Recipe Testers Reviews
This Roasted Tomato Soup has a good deal of character and flavor. The sweetness of the oven-roasted tomatoes and balsamic harmonize quite nicely with the richness of the onions and garlic and the herbs add a good depth. The sage is a nice addition, but judicious use of it is in order to avoid masking the tomatoes. The croutons, while not necessary, also add a nice taste and textural dimension to the soup. I enjoyed this "as is" but think that a few rounds in the blender would make the soup more appealing, allowing the deep red of the tomatoes to come forth while melding the flavors to a better degree. Actually, I pureed the leftover soup and feel it really enhanced its properties. It's not only less messy without the stringy pieces of tomato slopping around each spoonful, but the croutons look absolutely wonderful resting atop the burnished red liquid. I found the onion to be very prevalent in the soup, to the point where it began to mask the tomato flavor. Next time, unless I puree the soup, I'll only use one. The sage adds a nice depth of flavor with its earthy qualities but was a bit overpowering. I'd only use a tablespoon at the most. I ended up using only 4 cups of water instead of 5 to bring the soup to the quantity indicated.
This recipe is one of those that you just can't put away. The soup is delicious – and you aren't quite sure why. The combination of the herbs and the balsamic vinegar gives it a sweet/sharp/fresh taste that plays off the mellowness of the roasted tomatoes. I'm thinking that this would be good as a cold soup —I'll let you know tomorrow! I can also see it as the beginnings of a wonderful bread soup or over some fresh fettuccine as well. And I almost forgot – it would be a wonderful sauce for baking chicken thighs.
The recipe works as written. Cranking the oven to 500 degrees in August might not be the best decision to make, but the results of syrupy balsamic vinegar with charred heirloom tomatoes and garlic is worth it. I cut the recipe in half and added an additional 1/2 teaspoon of salt. One major change that I made was using an immersion blender at the end of the cooking process. Everything was just too "soupy" and benefited from a few quick pulses of the blender. I didn't make the croutons, but toasted some pieces of tomato bread and cut those up for the topping. Interested in tasting this soup a day later!
Roasted Tomato Soup Recipe © 2011 Ann Gentry. Photo © 2011 Sara Remington. All rights reserved. All materials used with permission.
If you make this recipe, snap a photo and hashtag it #LeitesCulinaria. We'd love to see your creations on Instagram, Facebook, and Twitter.