Caçoila, or Portuguese stewed beef, is a comforting braise of beef, red peppers, and aromatics, cooked very slowly in a red wine, tomato, and butter sauce.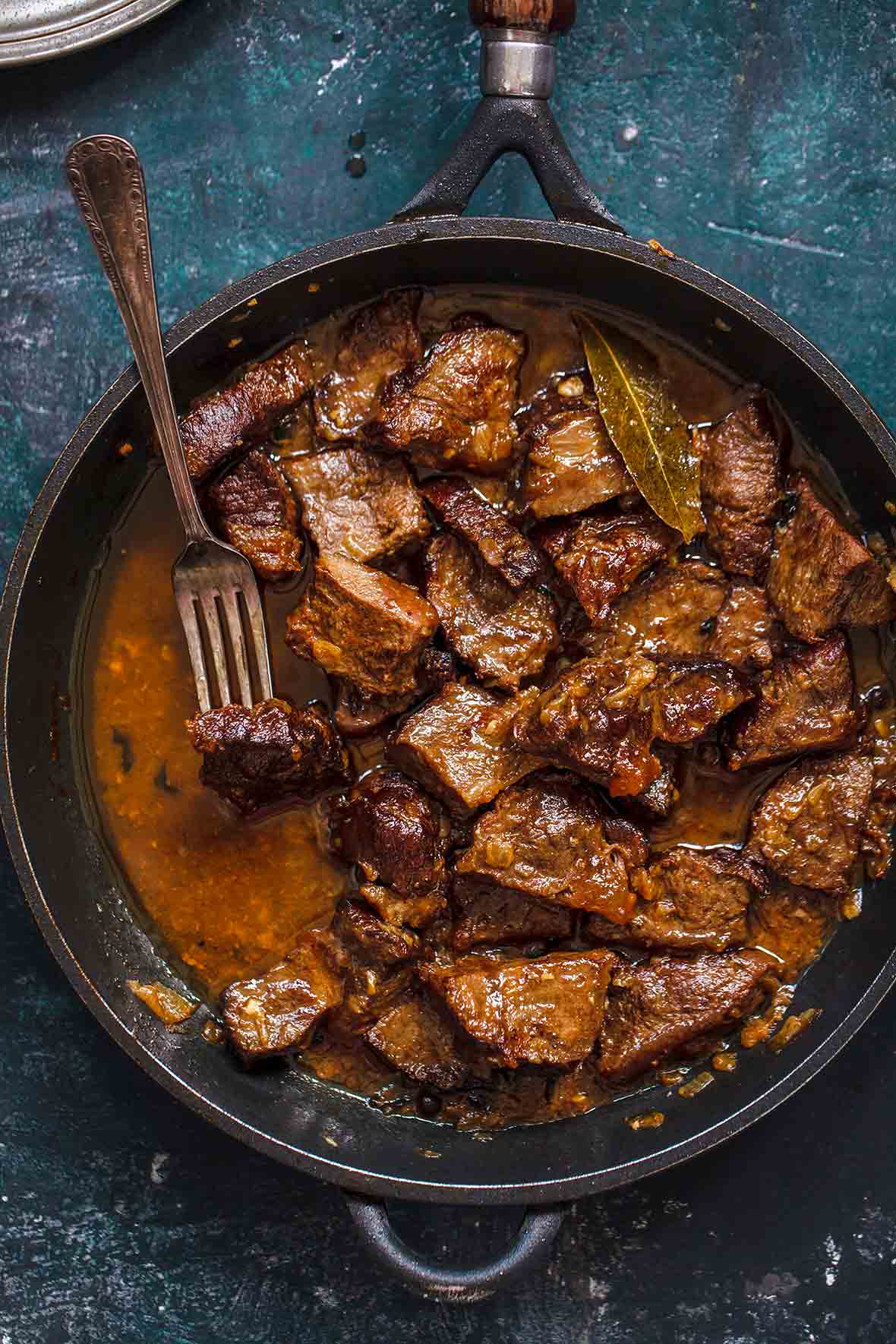 I hesitate to share this Portuguese stewed beef recipe because there are countless versions of caçoila [traditionally ka-soy-la although some folks say ka-sir-la]. They vary in the type of meat (some versions call for pork butt rather than an inexpensive cut of beef that needs to be slowly braised) and means of serving it, whether in a bowl or on a sandwich. So I'm fearful someone will take umbrage. But I couldn't not share it.
The dish is named for a caçoila, a large clay pot in which this dish is often made. Traditionally the pot is soaked overnight. The next morning the ingredients are added, then the pot is covered and placed in a very slow oven [250°F (120°C)]  until the meat is tender. This is a stovetop version that my recipe testers quite literally devoured. This particular beef recipe comes from a friend on the island of São Miguel, a far neighbor of Pico in the Azorean archipelago. Originally published May 10, 2001.–David Leite
*How To Make Your Own Crushed Red Peppers
And now, a word from the author on creating your own crushed red peppers. "Crushed red peppers are exactly that: red peppers that have been ground. Once processed, some Portuguese families, like mine, brine them, others prefer to add olive oil and salt to preserve them. If you can't find bottled crushed red peppers, you can make your own: Remove the stems, but not the seeds, from 2 or 3 large medium-hot red peppers. Place them in the bowl of a food processor fitted with a metal blade. Add 2 tablespoons of olive oil and 1 tablespoon of salt. Whir until blended." There you have it.
Caçoila | Portuguese Stewed Beef
Quick Glance
20 M
4 H

Serves 8
Print Recipe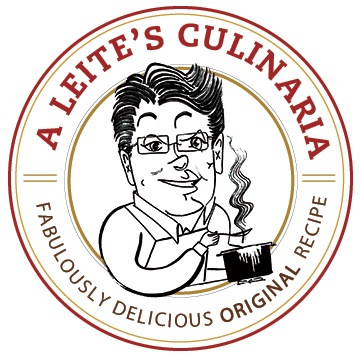 Ingredients
One (4 1/2-pound) chuck roast, cut into 2- to 3-inch (5- to 8-cm) chunks

1/2 cup crushed red peppers* (see LC Note above) or 1/2 teaspoon crushed red pepper flakes

1 large onion, cut into slices

1 bunch parsley, coarsely chopped

6 to 8 cloves garlic, smashed and peeled

2 bay leaf

1/2 teaspoon allspice berries

4 whole cloves

3 tablespoons unsalted butter or lard (1 1/2 oz)

2 cups hearty red table wine

2 tablespoons store-bought or homemade tomato paste

1/2 teaspoon ground cinnamon

For serving

Boiled white potatoes (optional)

Roasted red peppers (optional)

Cooked greens (optional)
Directions
1. The day before cooking, in a large bowl, coat the beef with the crushed red pepper, cover, and refrigerate overnight.

2. About 4 hours before you intend to sit down at the table, scatter the onion slices, parsley, garlic, and bay leaves in the bottom of a Dutch oven. Tuck the allspice and cloves in a piece of cheesecloth tied together with kitchen twine or in a tea ball and toss them in the Dutch oven. Place the beef on top and dot with the butter or lard. In a measuring glass or bowl, stir together the wine, tomato paste, and cinnamon and pour it over the beef.

3. Bring the mixture to a boil, reduce the heat to a very gentle simmer, cover, and cook until the meat is very tender, 3 to 3 1/2 hours, turning the pieces occasionally. For a more concentrated, glaze-like reduction of the sauce, about halfway through cooking, remove the lid to let the liquid concentrate in consistency and flavor. Or, for a more stew-like version, keep the lid on for the duration of cooking.

4. Remove the bay leaves and the cheesecloth pouch or teaball. If desired, serve the caçoila with boiled white potatoes, roasted red peppers, and cooked greens.
Portuguese Stewed Pork
You can use the same amount of pork butt cooked in the same manner.
Caçoila | Portuguese Stewed Beef Recipe © 2000 2000. Photo © 2000 casanisa. All rights reserved. All recipes and photos used with permission of the publisher.
If you make this recipe, snap a photo and hashtag it #LeitesCulinaria. We'd love to see your creations on Instagram, Facebook, and Twitter.