This Catalan bread salad, also known as escalivada in its native Spain, is a rustic summer staple made with day-old bread and grilled or roasted vegetables including tomatoes, eggplant, zucchini, bell peppers, and (surprise!) figs. Spain's answer to panzanella.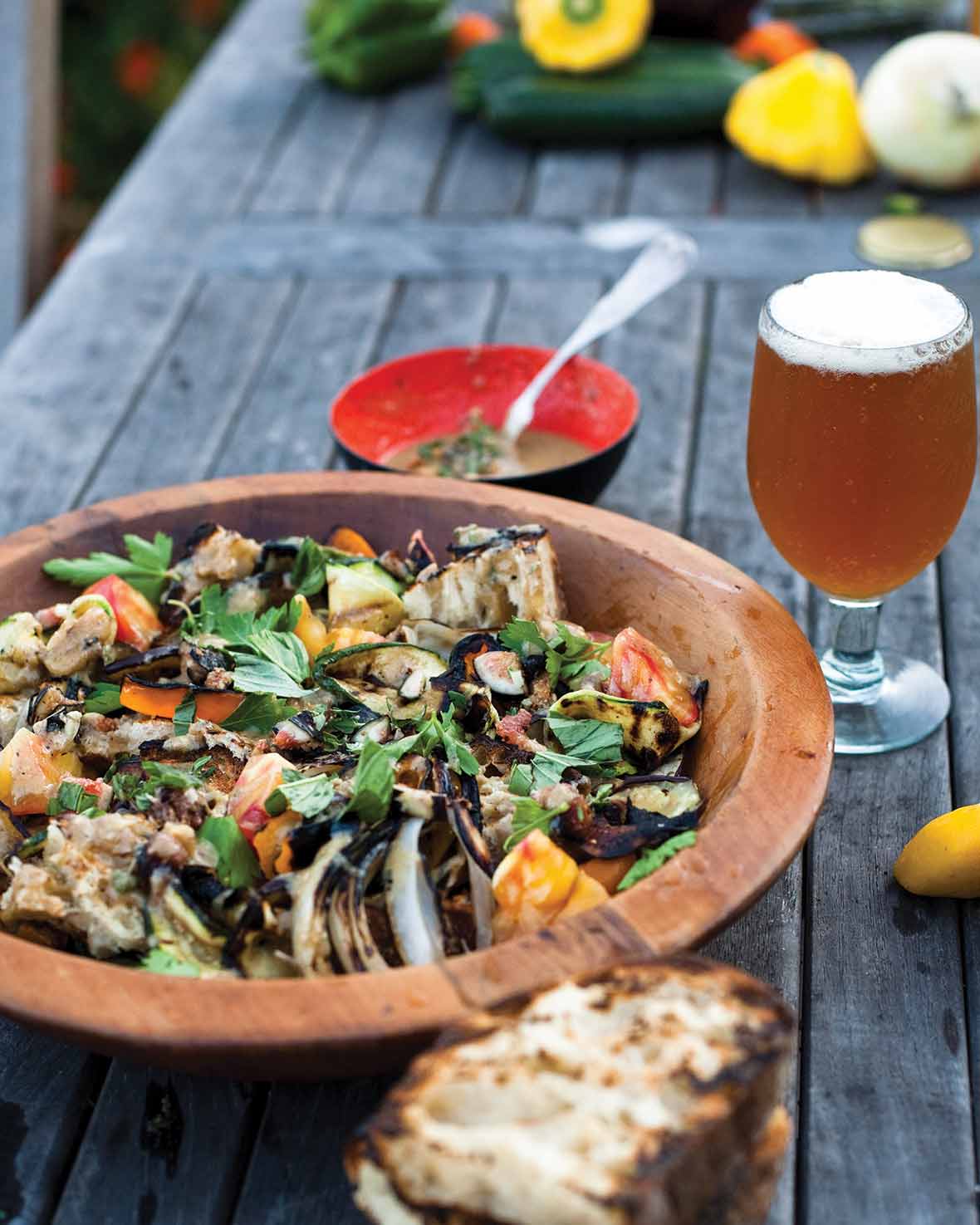 This escalivada salad takes its intriguing name from the Spanish term for cooking over hot coals as the vegetables in it, unlike in Italian bread salad, are grilled. They're then smothered with a rich, garlicky, umami-heavy dressing called anchoïade that you're gonna wanna slather on EVERYTHING. Despite the resulting garlic breath. Swear.–Renee Schettler Rossi
Escalivada | Catalan Bread Salad
Quick Glance
40 M
40 M

Serves 4 to 6
Ingredients
Email Grocery List
For the bread salad

1 large eggplant, cut lengthwise into slices 1/4-inch (6-mm) thick

3 zucchini or summer squash, cut lengthwise into slices 1/4-inch (6-mm) thick

6 gypsy or bell peppers, halved and seeded

1 red or yellow onion, cut into slices 1/4-inch (6-mm) thick

1/2 cup olive oil

4 thick slices day-old bread hewn from an artisanal loaf, whole-grain, if desired whether store-bought or homemade

2 ripe heirloom tomatoes, cut into 1-inch chunks

2 cups mixed flat-leaf parsley and basil leaves, torn into pieces

8 to 10 fresh figs, any variety, halved (optional)

For the anchoïade

2 cloves garlic

6 olive oil-packed anchovy fillets

1/2 cup walnuts halves or pieces

1/2 teaspoon coriander seeds

Grated zest and juice of 1 average-size lemon, preferably organic

1/2 cup olive oil

1 tablespoon marjoram leaves

1 teaspoon thyme leaves

1/2 cup dried figs, preferably Mission or some other dark-colored variety, chopped

Salt and freshly ground black pepper
Directions
Make the bread salad

1. Prepare a fire in a charcoal grill.

2. Brush the eggplant, zucchini, pepper, and onion slices generously with some of the olive oil.

3. Grill the vegetables, turning as needed, until soft and slightly charred, 6 to 8 minutes. If desired, cut each slice into smaller pieces. Toss in a bowl.

4. Brush the bread slices with some of the olive oil. Grill, turning occasionally, until slightly charred, about 4 minutes. Transfer to a platter and cut each slice in half or smaller pieces.

Make the anchoïade

5. Place the garlic and anchovies in a food processor or a mortar and process or pound into a paste. Add the walnuts and coriander seeds and pound to incorporate them.

6. Transfer the paste to a bowl and stir in the lemon zest and juice, olive oil, marjoram, thyme, and figs. Season with salt and pepper.

7. Arrange the grilled vegetables on the platter along with the bread, tomatoes, parsley, basil, and fresh figs, if using. Spoon the anchoïade over the top and serve. Originally published September 14, 2011.
What You Need To Know About Making This Salad
How To Make It With Roasted Vegetables
You can easily swap the grilling for roasting if you're apartment-bound or craving this salad during winter, simply roast the vegetables rather than grill them using your preferred technique. Really any temperature oven will work, whether you go low and slow or a higher temperature for a shorter amount of time.
How To Pronounce A Couple Unfamiliar Terms
Not all of us are accustomed to bandying about terms such as bagna cauda and anchoïade and escalavida. Nor are we accustomed to tossing together a lovely deconstructed bread salad. That doesn't mean both of those things can't happen with ease. Here, a cheat sheet… Bagna cauda (pronounced BAN-ya-COW dah) is pretty much just as described in the above headnote. It's often used as a fondue of sorts for meat or raw veggies or a vinaigrette to accompany robust flavors. Anchoïade (pronounced on-SHWOY-ahd) is a garlic and—you guessed it—anchovy dip that takes countless guises. This version is more embellished than most, an intriguing juxtaposition of bitter and sweet that's earthy and enticing. Any questions?
Recipe Testers Reviews
Escalivada | Catalan Bread Salad Recipe © 2010 Chad Robertson. Photo © 2010 Eric Wolfinger. All rights reserved. All materials used with permission.
If you make this recipe, snap a photo and hashtag it #LeitesCulinaria. We'd love to see your creations on Instagram, Facebook, and Twitter.