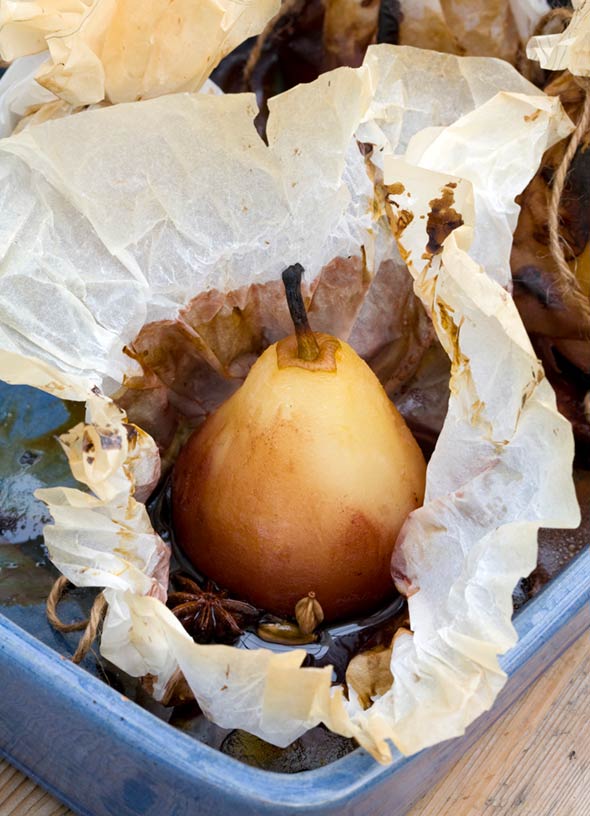 Breaking away from the usual pears poached in red wine, this recipe is quite easy. The pears look lovely brought to the table in their parcels.–Sarah Raven
LC Pick a Pear, Any Pear Note
Pick a pear, any pear. Just about any variety will do for this lovely little recipe. What kind works best, though, depends on your prerogative—and your priorities. As the author notes, "Big fat pears, such as Comice, that sit well on their bottoms are best." Okay, well, yes, that's quite nice and practical in terms of keeping the squat pear from turning topsy-turvy. But best? We're not so certain, as we're quite partial to the voluptuous, curvaceous, breathtaking silhouette of Bosc pears on a dessert plate. Because a Bosc's behind is rather Rubenesque, far more so than that of a clunky Comice, you'll need to simply slice a wee bit of bottom from the pear for it to sit up straight. Big whoop.
Pear Parcels with Star Anise
Quick Glance
15 M
1 H, 15 M

Serves 6
Special Equipment: Kitchen string
Print Recipe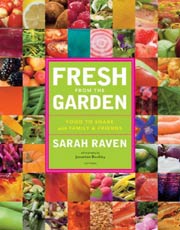 Ingredients
6 ripe pears, peeled, stems left intact

12 whole star anise

12 whole cardamom pods, slightly crushed

12 whole cloves

12 tablespoons port, whether tawny or ruby

6 tablespoons honey

Ice cream, whipped or heavy cream, or mascarpone (optional but highly, highly recommended)
Directions
1. Preheat the oven to 350°F (176°C). Cut six 12-inch squares of parchment paper and trim the corners to create circles. Place each parchment circle in a small bowl.

2. Place a pear in the middle of each parchment circle. (It may be necessary—and prudent—to cut a slice off the bottom of each pear so that it stands upright without tilting or wobbling.) Toss 2 star anise and 2 cardamom pods into each pear parcel. Press 2 cloves into each pear. Spoon 2 tablespoons port and 1 tablespoon honey over each pear. Gather the edges of the parchment around the top of the stem and tie the bunch with kitchen string. Transfer the parcels, sans bowls, to a roasting pan.

3. Bake the pears until tender, 45 to 60 minutes, depending on the variety. (To test for doneness, insert the tip of a sharp paring knife through the paper and into a pear—preferably the pear you'll serve yourself.) Serve each parcel, still in the paper for each person to unwrap, in a small dish with a knife and fork or spoon. If desired, serve with a scoop of ice cream, a dollop of whipped cream, a drizzle of heavy cream, or a generous spoonful of mascarpone.
Recipe Testers Reviews

A very simple and elegant dessert. The pears are delicious, tender, and spicy. This would be great for a dinner party with a scoop of ice cream.
Pear Parcels with Star Anise Recipe © 2011 Sarah Raven. Photo © 2011 Jonathan Buckley. All rights reserved. All materials used with permission.
If you make this recipe, snap a photo and hashtag it #LeitesCulinaria. We'd love to see your creations on Instagram, Facebook, and Twitter.