This concord grape jam–nothing but concord grapes, sugar, and citrus juice–makes for nothing but smiles. So simple. So much more satisfying than store-bought.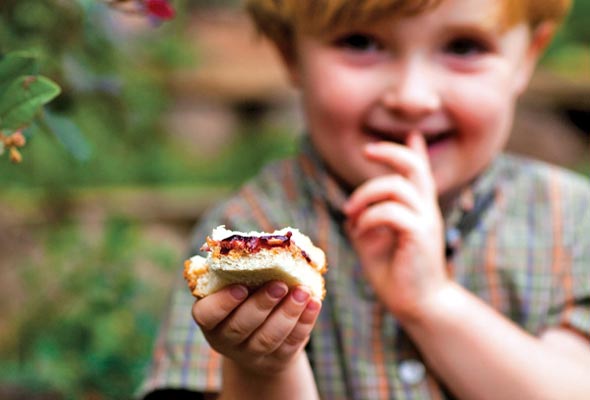 We can think of no more compelling reason to invest time and effort into making one's own grape jam than that cherubic little face and those pudgy hands proffering the PB&J in the photo above. That said, we find the intense, not overly cloying, truly grape jammy flavor of these preserves sufficiently convincing on their own. Originally published October 14, 2011.–Renee Schettler Rossi
Concord Grape Jam
Quick Glance
45 M
1 H, 30 M

Makes five to six 8-ounce jars
Print Recipe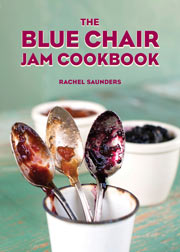 Ingredients
4 pounds Concord grapes, stemmed

2 1/2 pounds white cane sugar

3 ounces (6 tablespoons) fresh lemon juice, strained

Very finely grated zest of 1/2 an orange, orange part only, not the underlying bitter white pith

1/2 ounce (1 tablespoon) fresh orange juice, strained
Directions
1. Place a saucer with five metal teaspoons in a flat place in your freezer for testing the jam later.

2. Working directly over a small nonreactive saucepan, use your fingers to gently squeeze the flesh from each grape, being careful to catch all the grape insides and juices in the pan. [Editor's Note: Yes, you ready that correctly, you really do have to stand there and squeeze each grape.] Set the skins aside in a large bowl.

3. Bring the grape insides and juices to a simmer over medium heat, cover, and cook until soft, 3 to 5 minutes. Immediately force as much of the pulp as possible through a fine-mesh strainer or chinois placed over the bowl of grape skins. Discard the seeds.

4. Add the sieved grape pulp, sugar, lemon juice, orange zest, and orange juice to the grape skins, stirring well. Transfer the mixture to an 11- or 12-quart copper preserving pan or a wide nonreactive pot. Bring to a boil over high heat.

5. Continue to cook the jam, stirring very frequently with a heatproof rubber spatula. If the jam starts sticking, lower the heat slightly. When the jam is done, it will acquire a glossier sheen and will have a thicker, more luxurious look than it did initially, usually after 20 to 30 minutes. To avoid overcooking the jam, test it for doneness after 20 minutes of cooking. To test, remove the jam from the heat and carefully transfer a small representative half-spoonful to one of your frozen spoons. Replace the cold spoon in the freezer for 3 to 4 minutes, then remove and carefully feel the underside of the spoon. It should be neither warm nor cold; if still warm, return it to the freezer for a moment. Tilt the spoon vertically to see how quickly the jam runs; if it is reluctant to run, and if it has thickened to a spreadable consistency, it is done. If it runs quickly, cook it for another minute or two, stirring, and test again as needed.

6. When the jam is ready, skim any white foam from its surface with a stainless-steel spoon. Pour the jam into sterilized jars and process according to the manufacturer's instructions.
Concord Grape Jam Recipe © 2010 Rachel Saunders. Photo © 2010 Sara Remington. All rights reserved. All recipes and photos used with permission of the publisher.
If you make this recipe, snap a photo and hashtag it #LeitesCulinaria. We'd love to see your creations on Instagram, Facebook, and Twitter.