These sweet potato wedges are an easy, healthy side dish made with lightly spiced sweet potatoes that are roasted until tender and golden.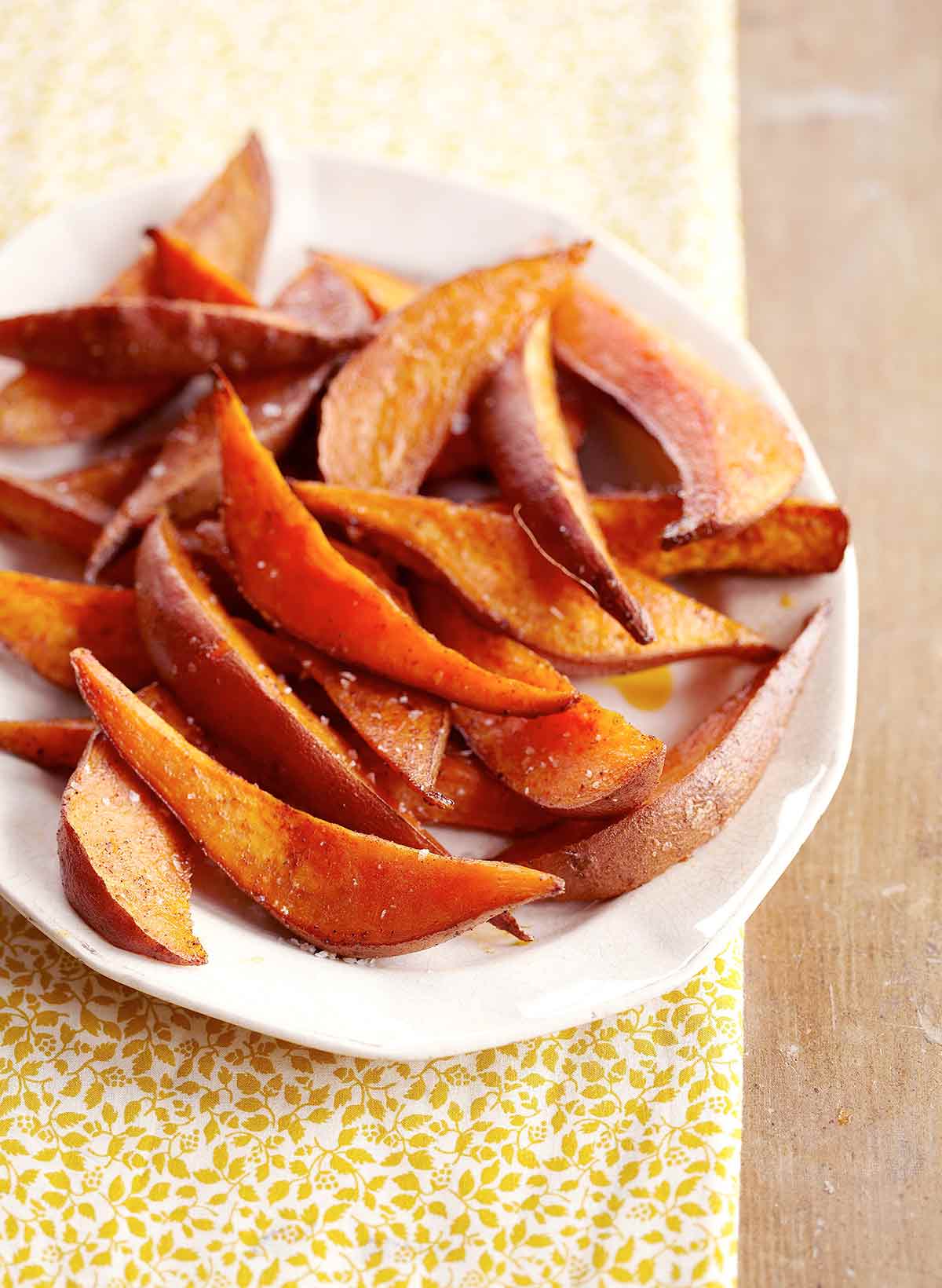 LC Voluptuous, Curvy, and Substantial Note
While these you'd-never-guess-they're-good-for-you fries of sorts will help you on your quest to be skinnier, these aren't your skinny French frites. They're chunky-wunky, thick-cut steakhouse-style potato wedges. As such, they're curvy. Voluptuous. Substantial. Purposeful. While we like us a crisp skinny stick of potato now and then, what we really crave is something full of character.
Sweet Potato Wedges
Quick Glance

(2)

10 M
35 M
Serves

6
Print Recipe
Ingredients
Directions
Preheat the oven to 425°F (218°C).
On a cutting board, cut each sweet potato in half lengthwise, then place it flat side down. Cut each potato half into 1-inch-wide (25-mm) wedges.


In a small bowl, combine the oil, chili powder, and 1 teaspoon of the salt. Place the potatoes on a roasting pan and brush them with the oil mixture, turning to coat all sides. Turn the potatoes flesh side down.
Bake the potatoes until softened, 20 to 25 minutes. If you want your sweet potato wedges sorta soft, turn them once. If you want your wedges blistered and golden brown and crisp on one side, don't turn the wedges.
Remove the panful of sweet potato wedges from the oven and season with the remaining 1/2 teaspoon salt. Transfer to a brown paper bag and let them cool just a little. Serve warm.


Print Recipe
Recipe Testers' Reviews
Quite lovely. I peeled all but one of the potatoes, and preferred the ones without the skin. I also followed the advice to leave the potatoes on the roasting pan without turning them, and the flesh blistered beautifully, which I think is important with sweet potatoes, as they tend to be on the softer side anyhow.
The chili powder was an easy way to add a little smoky flavor. The next morning, we chopped up the leftovers and made a hash to go along with fried eggs.
I must admit I wasn't too sure about this recipe, but I guess I was wrong. I must say, DO use the chili powder, as that is what makes them AMAZING. This is such an easy and healthy side dish to go along with, say, a grilled steak.
Sweet Potato Wedges Recipe © 2011 Allison Fishman. Photo © 2011
Lucy Schaeffer
. All rights reserved. All materials used with permission.