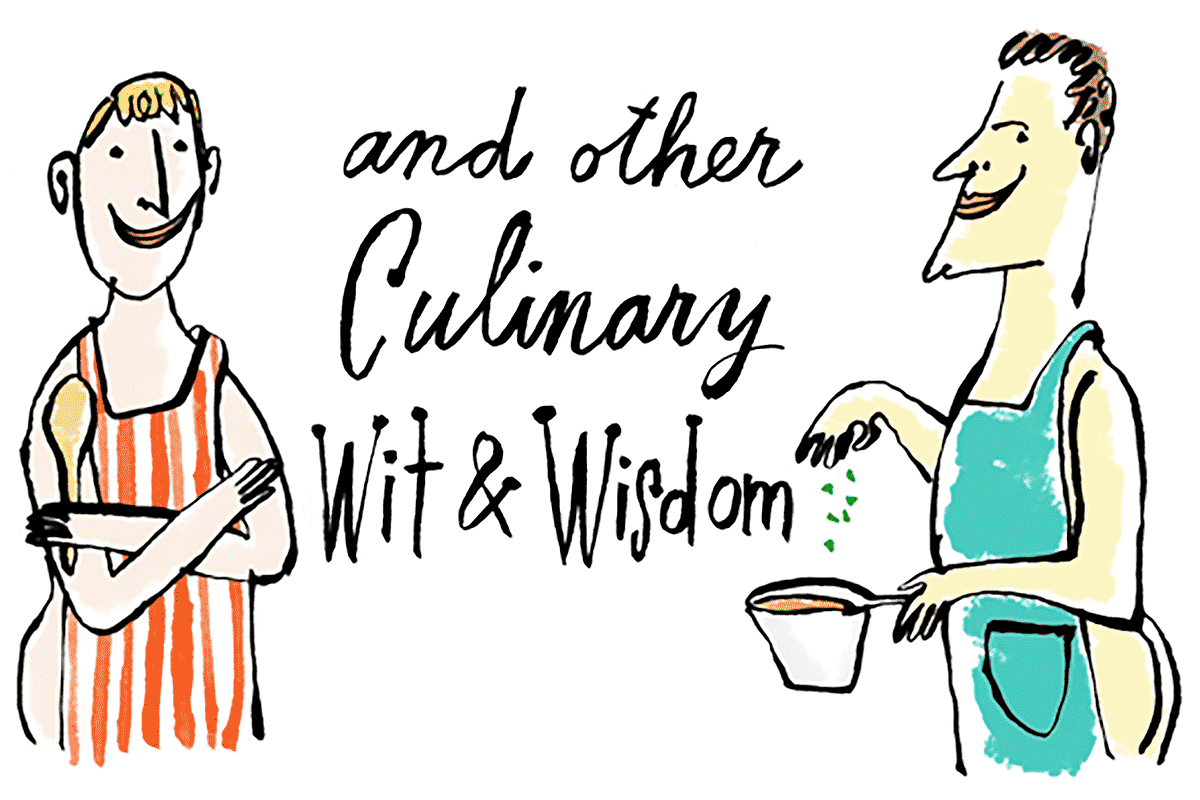 Our very clever, very clothed Never Cook Naked columnists, Mark Scarbrough and Bruce Weinstein, are at your disposal, able to troubleshoot everything from questionable table etiquette to tricky cooking techniques (and, natch, proper cooking attire). If you're curious to read more solutions to culinary conundrums explained, you may wish to peruse previously asked questions, starting with the last column's answers regarding mayo salads, sharing steak, and shrinking pie crusts.
—–
Handy Hostess Gifts
Dear Never Cook Naked Guys: Can we discuss the type of hostess gifts one ought to bring? Something to eat or drink that night? Or something for them to enjoy on their own?–Rather Not Be Empty-Handed
Dear Handed: We majored in deportment at finishing school. It was either that or dressage. We think we chose the better part of valor. So you're about to witness our prim side–and our rules on what to present to hosts and hostesses.
1. Forget flowers. They're the cruelest hostess gifts. No host wants to be fussing over flaccid tulips while greeting other guests, taking coats, and shaking cocktails. If you insist on flowers, send them earlier in the day—and yes, you must splurge to have them arrive arranged in a vase.
2. Unless you were asked to contribute something, don't bring anything edible to serve that night. The dinner has been planned. Everything's got its place. This isn't a family reunion.
3. Avoid gifts for children or pets. People have rules on what the wee ones can play with or eat. Sometimes they're the same rules. Regardless, steer clear.
4. Bring a discreetly packaged food gift, but don't assume it will be served that evening. May we suggest a choice bottle of vodka, bourbon, or rum? Maybe an artisanal food find? A box of handmade chocolate bark from a local candy store? You get the idea. When in doubt, think local. If you bring wine, remember that your hostess may have already selected the evening's pour and will enjoy your bottle at another time. Besides, it's a tad self-serving—nay, tacky—to show up with something which you intend to quaff yourself. To save myself from your swill, I have brought my own. It doesn't seem to set the right tone.
5. Bring something for breakfast. Nothing's more appreciated than can't-stop-at-just-one muffins from a local bakery or some homemade granola and a container of ridiculously pricey Greek-style yogurt. Chances are your host or hostess has spent all day cooking and will be up half the night cleaning. The last thing that person will want to do the next morning is make breakfast and then clean up afterwards. Although if you're spending the night and not sleeping in the guest bedroom, this is an entirely different situation, in which case you might consider something a little more . . . well, never mind. That's a scenario that's a little less than fit for a family-friendly column.
Wax Versus Parchment Paper
Dear Never Cook Naked Guys: Is there any practical difference between using wax paper and parchment paper for baking?–Also Been Known To Confuse Wrapping Paper and Wallpaper
Dear Confused: Wax paper is coated with a thin, food-grade layer of wax to create a nonstick moisture barrier. It's perfect for keeping sandwich bread soft in a lunchbox, cheese tasty in the fridge, piecrust stick-free when rolling it on the counter, and the layers of cut blondies and brownies blissfully separate when stacked in a container.
However, wax paper is not heat resistant. In fact, it has a relatively low smoke point. This means it can burn when exposed to the heat of the oven. It can even set off fire alarms. Trust us.
Thus, parchment paper is the baking standard. In sharp contrast to the waxy stuff, parchment is heavy-duty, grease-and-moisture resistant paper treated with acid to give it high-heat stability. It's also often coated with silicone to give it a nonstick finish. Reach for it to line baking pans and, if you're a stickler for details, to cover casseroles before then crimping with foil. (The last trick prevents acidic ingredients, such as tomatoes, from dissolving the aluminum. Which it can do. Literally.)
As a general rule, use parchment whenever and wherever heat is involved, and rely on wax paper for cold- and room-temperature storage. Technically, yes, you could cut wax paper to precisely the proportions of a cake pan so that it's not actually exposed to the heat, but do you really want to have that wax then leach into your baked layers, lending them a film of foamy, off-white, scum-like coating? We didn't think so.
Got more questions? Good. We do, too. That is, more questions AND answers. Take a peek at previous columns from our Never Cook Naked Guys for more cooking etiquette and enigmas explained. Anything pertaining to food or drink goes. Well, anything within reason. But first, those previously tended-to questions we promised….
"Blonde" Coffee, Old Eggs, Diplomatic Diners, Flat Cookies
Mayo Salads, Shared Steak, Pie Crust
Illustration © 2012 Eric Hanson. All rights reserved. All materials used with permission.