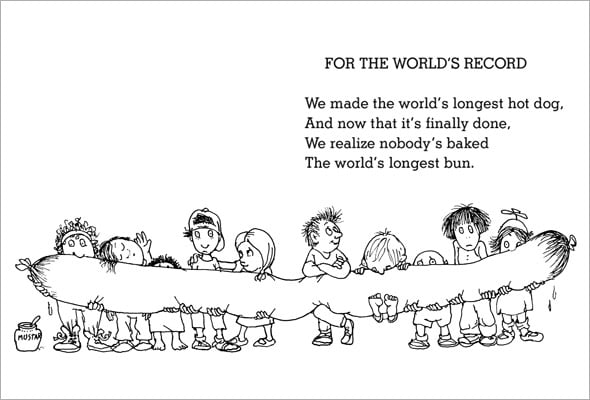 Late last year, a book of sillily subversive poems, Every Thing On It, was quietly published. It wasn't the author's first work, nor his largest work, but his last work, published posthumously by his family. To those of us who swoon to Shel Silverstein and have committed his previously published words to memory, it was a chance to immerse ourselves anew in his creative brilliance. And for those who may not be familiar with Shel, but who have something of a penchant for food, it's an opportunity to perceive the world–and, by extension, food–as if for the first time, thanks to the two dozen or so of the book's 100-plus poems  that pertain in some weirdly warped way to our preferred pastime. [Editor's Note: Um, that count rises exponentially if you include poems that mention bodily functions that are related to eating. But for now, you can amuse yourself with Shel's hot dog ditty above.]
Perhaps not surprisingly, many of us came to Shel through our dads, ordinary guys who wanted to impart to their kids bedtime stories with unexpected and, some may say, indecent endings. Shel seems a natural choice, given his distinctly and decidedly off-kilter way of seeing the world. We're curious to hear how you came to know–and love–Shel. In the meantime, here's one dad's coming-of-Shel story.–Renee Schettler Rossi
When I was a kid, after my parents' divorce, weekends with my father always included a trip to my grandparents' estate in Montecito, a beachside community north of Los Angeles that could be considered a West Coast variant of The Hamptons. I have specific memories of those trips: the football-size lemons that grew in their garden, the chocolate cake their housekeeper made that no restaurant or bakery has ever been able to beat, and the black cherry Diet Shasta that my sister and I would drink, even though we hated it, just because we didn't usually get to sip soda pop.
The best part of the trip, though, was the drive home when, speeding along Highway 101, we'd round a certain point on the coast, finally coming within range of KMET FM and the Sunday night broadcast of the Dr. Demento Show.
Back then, one of the few ways my dad and I could relate to each other–he didn't understand kids and I didn't understand lawyers–was through our shared love of comedy. Listening to Dr. Demento together as we drove was the true highlight of the weekend. And one of my favorite things Dr. D. would play was Shel Silverstein's performance of the cautionary tale Sarah Cynthia Sylvia Stout, who would not take the garbage out.
Shel's voice had this magical range, from crazed screeching to low conspiratorial whispers. It was like listening to the best story lady at the library, the one who acted everything out as larger-than-life melodrama, except with Shel there was a beard… and a rumble…and a subtle wink I was certain my dad couldn't see. Although I'd read Silverstein's books (and seen his picture on the dust jackets—I'd thought he looked like a pirate), hearing his poems recited in his own voice was like getting to eat at the restaurant of a chef whose cookbook lay dog-eared and tomato-stained on my kitchen counter.
As I grew older, I found Shel's material wasn't just for kids. I happened upon some of his "grown-up" work in a treasury of cartoons in Playboy, dating from the '50s and '60s, that my dad had on his bookshelf. And Shel's recording of "The Great Smoke Off"–the tale of a contest between the world's greatest joint roller and the world's greatest joint smoker–was a regular feature on my college radio show, played for all the potheads who were listening to a low-powered FM station on the edge of the desert at 2 a.m.
Fast-forward more years than I care to count to when I had my firstborn, a son. This made me consider a lot of things, including Shel and the proper time to introduce him to my son's bedtime routine. As a parent, I thought Shel seemed the next logical step for kids raised on Dr. Seuss. He took them, their minds prepared by adventures with Sam I Am and Horton the Elephant into stranger, sillier, more subversive places, places where they sold their little sisters, got eaten by a boa constrictor, and worried about the sharp-toothed snail living in their noses. I wanted to share that with my boy.
When he was somewhere between the ages of 4 and 5 and tiring of really useful tank engines, my wife–a fellow Shel follower–and I saw our opportunity.
It was love at first read. Every night at bedtime there was Shel, and we quickly went through his books and then back through them again. Many of my own childhood books had been destroyed by a flood a decade earlier, but A Light in the Attic had survived, and there was also the copy of Where the Sidewalk Ends that I'd bought to replace the one the flood took. I eventually downloaded the spoken word recordings from iTunes and burned them onto CD so we could listen to them in the car on the way to and from preschool. Listening to Shel actually became a reward we could offer—or cruelly withhold–to encourage good behavior.
Although my son had favorite poems that he'd ask for–namely the one about the king who gets his mouth stuck shut by a sticky peanut butter sandwich–I wasn't certain that he was truly hooked until one night when I caught him reading after lights-out, sitting cross-legged in bed, a flashlight in one hand and Where The Sidewalk Ends in his lap. Shel isn't the only author my son's violated lights-out for, but to my knowledge, he was the first. If Shel were still alive, I'd write to thank him for inciting that aspect of my son's rebellious streak.
If you asked my dad about Shel Silverstein today, he'd probably need his memory jogged, and not just because he's getting older. Sharing Shel with my dad meant more to me than it did to him. Thinking about that gives me a sad suspicion that Shel's going to mean more to me than to my son. Still, sometimes I sneak into his room in the morning and find Where The Sidewalk Ends on the floor next to his bookshelf or even on his pillow, a sure sign that he was reading Shel after lights-out again, marinating his brain in those wonderful words and weird ideas. I smile to myself, pretend I didn't see it, and help him get started with his day.
© 2012 Greg Bulmash. Illustration © 2011
Shel Silverstein
. All rights reserved. All materials used with permission.