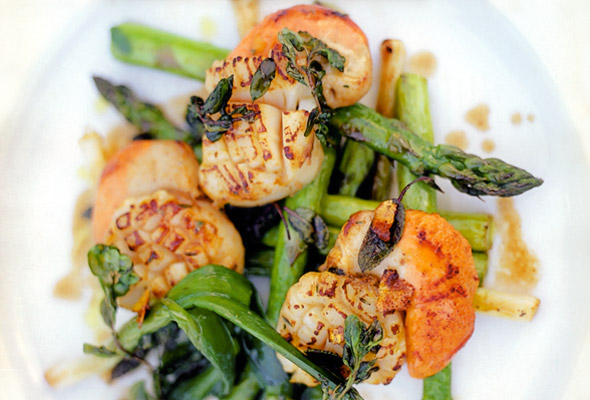 I've come across a couple of fantastic revelations here that I want to tell you about. First, scoring the scallops on one side in a criss-cross fashion causes them to open out when seared, like a beautiful flower, and when they're drizzled with a little dressing or sauce they take in all that flavor. Second, the subtle use of five-spice powder with any seafood is a real pleasure.–Jamie Oliver
LC Singing Scallops Note
We all know that when you hold a seashell to your ear, you can hear the sound of the ocean. But we bet you didn't know that scallops, too, capture that soothing sound while they're still in the shell. Or so we're told. As Bryn Williams explains in The Perfect Ingredient, "Some folks hold that scallops really do sing. Fishermen of legend have sworn that they have heard their song. Science may tell us that's merely the whooshing sound they make as they propel themselves along, but I prefer the singing version of the story myself!" We're with Williams. What can we say, we're romantics. We're also fools for sea scallops.
Pan-Seared Scallops with Asparagus and Baby Leeks
Quick Glance
25 M
25 M

Serves 4
Print Recipe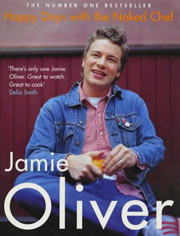 Ingredients
Email Grocery List
16 asparagus spears, trimmed

12 baby leeks (or, for a more pungent allium presence, scallions)

Olive oil

1 small handful marjoram or summer savory sprigs, leaves plucked from the stems

1 lemon

Sea salt and freshly ground black pepper

12 ginormous sea scallops or 16 to 20 smaller sea scallops

2 pinches five-spice powder (optional)

Butter (optional)
Directions
1. Bring a pot of salted water to a boil. Add your asparagus and leeks and cook just until just barely tender, a couple of minutes at most. Drain and pat dry.

2. Get a large skillet hot and then drizzle it with just enough olive oil to coat the surface. Sizzle up your asparagus and leeks, working in batches so there's but a single layer of vegetables, until lightly colored on all sides. Transfer the asparagus and leeks to a large bowl. Rip half your herbs over the top, add a squeeze of lemon juice, and gently toss. Set aside.

3. Get the same skillet nice and hot. Score one side of each scallop in a criss-cross fashion, slicing almost but not quite halfway through each scallop. Season the scallops on both sides with salt, pepper, and five-spice powder, if desired. Carefully drizzle the skillet with just enough olive oil to coat the surface. Add the scallops, scored side down, and sear, untouched, until they're golden brown and easily come away from the skillet when you tug at them with tongs, about 2 minutes. (As with the vegetables, you may need to work in batches to avoid crowding the scallops, which would cause them to steam.) Flip the scallops over, add the rest of your herbs, and cook to the desired doneness, about 1 minute more.

4. Divide the asparagus and leeks among 4 plates. Top each portion of veggies with some of the scallops. If a rich pan sauce is desired, add 2 good pats of butter and the juice of ½ the lemon to the skillet, shake the pan about until the butter melts and, if desired, turns slightly brown, and then dribble a little of the pan sauce onto each plate. Cut the remaining lemon into wedges and place a wedge on each plate. Serve immediately.
Recipe Testers Reviews
Pan-Seared Scallops with Asparagus and Baby Leeks Recipe © 2002 Jamie Oliver. Photo © 2002 David Loftus. All rights reserved. All materials used with permission.
If you make this recipe, snap a photo and hashtag it #LeitesCulinaria. We'd love to see your creations on Instagram, Facebook, and Twitter.