As you may have gathered, Humphry Slocombe attracts a wide range of clientele. One of our most loyal (and beloved!) contingents is something we've dubbed the stroller mafia. Need to trick your kid into trying vegetables? Look no further than Hibiscus Beet, not just a fresh and delicious sorbet, but also our prettiest flavor. See, when kids choose their treats in the shop, they always seem to gravitate towards Hibiscus Beet's vibrant, deep red color. Little do they know that there are whole roasted beets—full of vitamins and minerals—in that sorbet. Suckers! In fact, Hibiscus Beet's hue is so ridiculous that we billed it as "O Negative" during the vampire hoopla a few years back. We hear it was a big hit at the viewing parties.–Jake Godby and Sean Vahey
LC Hibiscus How-To Note
We've kept a stash of hibiscus blossoms in our pantries ever since we were introduced to the lurid magenta flower and its culinary charms. It tastes sort of like you'd expect. You know. Floral. You'll find dried hibiscus flowers in the bulk bins at many a natural foods store as well as from online purveyors. Should you find yourself with some surplus blossoms even after making this sorbet again and again and serving it alongside a scoop of contrasting Cantaloupe Sorbet, we have another happily colored little something for you to try.
Hibiscus Beet Sorbet
Quick Glance
15 M
2 H

Makes 1 quart
Special Equipment: Ice cream maker
Print Recipe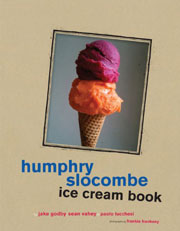 Ingredients
2 medium (about 1/2 pound total) red beets, roasted until quite tender, then cooled and peeled

4 cups cold water

1 cup sugar

10 dried hibiscus flowers

2 tablespoons corn syrup

Juice of 1/2 lemon

2 teaspoons salt
Directions
1. Place the beets in a blender or a food processor and process to a smooth purée.

2. In a large, heavy-bottomed, nonreactive saucepan over medium–high heat, combine the water and sugar and stir until the sugar has dissolved. Add the hibiscus flowers and bring to a boil. Stir in the beet purée and corn syrup and remove from the heat. Let cool completely.

3. Add the lemon juice and salt to the puree. Strain the mixture through a fine-mesh strainer into a clean bowl. Cover the bowl tightly and chill in the refrigerator for at least 1 hour or preferably overnight.

4. When you're ready to freeze the mixture, transfer it to an ice cream maker and spin according to the manufacturer's instructions. Eat immediately or transfer to an airtight container, cover, and freeze for up to 1 week.
Hibiscus Beet Sorbet Recipe © 2012 Jake Godby | Sean Vahey. Photo © 2012 Frankie Frankeny. All rights reserved. All recipes and photos used with permission of the publisher.
If you make this recipe, snap a photo and hashtag it #LeitesCulinaria. We'd love to see your creations on Instagram, Facebook, and Twitter.