This is not your classic lobster salad–not by a long shot. It's got juicy cherry tomatoes, basil, red onions, and mayonnaise mixed in with chunks of fresh, sweet lobster meat.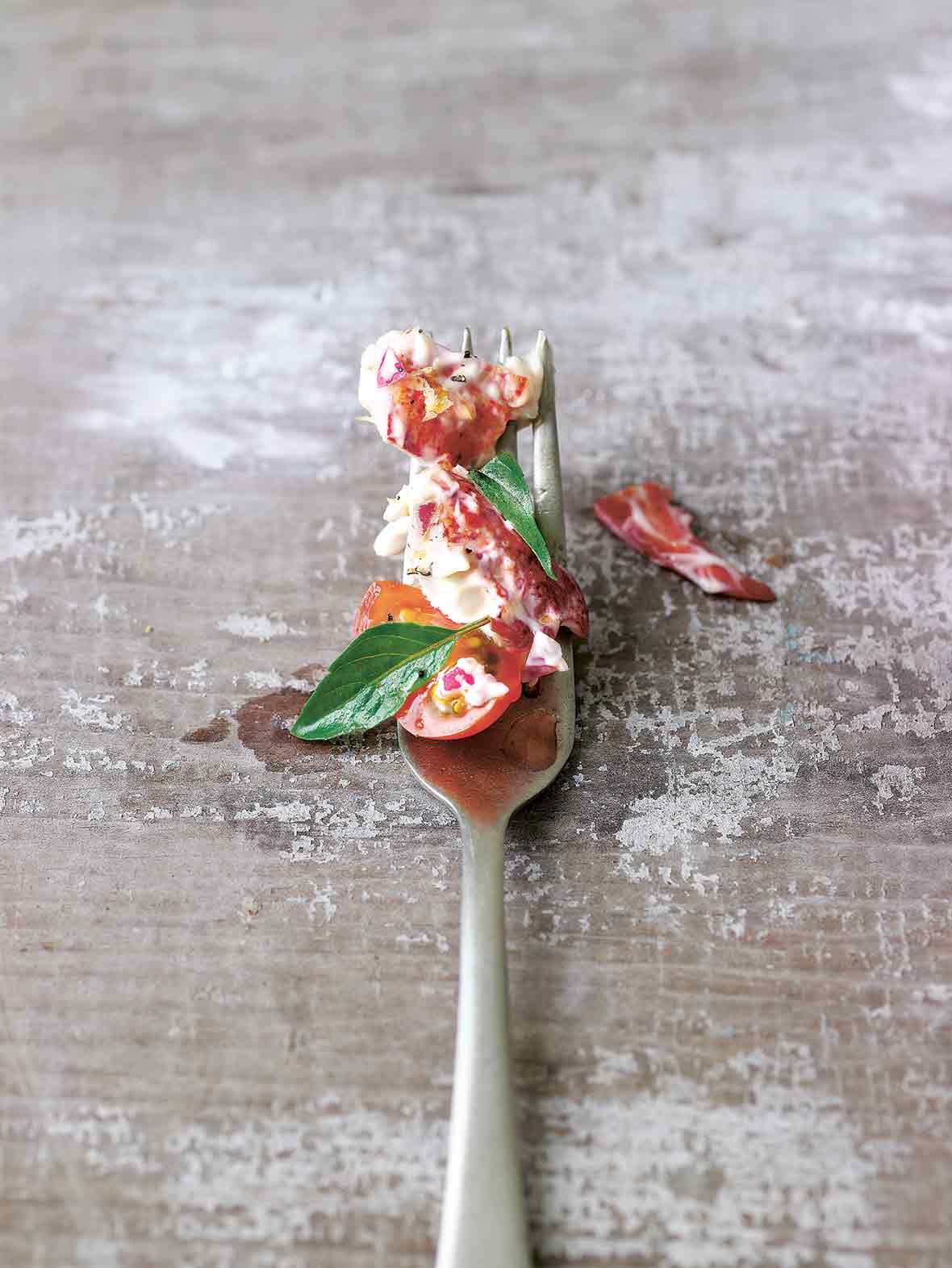 This salad is a celebration of summer and over-the-top deliciousness. It's also the centerpiece of one of my favorite seasonal meals. Be sure to use tomatoes at their juicy sweet peak.
For as long as I can remember, I've had the same red-handled and razor-sharp Joyce Chen kitchen scissors, which are excellent for countless food-prep chores, including snipping through tough lobster bodies and knuckles to remove whole chunks of meat. Originally published August 1, 2012.–Mindy Fox
LC Cracking Lobster Note
This lobster salad recipe, like so many others before it that similarly call for cooked lobster, sort of assumes that you have some semblance of a notion how to crack the darn thing. And perhaps you do. But if, like some folks we know, you've never attempted this before, take a glimpse at our handy dandy cheat sheet. And once you've extricated that lovely lobster meat, don't you dare discard those shells. Tuck them inside a resealable plastic bag, toss them in the freezer, and save them for a rainy day–the perfect occasion for simmering some lobster stock, low and slow. You're welcome.
Lobster Salad
Quick Glance
45 M
1 H

Serves 4 to 6
Print Recipe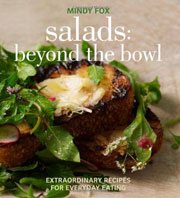 Ingredients
For the lobster salad

2 lemons, preferably organic

1/4 cup plus 1 tablespoon finely chopped red onion

1/2 teaspoon fine sea salt, plus more for salting the boiling water

Four (1 1/2-pound) live lobsters

1/3 cup store bought or homemade mayonnaise, preferably homemade

2 tablespoons thinly sliced basil leaves (or another herb, such as chervil, chives, parsley, or tarragon)

1/4 teaspoon freshly ground black pepper

For the tomato salad

1 1/2 pounds cherry and/or small heirloom tomatoes, preferably an array of colors, cored and cut into 1/2-inch pieces

1/2 cup loosely packed basil leaves, large leaves torn into pieces

1 1/2 tablespoons very good extra-virgin olive oil, plus more for drizzling

Coarse sea salt, crushed

Freshly cracked or ground black pepper
Directions
Make the lobster salad

1. Bring a large pot of salted water (at least an 8-quart stock pot) of salted water to a boil. The water ought to taste salty, like the sea. Place a wire cooling rack on a rimmed baking sheet.

2. Meanwhile, finely grate the zest of the lemons into a large bowl. Squeeze enough juice to yield 1/4 cup and pour the juice into the bowl with the zest. Add the onion and 1/2 teaspoon fine sea salt and stir. Let stand at room temperature.

3. Meanwhile, plunge 2 of the lobsters headfirst into the boiling water. Loosely cover the pot and cook the lobsters for 9 to 11 minutes from the time they enter the water, depending on the size of the lobsters. Using tongs, transfer the cooked lobsters to the rack to cool. Return the water to a boil and cook the remaining 2 lobsters in the same manner.

4. When the lobsters are cool enough to handle, remove the meat from the claws, joints, legs, and tails. Set the shells, roe, and tomalley (the soft green paste found in the body cavity) aside for another use or discard them. Cut the lobster meat into 1/2-inch chunks and toss it in a bowl.

5. Add the mayonnaise, sliced basil, and black pepper to the onion mixture and whisk together to combine. Add the lobster meat and gently toss to combine. (The lobsters can be cooked, shelled, and, if you like, prepared as a salad one day ahead, then covered and refrigerated.)

Make the tomato salad

6. In a large bowl, gently toss the tomatoes, whole or torn basil leaves, oil, a few pinches of salt, and pepper to taste.

7. Divvy the tomato salad among 4 plates, mounding it in the center of the plate. Top each mound with some of the lobster salad and then drizzle any leftover juices from both bowls over the top of each salad. Drizzle with oil and sprinkle with an extra pinch of salt.
Lobster Salad Recipe © 2012 Mindy Fox. Photo © 2012 Ellen Silverman. All rights reserved. All recipes and photos used with permission of the publisher.
If you make this recipe, snap a photo and hashtag it #LeitesCulinaria. We'd love to see your creations on Instagram, Facebook, and Twitter.