Making roasted potatoes on the grill means you can indulge your craving for roasted potatoes during summer without heating up the oven—or the entire kitchen. (Drops mic.)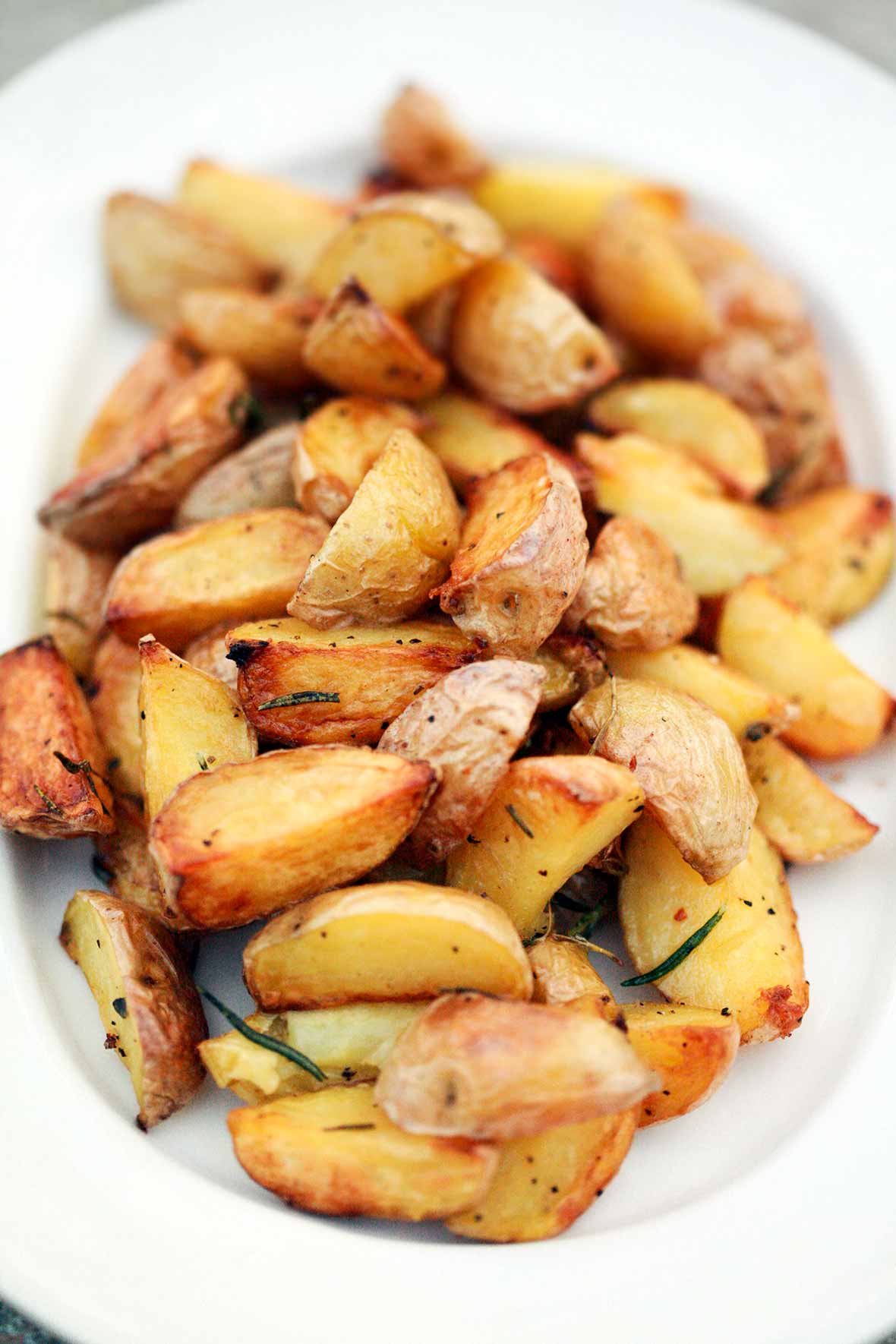 These roasted potatoes on the grill rival any crisp, tender, golden brown roasted potatoes in the oven. Better yet, you can rely on this technique when you want to fix the entire meal outside instead of running back and forth between stove and grill or when you crave roasted potatoes but want a respite from turning on the oven—and, by extension, heating up the entire kitchen—in the dead of summer. With a little careful space management, the pan of potatoes can cook on one side of the grill and the meat on the other side. Originally published August 14, 2012.–Renee Schettler Rossi
Roasted Potatoes on the Grill Recipe
Quick Glance
15 M
40 M

Makes 4 to 6 servings
Ingredients
1/2

cup

extra-virgin olive oil

3

garlic cloves

, peeled and crushed

6

unpeeled waxy potatoes

, quartered lengthwise

Kosher salt and freshly ground black pepper

1 to 2

sprigs

rosemary

, chopped if desired (optional)
Directions
1. Prepare the grill for direct cooking over high heat. You want your grill to maintain a steady temperature of 500º F (260ºC).

2. Pour the oil and garlic in a large flameproof roasting pan. Place the pan on the grill grate, close the lid, and let it heat until the oil begins to shimmer, about 2 minutes. Carefully add the potatoes to the pan and gently stir to coat with the oil. Close the lid on the grill and let the potatoes roast, keeping the lid closed except to occasionally turn the potatoes with a thin metal spatula, until they're golden brown and tender, 20 to 25 minutes.

3. Season the potatoes to taste with salt and pepper and, if desired, a sprinkle of rosemary. Using a slotted spoon, transfer the potatoes to a bowl or platter and serve hot.
Hungry for more?
Chow down on these:
Roasted Potatoes on the Grill Recipe © 2012 Frank Pellegrino, Jr.. Photo © 2012 Frank Pellegrino, Jr.. All rights reserved.
Hey, there. Just a reminder that all our content is copyright protected. Like a photo? Please don't use it without our written permission. Like a recipe? Kindly contact the publisher listed above for permission before you post it (that's what we did) and rewrite it in your own words. That's the law, kids. And don't forget to link back to this page, where you found it. Thanks!