These classic blueberry muffins are studded with pecans and crowned with an oatmeal-pecan topping.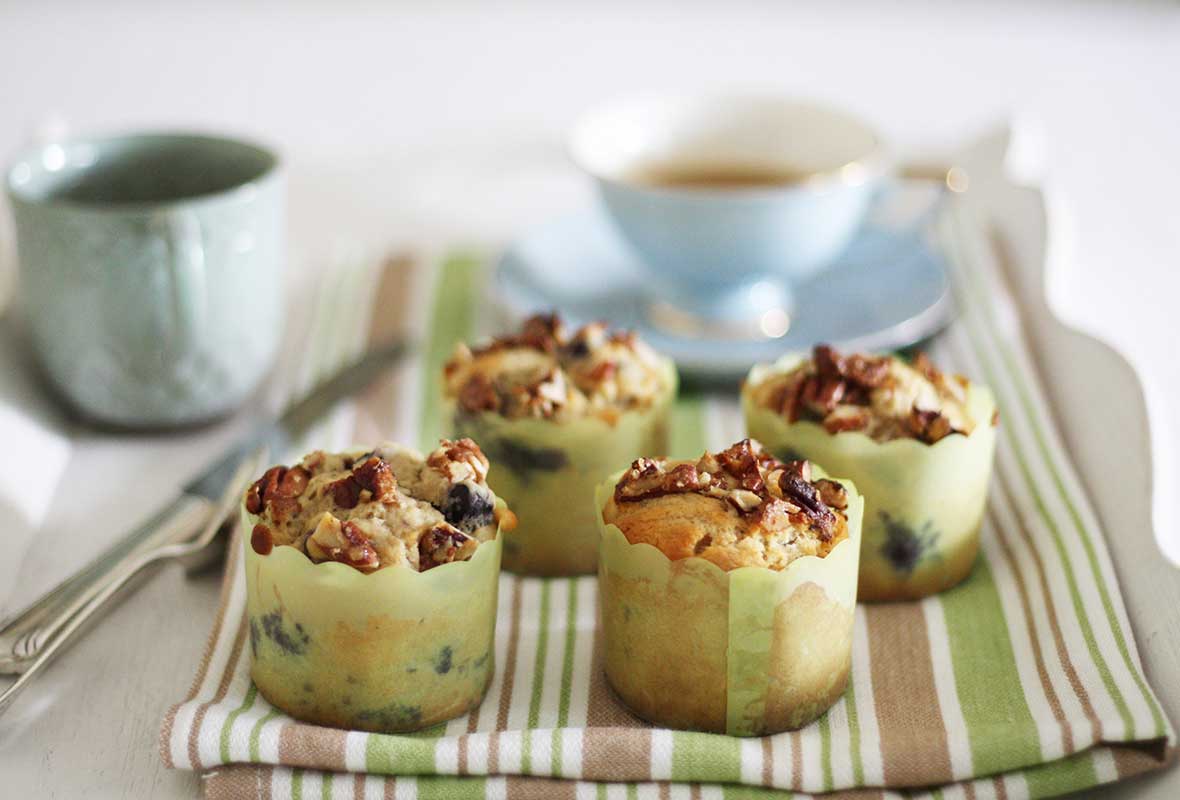 On a sultry summer afternoon, just before the clouds rolled in and the sirens wailed and that maple tree in our backyard suddenly became our neighbor's, a storm of an entirely different sort was brewing in my kitchen. My wife, who is a significantly better mother than meteorologist, began to bake muffins from scratch as an after-school snack for our kids, entirely unaware that the storm of the decade was advancing like a giant rolling pin from the west. What she was aware of as the wind began to pick up was that some of the ingredients she needed for her most cherished recipe were not on the shelf, while a couple others were irrefutably over the hill.
Apparently, when life hands you tornadoes, you make slightly different muffins. As near as my wife can recall, the muffins that resulted from the "recipe" that follows were awaiting my sopping wet babes when they stumbled through the front door shortly after our house was surrounded by twisters. It's a muffin that is, in equal parts, a mother's tenacious love and a good cook's high-wire resourcefulness. It's not a recipe for the faint of heart. However, not only is it not necessary to follow this recipe to the letter, it would probably be truer to the spirit of the recipe if you didn't. Whether you eat them in brooding darkness by candlelight is entirely up to you.
Step 1. Notice the sideways trees and preheat the oven to 400°F.
Step 2. Process the news that your kids' school is closing early and whisk together 3 cups of flour, which is not quite enough, plus 1/2 cup of wheat flour to make it so. Add 2 teaspoons of baking powder, 1/2 teaspoon of salt, and 1 1/2 cups of finely ground almonds in place of the pecans you don't have that the original recipe is imagining you do.
Step 3. While a 300-year-old oak is crashing into your friend's sunroom, casually crack 3 large eggs into a large bowl and whisk. Slowly add 3/4 cup of sugar and keep whisking until it's a pale yellow color. Like the sky.
Step 4. As something wicked this way comes, whisk in 1 cup of cold milk (or 1/2 cup of milk plus 1/2 cup of yogurt, if that's all you happen to have), and 2 teaspoons of vanilla extract. Stir in 1 stick plus 3 tablespoons of melted butter. Feel the pull of maple syrup and add 2 tablespoons now.
Step 5. Admire how the air-raid sirens can be clearly heard over the wind that's playing your house like a harmonica. Blithely add the dry ingredients to the wet and stir. When nearly mixed, fold in 2 cups of fresh or frozen blueberries.
Step 6. To a vision of groundwater rising in your sump pump, carefully spoon the batter into the well-buttered cups of a muffin tin.
Step 7. By the light of snapping power lines, calmly slide the muffins into the oven.
Step 8. Abruptly notice the time and the raging tempest outside. Put two and two together. Leap into your car to rescue your kids and four of their soaked, screaming friends, all of whom appear as though they've gone through a carwash. If you can arrange it, completely lose power in your house at about this time.
Step 9. Arrive home. Wrap your kids in big bath towels. Light some candles and suddenly remember those muffins that you put in the oven awhile ago.
Step 10. To your utter astonishment, remove 6 inexplicably perfect muffins from the oven. Serve them warm, by candlelight. As the storm passes and you pass around the cold milk or hot tea with honey, by all means, count your blessings.

Blueberry-Pecan Muffins
The above muffin recipe that fought off impending doom—or at least my wife's awareness of impending doom–while also making a tasty snack for our kids was adapted in more ways than one. The original recipe upon which it is based appears in Once Upon a Tart by Frank Mentesana and Jerome Audureau. It makes dense yet delicate blueberry muffins with a crunchy pecan and oat topping, Note that this was the one and only time that Amy actually didn't make the topping. Weather permitting, you should.–Jimmy Schwartz
Blueberry-Pecan Muffins
Quick Glance

(2)

10 M
50 M

Makes 8 ginormous or 24 standard muffins
Print Recipe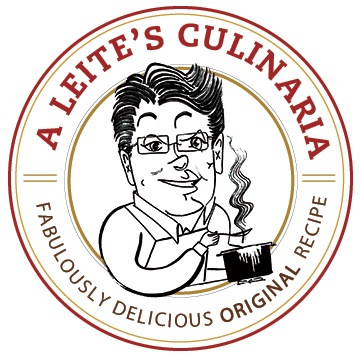 Ingredients
Email Grocery List
For the pecan topping
For the batter
Directions
Prepare the oven and muffin tin
Position an oven rack in the center of the oven and preheat the oven to 400°F (204°C). Smear 8 big (we mean oversize in a big way) or 24 standard-size muffin pans with butter.
Make the pecan topping
Stir all of the topping ingredients together in a small bowl.
Make the batter
Whisk the flour, ground pecans, baking powder, and salt together in a medium-size bowl. In a separate, big bowl, whisk the eggs to break up the yolks. Still whisking with one hand, pour in the sugar with the other. Continue to whisk for a few minutes, until the eggs begin to pale in color. Whisk in the milk, vanilla, and melted butter.
Gradually add the dry ingredients to the wet, stirring gently with a wooden spoon. When there is still a little flour visible, gently stir in the blueberries, taking care not to break them up any more than is inevitable.
Scoop the batter up with a wooden or metal spoon and, using a rubber spatula, scrape the batter off the spoon into the cups of the muffin tin, filling each almost to the top. Sprinkle the topping evenly over the muffins. You may want to wipe any excess topping off the pan so you won't have to scrub burnt sugar from the tin after baking.
Bake and cool the muffins
Bake the muffins for 35 to 40 minutes if making ginormous muffins or about 20 minutes if making standard-size muffins, until a toothpick or a small knife inserted deep into the center of a muffin comes out clean. No matter what size your muffins, they ought to have risen over the edges of the muffin tin and the topping should be golden.
Remove the tin from the oven and place it on a wire rack. Let the muffins sit in the tin for a few minutes until they're cool enough to touch. Then flip the tin upside down and let the muffins fall out onto the wire rack. Turn them right side up and try to stop at just one.
Print Recipe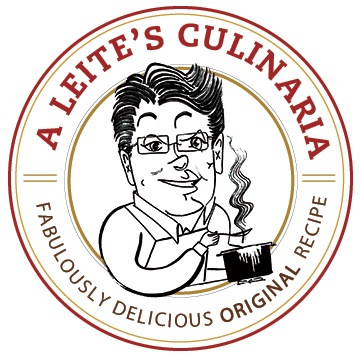 Recipe Testers Reviews

This made for a perfectly sturdy and not too sweet muffin. That's exactly how I like muffins, so this recipe worked great for me. (I made Amy's version of the muffin.) The addition of ground almonds contributes to a nice crumbly texture, but the blueberries ensure that it's not too dry. The combination of ground almonds and blueberries really works great together, sort of like frangipane and fruit in a nice tart.

These muffins are very delicious and moist for such a dense batter. The pecan flour definitely adds another nutty and sweet dimension, and the pecan topping perfectly balances the tartness of the blueberries. I ground the pecans in the food processor and had some extra which I think will freeze well. I used a standard 12-cup cupcake pan. The batter made 2 dozen muffins and I baked them in 2 batches, each at 400F for 20 minutes. I'm going to freeze one batch and see how that works out. I'm also tempted to freeze the batter.

These muffins are quite dense, very moist, and not very sweet—in other words, perfect! I followed the original recipe exactly, using 1 cup of milk. I used my food processor to grind the pecans; just be careful not to let it go too long or you'll have pecan butter (nothing wrong with that, though!). I wasn't sure that there was enough batter to fill 8 large muffin cups, but there was. The topping adds an extra bit of sweetness and is very easy to put together, so I recommend doing that. Surprisingly, if you didn't know there were nuts in the muffins, you wouldn't be able to tell by the texture. The muffins were excellent fresh and the next day too. I would definitely make this recipe again.
Blueberry-Pecan Muffins Recipe © 2012 Jimmy Schwartz. Photos © 2011 BigStock | Emma (Muffins). All rights reserved. All materials used with permission.
If you make this recipe, snap a photo and hashtag it #LeitesCulinaria. We'd love to see your creations on Instagram, Facebook, and Twitter.