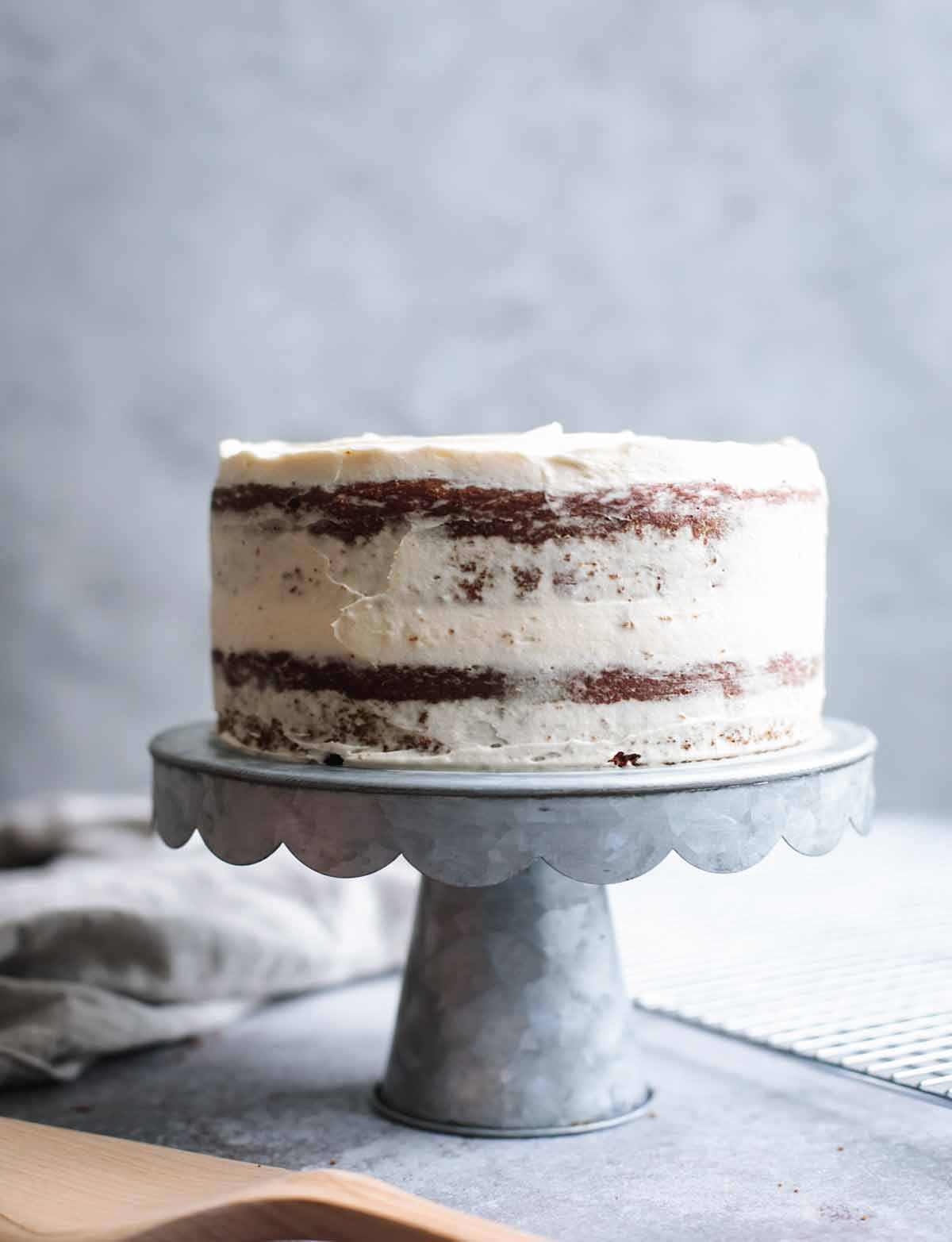 LC What Exactly Does White Chocolate Taste Like? Note
So what exactly does white chocolate—or rather, "white confection," seeing as we all know white chocolate isn't truly chocolate and is, thereby, a misnomer—taste like? Not like milk chocolate. Not like dark chocolate. Maybe a little like vanilla, as the author's note above explains. Although we'd venture to say that this white chocolate cream cheese frosting's vanilla-y smack is due to the ample amount of vanilla extract in the recipe. Which leaves us at something of a loss, even after slathering swoops and swirls of this frosting onto white chocolate cupcakes and demolishing, uh, thoughtfully tasting several for the sake of research. During the sugar-induced mania that ensued, David was able to describe white chocolate as "a creamy, milky flavor."
Also, when author Kathleen King stipulates in the ingredient list below that the butter and cream cheese ought to be at room temperature, she's not just saying it for the heck of it. If your cheese and butter aren't all squishy and squidgy, they may leave little lumps in the resulting frosting. Don't come complaining to us if this happens, we'll simply say we told you so. (Actually, we wouldn't just blurt that out. We'd say something a lot more empathetic and understanding than that. But that's what we'd be thinking.)
White Chocolate Cream Cheese Frosting
Quick Glance

(1)

10 M
15 M

Makes enough to frost 12 cupcakes
Ingredients
Directions
Place the white chocolate in a heatproof bowl. Bring a skillet of water to a simmer over medium heat. Turn off the heat, place the bowl in the hot water, and let it stand, stirring occasionally, until the chocolate is completely melted and smooth. Be careful not to let any water get in the bowl or the chocolate will seize and clump. Remove the bowl from the water and let cool until tepid.
In the bowl of a stand mixer or in a large bowl with a handheld electric mixer, beat the cream cheese and butter on high speed until completely smooth and creamy, about 1 minute. (If you find little lumps in your frosting, continue to beat until the lumps dissipate.) Gradually beat in the confectioners' sugar, mixing well after each addition and scraping down the sides of the bowl as needed. Beat in the tepid chocolate and then the vanilla just until combined. If you prefer a dense, creamy frosting, use the frosting immediately. For a lighter, fluffier frosting, beat it for 1 to 2 minutes longer. If the frosting seems too thin, refrigerate it until chilled through and thickened slightly.
Recipe Testers Reviews
This frosting, which I loved, was tangy from the cream cheese and had the gentle insistence of white chocolate. The frosting was a bit tricky to make. The butter and cream cheese must be completely at room temperature or you'll end up with little lumps, as I did, so I had to beat it longer, making the frosting lighter and thinner. What I did to compensate was refrigerate the frosting, as the author suggests. The chilled frosting worked really well, as I could simply scoop it up, plop it on the cupcake, and smooth it.
I cut the original recipe in half and still generously frosted a dozen cupcakes. The flavors of this icing meld beautifully after a short rest. I found it to be the perfect complement to the White Chocolate Cupcakes. I think this icing would be wonderful on a dark chocolate layer cake. A full size recipe would generously frost a layer cake.
White Chocolate Cream Cheese Frosting Recipe © 2012 Kathleen King. Photo © 2020
Sarah Menanix
. All rights reserved. All materials used with permission.
If you make this recipe, snap a photo and hashtag it #LeitesCulinaria. We'd love to see your creations on Instagram, Facebook, and Twitter.