This mulled wine sorbet calls for your favorite red wine, some cinnamon, clove, nutmeg, and ginger, and sugar. Eat, drink, and be merry, all in one bite. Er, slurp.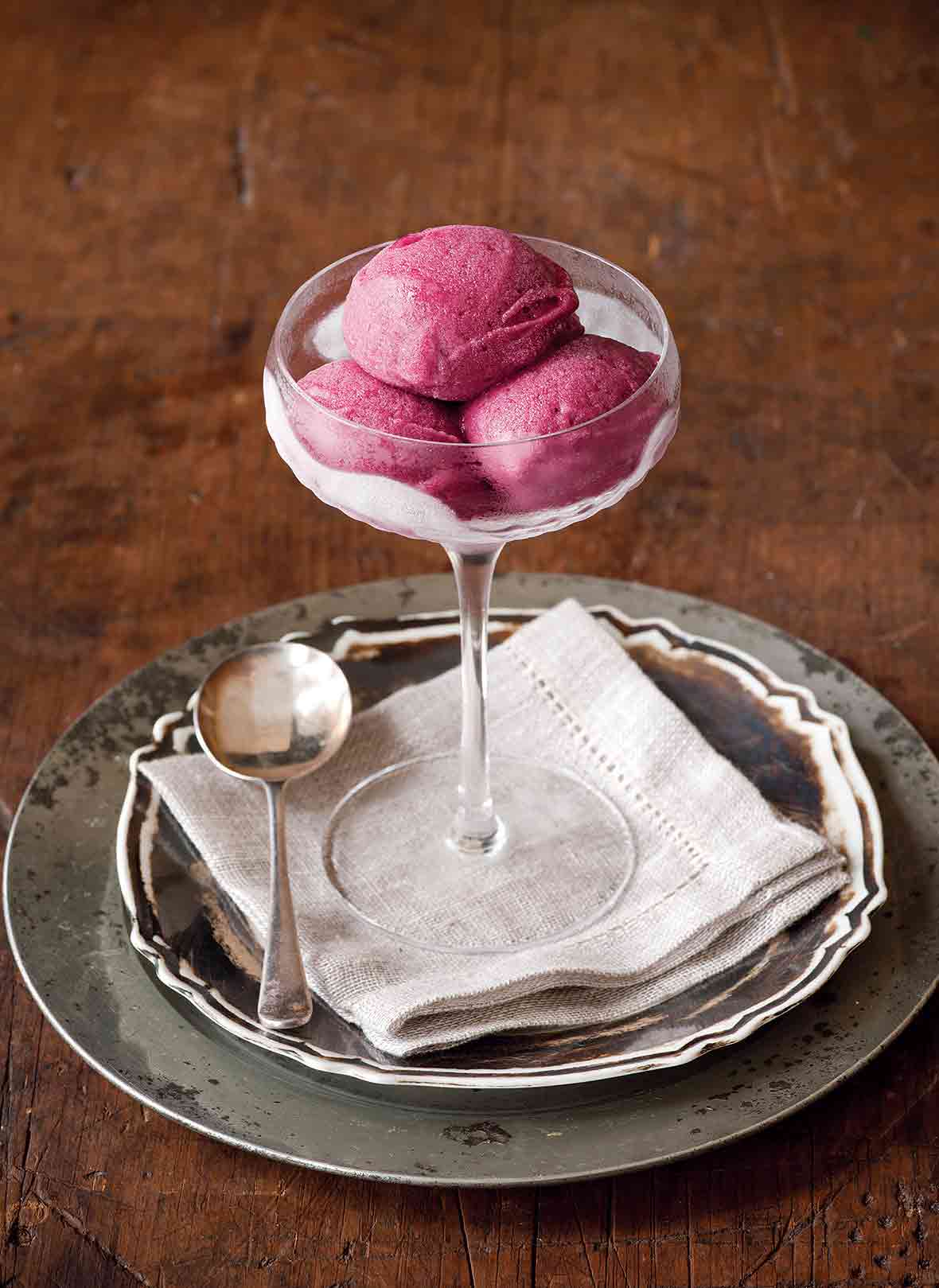 Mulled wine made into dessert. That's essentially what this tipsy sorbet is. It's also perfectly spiced. And, as a result, feels much more satiating than you'd expect from sorbet. Those of you who're wine geeks (or are friends with wine geeks), we've got a dinner party game for you. See who can guess which varietal you used. Not that it really matters. We've made this with all manner of reds and been quite content each time.–Renee Schettler Rossi
Which Wine To Use?
We've all been there. "There" being that infinitely comfy place when you and your BAE just polished off a bottle (or two) of wine, whether supped in its natural state or slurped as sorbet, and are basking in its afterglow, certain that one of you will recall the name or recognize the label next time you see it. But then the next day, you've got not the foggiest notion what varietal it was, let alone the winemaker. Next time snap a pic of the bottle—making certain to capture the label. Why else do you think they incorporated cameras into cell phones? Especially take note of those inexpensive bottlings that work well for weeknight sipping as well as recipes, such as this mulled wine. You especially want to remember those.
Mulled Wine Sorbet
Quick Glance

(2)

15 M
1 H, 30 M

Makes 1 to 1 1/2 quarts
Special Equipment: Ice cream maker
Ingredients
Email Grocery List
Directions
Cut the vanilla bean in half lengthwise and, with the dull edge of your knife blade, scrape the seeds into a smallish stainless steel saucepan with a lid. Toss the scraped pod into the pan along with the remaining ingredients. Bring the mixture to a simmer, uncovered, over medium heat, whisking occasionally, until the sugar dissolves. Reduce the heat to low and let gently simmer for 5 minutes. Remove the pan from the heat, cover, and let steep for 30 minutes at room temperature.
Strain the mulled wine mixture through a fine mesh sieve into a shallow bowl or pan. Toss the sieve contents into your compost. Place the mulled wine mixture in the refrigerator until thoroughly chilled, 1 to 2 hours.
Pour the chilled sorbet ingredients into an ice cream maker and process according to the manufacturer's instructions, about 15 minutes.
Using a rubber spatula, transfer the sorbet to an airtight container, cover tightly, and freeze until the sorbet is firm, at least 4 hours, before scooping and serving.
LEITE's LOVES...INSPIRED BY THIS RECIPE
Recipe Testers Reviews
I made this mulled wine sorbet using my "everyday" Cabernet to try it out and was pleasantly surprised just how much everyone enjoyed it. The flavor ratio is perfect—spiced without being overpowering or distracting. I will definitely make this again for winter celebrations—it's very festive and has such a gorgeous hue.
I did find that the amount of sugar needed is more than I would have liked to use. However, I know from previous frozen dessert experiments that you always need more than you think, both for taste and texture. I did try Beth's egg trick (seen in the comments) before freezing, just out of curiosity, and found that I needed to add a little more sugar, bringing the total amount up to 2 cups.
It only needed 15 minutes in the ice-cream maker before it was sufficiently solid and was perfect after another 4 hours in the freezer. The recipe made enough for 6 decent servings.
Mulled Wine Sorbet Recipe © 2012 Molly Moon Neitzel. Photo © 2012 Kathryn Barnard. All rights reserved. All materials used with permission.
If you make this recipe, snap a photo and hashtag it #LeitesCulinaria. We'd love to see your creations on Instagram, Facebook, and Twitter.