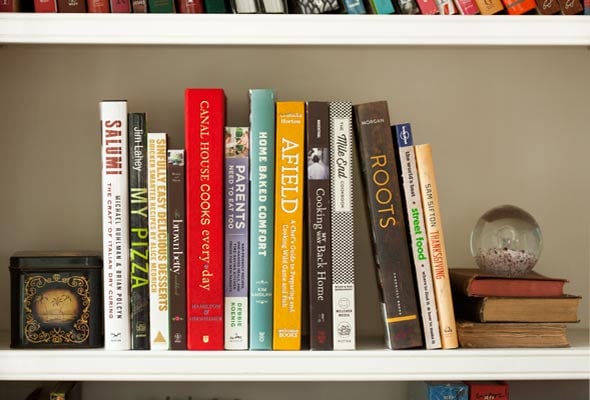 At any given moment, there's a heap of cookbooks at least three deep—and quite often closer to three dozen deep—staring at me from my desk. Taking up space in my closet. Cluttering my kitchen shelves. And littering the floors of our tiny home.
Let me explain. I'm an editor. An editor who reviews books. It's not always apparent at first glance whether or not a book is a keeper. So before deciding whether or not to make mention of a new release to you, dear reader, I deliberate, weighing the relative merits according to a sort of indefinable equation in my head, at all hours of day and night. At breakfast. In the shower. On walks with our four-pawed princess. As my mom natters away on the phone. Even as I sit down to romantic dinners for two.
Meanwhile, throughout the teensy Manhattan apartment that I share with my husband, the books sit. In stacks. Seussian stacks that I'm constantly shuffling and reshuffling according to best books of the year or worth merely a mention or does nothing for me. It's a defect in our decor and when E protests, I remind him the stacks make us seem terribly literary and quite like the New Yorkers that we are. (He doesn't buy it, either.)
And so it goes all year long, E tripping over the stacks, our 64-pound princess nosing them curiously, and me frantically shooing them both away. (You thought an editor's job was glamorous?! Hah.) This continues until late November, when my deadline for our list of best cookbooks of the year nears. And that's when I start ducking my publisher's phone calls. Evading his emails. Finding excuses to cut our conversations short. You'd think I'd be glad to bid the books good riddance. But the indecisive part of me starts overthinking what "the best" means, anyway. Who am I to say what's best for you? People's personal cookbook collections are like their lingerie drawer. Different styles, colors, sizes, preferences.
But the deadline looms. And so I extricate those books I've been most drawn to these past 12 months—the cookbooks that prompt me to read my husband a list of ingredients in between acoustic guitar videos on YouTube and ask him how that sounds for dinner, the cookbooks that send me scrambling for the back of an envelope and a pencil to scribble a grocery list, the cookbooks whose pages are starting to show signs of gentle wear, and especially the ones that "accidentally" fall off a stack and end up with a dented corner or a dinged dust jacket necessitating that I keep it rather than turn it over to our Leite's Culinaria library ("Oops! Sorry, David, I guess I better keep that one…"). And within moments, I have my list.
So without further ado, indecision, or ducking David, here's the eclectic, perhaps unexpected, and, in my opinion, excellent array of the year's books, the ones that I can't imagine not telling you about.—Renee Schettler Rossi

In his latest book, Salumi: The Craft of Italian Dry Curing (W. W. Norton & Company, $39.95), Michael Ruhlman picks up where his previous book, Charcuterie: The Craft of Salting, Smoking, and Curing, left off. He's hit his stride. He's confident. Authoritative. Unapologetic. This isn't a book for dilettantes. You're going to have greasy hands, smoky hair, and a stinky basement as you craft (yes, craft) guanciale, coppa, lardo, prosciutto, and salami. No hardcore salumerist would have it any other way.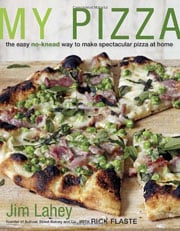 There's nothing hip, trendy, or outré about pizza—or about Jim Lahey's book My Pizza: The Easy No-Knead Way to Make Spectacular Pizza at Home (Clarkson Potter, $27.50). All he does is bring his signature superb—and simple—style to pizza. That's more than plenty for us. You'll find nothing here but crisp crusts so thin as to seemingly defy every law of physics, and toppings so inspired they could have come out of the ovens at Co., Lahey's pizza joint in Manhattan, or, for that matter, the ovens in Naples, Italy. Nope, not trendy at all. Yet still perfect.
Sometimes you can judge a book by its cover—or at least by its title. Witness Sinfully Easy Delicious Desserts: Quicker Smarter Recipes (Artisan, $25.95). The seductress of sophisticated desserts, Alice Medrich, has unleashed her creativity on ideas old and new. There's meringue. Cookies. One-bowl cakes. Beer floats. Chocolate in abundance. And other mind-bending excellence. The only thing the title fails to mention? Just how spectacularly the sassy recipes and copious tutorials express Medrich's sense of whimsy. As such, I sorta renamed the book, at least when I refer to it, as Sinfully Easy, Savvily Sophisticated, Wackily Whimsical Desserts, with apologies to Ms. Medrich.
Secrets. Sentimentality. Strong-willed women. Sweets—lots and lots of sweets. All the essential elements of a best-seller are contained within the warm-the-soul success story of Linda Hinton Brown and Norrinda Brown Hayat, the mother-and-daughter duo behind The Brown Betty Cookbook: Modern Vintage Desserts and Stories from Philadelphia's Best Bakery (Wiley, $22.99). The book shares tales and recipes passed down through four generations of the Brown family, including perhaps the longest cake chapter ever, with 108 pages of frosted fabulousness with charmingly titled recipes such as "Company's Comin'" and "Only for Eliza" and "Hattie Don't Play." There's also pie and cupcakes—and, we hope, a sequel. Or maybe even a movie deal?
There's a lot to be said for a book that can instantly transport you from your mundane reality (oops, am I projecting?) to a life in which lunch is lingered over each day. The latter is the reality of veteran food editors Melissa Hamilton and Christopher Hirsheimer, founders of the well-known Canal House, and I dare say it'll become your reality, too, as soon as you delve into their cookbook. What began as a daily photo and caption of lunch on their site begat a 360-page book containing kitchen essentials of every sort, such as compound butter and vin santo–roasted pears as well as less-expected pleasures the likes of lemon verbena-inflected bellini and cauliflower with bread crumbs, pancetta, and prunes. I've dubbed it The Big Red Book, for reasons that I think are obvious, but you'll recognize it as Canal House Cooks Every Day (Andrews McMeel Publishing, $45).
Sometimes what you need, especially if you're new to the parenting gig, is less a cookbook and more a girlfriend. A girlfriend who can commiserate over your sleep-deprived situation; a girlfriend who can see you through every awkward phase with patience, practical advice, and a flask procured from her purse; a girlfriend who can ply you with takeout, cooking tricks, and tried-and-true recipes when you can no longer find the time—or, gack, the will—to cook. A girlfriend like Debbie Koenig, author of Parents Need to Eat Too: Nap-Friendly Recipes, One-Handed Meals, and Time-Saving Kitchen Tricks for New Parents (William Morrow, $16.99). But, since she already has her own friends, what you need instead is her book. Even if you never make a single recipe—a mistake, mind you—her book is certain to become a dog-eared bible. Reread that title. The book savvily and sassily helps you extend the efficiency of any time spent in the kitchen. It's sorta the What to Expect After You're Expecting for those who've forsaken duck fat for the moment to finance a college fund.
Ever justify the price of a cookbook on the grounds that if it yields even a single reliable recipe, it's worth its weight in chocolate? Us, too. Although if actual usefulness was the basis of a book's price, we wouldn't be able to afford Kim Laidlaw's Home Baked Comfort (Weldon Owen, $34.95). Her inspired, inventive, and, yes, comfort-food-like concoctions—witness Bite-Size Bacon and Cheese Scones, Toaster Tarts, even S'mores Brownies—are knee-wobblingly, infallibly, unforgettably good. And the wish-you-were-there photos only make these baked beauties all the more enticing. Daily. Doubt us? We've the curves on our hips to prove it—including Fatty Daddy, that is, David.
We like Bambi. A lot. So any cookbook that can seduce us to tuck into a venison burger commands our respect. Thus far we've come across one such book in existence, and it's Afield: A Chef's Guide to Preparing and Cooking Wild Game and Fish, by chef and hunter Jesse Griffiths (Welcome Books, $40). You'll find all the culinista buzzwords here, including local and nose-to-tail and sustainable. There's also National Geo-worthy journalistic photos that capture moments stolen from a day in the life of a hunter, surprisingly lust-inducing food, and graphic, almost roadkill-like, yet edifying snapshots of how to butcher a [fill in the blank]. And guys, there's lots and lots of straightforward, non-emasculating advice on everything from roasting a whole hog to grilling venison loin to making a Bambi burger—one that'll give your usual beef burger a run for its bacon.
Sometimes you just want down-home food. Sophisticated, superlative, Southern-inspired, down-home food of the sort not typically encountered in home kitchens (present company excepted, natch). This isn't nearly as oxymoronic as it sounds, thanks to chef Mitchell Rosenthal and his book Cooking My Way Back Home: Recipes from San Francisco's Town Hall, Anchor & Hope, and Salt House (Ten Speed Press, $35). The renowned chef seamlessly melds flawless execution with down-home tastes. Barbecue ribs the way only a handful of gifted humans know how. A tomato tart gussied up with St. George cheese. And mashed potatoes that could make angels weep. Amen.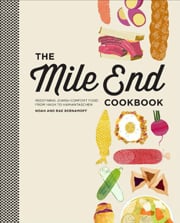 Futzing with tradition can be tricky—not to mention contentious. Yet the whippersnappers behind Mile End, a deli in Brooklyn with a devout clientele, managed to do it right, tweaking their grandmothers' authentic Eastern European recipes with contemporary refinements. Now Noah and Rae Bernamoff are, miraculously, divulging their secrets in The Mile End Cookbook: Redefining Jewish Comfort Food from Hash to Hamantaschen (Clarkson Potter, $27.50). Rest assured, there's still mention of timeless classics including schmaltz, whitefish salad, pickles, and how to properly slice smoked meats amid all the recipes for rugelach, jelly doughnuts, matzo, and more. We think even Bubbe would approve.
Roots and tubers. Sexy, huh? In the hands of Diane Morgan, they're that and more thanks to Roots: The Definitive Compendium with More Than 225 Recipes (Chronicle, $40). Trust us, it's a lot prettier a prospect than you might expect. This primer of epic proportions demystifies every little thing about every underground food thing, from common celery root to trippy crosnes. Morgan's recipe handiwork runs the gamut, featuring horseradish butter, basic roasted beets, carrot-top pesto, and parsnip cake. There's even a little candied lotus root tossed in for good measure.
Americans' infatuation with street food—we're talking actual street food, mind you, not food-truck food—has never been more ardent. While the stunning porn photography in glossy travel magazines and coffee-table tomes is titillating, we crave something we can actually cozy up to at night. Enter The World's Best Street Food: Where to Find It & How to Make It, by the intrepid folks at Lonely Planet (Lonely Planet Publications, $19.99), an indispensable guidebook that we fancy for its practical know-how concerning foodstuffs like churros, jalebi, oyster cake, and lots, lots more. Each item merits a detailed definition, talk of its origins, insider-y advice on where to find the most inspired rendition, as well as a cheat sheet on how to order it like a local. Oh, and a recipe so you can replicate it at home. A must for armchair as well as adventure travelers—and cooks.
One day of the year more than any other elicits angst deep in the soul of home cooks. Though others before Sam Sifton have devoted entire tomes to the topic of Thanksgiving, no one else has managed to do so with the eloquence, wit, and thoroughness of the former restaurant critic of The New York Times. In Thanksgiving: How to Cook It Well (Random House, $18), he embraces everything about the day—not excluding such matters of import as etiquette, table-setting tactics, and cleanup—with resigned reality, scholarly diligence, and occasional snarkiness. And that's to say nothing of his deadpan candor. ("Let us speak plainly: You are going to need a lot of butter.") Lord knows each of us could use all of these things on that day.

© 2012 David Leite. Photo © 2012
David Leite
. All rights reserved. All materials used with permission.