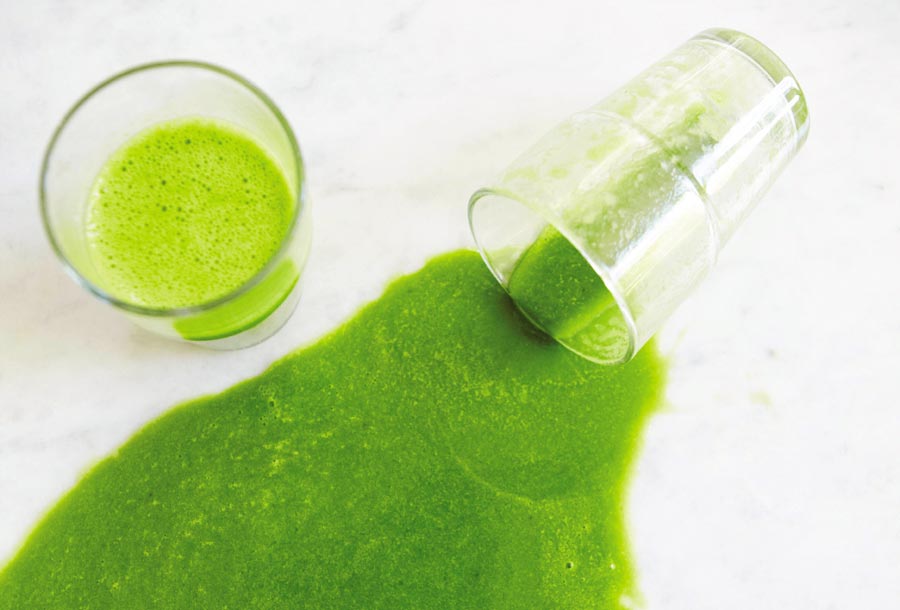 I'm pretty lucky to have kids who eat their greens. But even if I didn't, I'm pretty sure this Green Smoothie would be irresistible to them. This smoothie packs a lot of goodness and yumminess into one glass. I came up with the name "Green Monster Smoothie" for it because it's a monster of nutrition and it's so delicious it's scary. If you have a kid who avoids eating greens, this just may be the answer to your prayers. On a vegetable nutrition ranking, spinach is way up at the top in terms of vitamins and minerals—there's no doubt why Popeye ate so much of the stuff. It also gives this delicious drink a beautiful green color as well as a mild, sweet flavor that will surprise you.–Catherine McCord
LC Yes, We Went There Note
Yes. We went there. To that green smoothie place. But close your eyes, take a sip, and we swear you'd never guess this sweet, banana-y smoothie is suffused with good-for-you green things. Honest. We find that the basic proportion of banana, milk of some sort, and a little something to sweeten things up hides all manner of sins, er, healthful ingredients. And not to dissuade you from tossing in spinach or chard or kale or other green things, but we've also swooned over this basic banana smoothie made without the green stuff. Other times, we've found kids to like it with a handful of berries or papaya or mango. We've slipped peanut butter in there, too. A shot of vodka may make it go down even easier. Oh, and when we remember, we slice ripe (or borderline overripe) bananas and freeze them before blending for a smoothie that's uber thick and creamy. That's all we got. Care to add anything?
Green Smoothie Recipe
Quick Glance
5 M
5 M

Makes 4 servings
Ingredients
2

cups

vanilla rice milk

4

cups

packed fresh spinach

2

large,

ripe bananas

1

tablespoon

honey or agave nectar

, or to taste
Directions
1. Toss all the ingredients in a blender and purée until smooth.

2. Divvy among 4 glasses. If desired, serve with straws for slurping.
Thirsty for more?
Sip on these:
Green Smoothie Recipe © 2012 Catherine McCord. Photo © 2012 Maren Caruso. All rights reserved.
Hey, there. Just a reminder that all our content is copyright protected. Like a photo? Please don't use it without our written permission. Like a recipe? Kindly contact the publisher listed above for permission before you post it (that's what we did) and rewrite it in your own words. That's the law, kids. And don't forget to link back to this page, where you found it. Thanks!