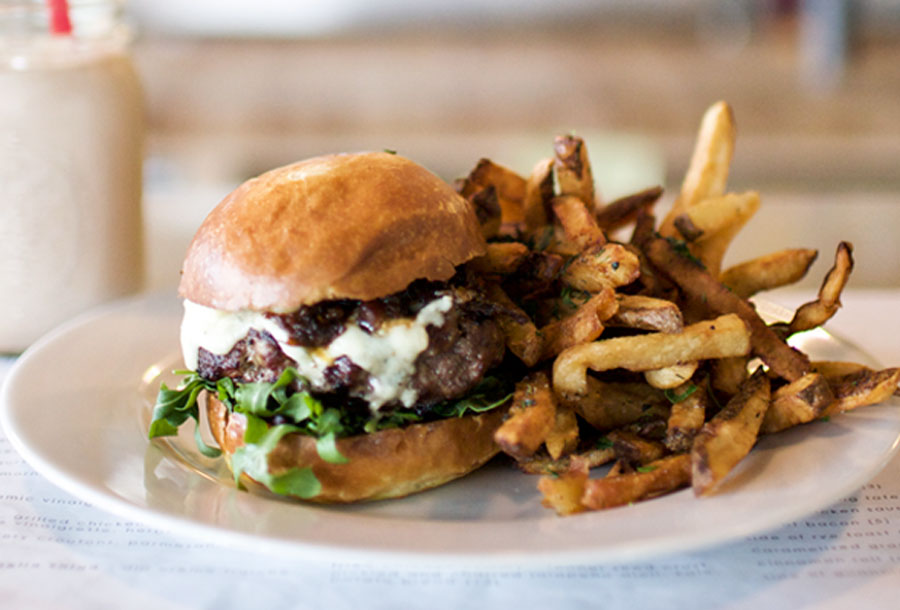 This burger has made us who we are, in a sense–it's a great marriage of complementary flavors, with the saltiness of blue cheese, the bitterness of arugula, the sweetness of Bacon Jam, and the solid foundation of the bun. It's consistently been the most ordered item on the menu at Skillet, both at the food truck and the diner. It's also been featured on magazine covers and TV. It's basically our opus.–Josh Henderson
LC Crazy Curious Concoction Note
There's no scarcity of curiosity-arousing ingredients and techniques in this simple burger recipe. Easily the most ostentatious is the Bacon Jam. (Yes, Bacon Jam. One taste and you'll understand.) A close second is the cambozola, a Brie-style cow's milk cheese with the merest hint of blue veining. (Try it. You'll like it.) And a distant third? Toasting the buns before you grill the burgers. (Call us crazy, but we're accustomed to toasting the buns at the last minute, while the burgers are resting. Now that we think about it, though, if the buns have a chance to cool prior to being burdened with the weight of a burger, the bottom bun may be less prone to turning soggy. Hmmm. But that's our nonscientific analysis. Thoughts? Anyone? Bueller?)
Skillet Cheeseburger Recipe
Quick Glance
10 M
20 M

Makes 4 burgers
Ingredients
Four

6-ounce

patties ground beef

, preferably grass-fed (mind you, don't pack the patties too tightly)

Salt and freshly ground black pepper to taste

4

hamburger buns, preferably brioche, split

Four

1-ounce slices

cambozola cheese

8

tablespoons

Bacon Jam, or substitute several strips cooked bacon

2

cups

loosely packed arugula
Directions
1. Preheat an outdoor gas grill or a stovetop grill pan or cast-iron skillet on medium.

2. Season the patties well with salt and pepper to taste while you toast the buns. Set the buns aside to cool slightly. Grill the patties for about 3 minutes on one side. Flip the patties, place the cheese on top, and cook until the desired doneness, about 3 minutes on the second side for medium-rare, depending on the thickness of the patties.

3. Remove the patties from the heat and let them rest for another 3 minutes at least. Spread each cut side of each bun with a tablespoon Bacon Jam, pile some arugula on the bottom buns, plop the patties on the arugula, and sandwich with the top buns. We think you can take it from here.
Hungry for more?
Chow down on these:
Skillet Cheeseburger Recipe © 2012 Josh Henderson. Photo © 2012 Sarah Jurado. All rights reserved.
Hey, there. Just a reminder that all our content is copyright protected. Like a photo? Please don't use it without our written permission. Like a recipe? Kindly contact the publisher listed above for permission before you post it (that's what we did) and rewrite it in your own words. That's the law, kids. And don't forget to link back to this page, where you found it. Thanks!