Serve these easy and impressive Sichuan-inspired pickled vegetables in place of an appetizer and your guests will thank you. And devour them.
You'll love what happens to radishes and carrots in this pickle—one turns a sheer sunset pink while the other practically pulsates orange. Chinese pickles are a cook's great cheat. In an elaborate Chinese menu, they save you from having to pull off time-consuming appetizers while they tune up palates for what's to come.–Lynne Rossetto Kasper and Sally Swift
LC No Ordinary Pickle Note
No ordinary pickle—that's what the complex taste of this simple recipe will no doubt leave you thinking. The cinnamon lends a unique and curious depth to the veggies. And though we like the heat, we confess to being tempted to toss in a few smashed Sichuan peppercorns in place of the chiles next time we're hankering for some innocent intrigue. Certain to make you forget forevermore the classic Vlasic.
Sichuan Pickled Vegetables
This Sichuan pickled vegetable recipe is made from radishes, carrots, vinegar, sugar, ginger, cinnamon, star anise, and chile.
Ingredients
2 1/2

cups

distilled vinegar

1

teaspoon

kosher salt

1/2

cup

granulated sugar

1

generous teaspoon

medium-hot ground chiles

such as mirasol, guajillo, New Mexico, or hot Hungarian paprika

1

star anise

broken into pieces

1

(1 1/2-inch)

piece ginger

cut into 6 pieces

1

(3-to 4-inch)

piece cinnamon stick

broken into pieces

2 to 3

medium

carrots

cut on the diagonal into 1/2-inch-thick (12-mm) slivers

8 to 10

red radishes

cut into 1/8-inch-thick (3-mm) rounds
Instructions
In a 3-quart saucepan over medium-high heat, combine the vinegar, salt, sugar, and chiles, stirring until the sugar dissolves. Boil for 1 minute.

Meanwhile, wash and rinse two 1-pint glass jars and lids with very hot water. Divvy the anise, ginger, and cinnamon between the jars, then place the carrots in one jar and the radishes in the other.

Pour half the hot vinegar mixture into each jar and let cool. Cover and refrigerate for at least 12 hours. The pickles keep for up to a month in the refrigerator.

When ready to serve, drain the pickles and place them in small bowls with toothpicks or as finger foods.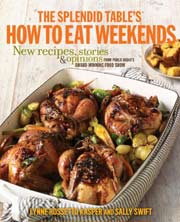 Adapted From
The Splendid Table's How to Eat Weekends
Buy On Amazon
Nutrition
Serving:
1
serving
Calories:
96
kcal
Carbohydrates:
20
g
Protein:
0.3
g
Fat:
0.1
g
Saturated Fat:
0.01
g
Polyunsaturated Fat:
0.03
g
Monounsaturated Fat:
0.02
g
Sodium:
409
mg
Potassium:
158
mg
Fiber:
1
g
Sugar:
18
g
Vitamin A:
3442
IU
Vitamin C:
2
mg
Calcium:
18
mg
Iron:
0.4
mg
Nutrition information is automatically calculated, so should only be used as an approximation.
Recipe © 2011 Lynne Rossetto Kasper | Sally Swift. Photo © 2011
Ellen Silverman
. All rights reserved.
---
Recipe Testers' Reviews
I've been really into pickling lately so just had to test this recipe. It's so simple yet adds a super crunch to dishes or is great eaten right out of the jar. I can't possibly say which I enjoy more—the radishes or the carrots—as both are crisp and full of wonderful flavors from the anise, cinnamon, ginger, and pepper. The radishes are a glorious pink and carrots a robust orange. The ginger adds a touch of a kick as does the marisol chile but by no means too much. I'm going to make these again in a few days as I've run out. This is the kind of thing to have on hand always and that's my plan. Doubling the recipe would be even better yet!
Here's a way to take two fairly common run-of-the-mill vegetables and give them a bit of well-deserved special attention! A winning pickle recipe to go with Asian foods of all sorts, as well as fried foods in general. They'll be great as a side, or equally fine as a finger food appetizer. And who doesn't like a recipe that can be made ahead, then keeps for a month in the fridge?! Also, here's a case where the time estimate is actually generous; I think my total active time was less than the 20 minutes cited—another fine plus for the recipe. With regard to the spices, I used hot Hungarian paprika and star anise. I also used plain-Jane orange carrots and round red radishes. The bunch of radishes I bought for these pickles consisted of small radishes, so I went ahead and used the whole bunch rather than having just a few left over, and this seemed fine. Not surprisingly, I'd like to play with the vegetable selection a little, trying perhaps yellow or purple carrots, and daikon or black radishes, then maybe also turnips when we've got them growing in the garden or they're available at farmers' markets. I additionally wonder if they couldn't all be put into the same jar,rather than segregating the vegetables in two separate ones. An addicting addition to the pickle collection at our house!
At first glance I didn't think I'd enjoy these since I don't care for many savory recipes that call for star anise and cinnamon, but this was an exception and I'm glad I forged ahead and tried them. The ginger and pepper (I used Aleppo pepper since I didn't have any of the others suggested) gave them a nice touch and I enjoyed them with the Chinese dinner we made to celebrate the Lunar New Year. Many in my family didn't enjoy them so I guess these aren't for everyone's taste. My mother-in-law really enjoyed them, though. My son said he would've liked the radishes if I'd omitted the sugar, but I think that'd really make them too sour since I thought they were tart as is. I'll be making these again for those of us who did enjoy them.