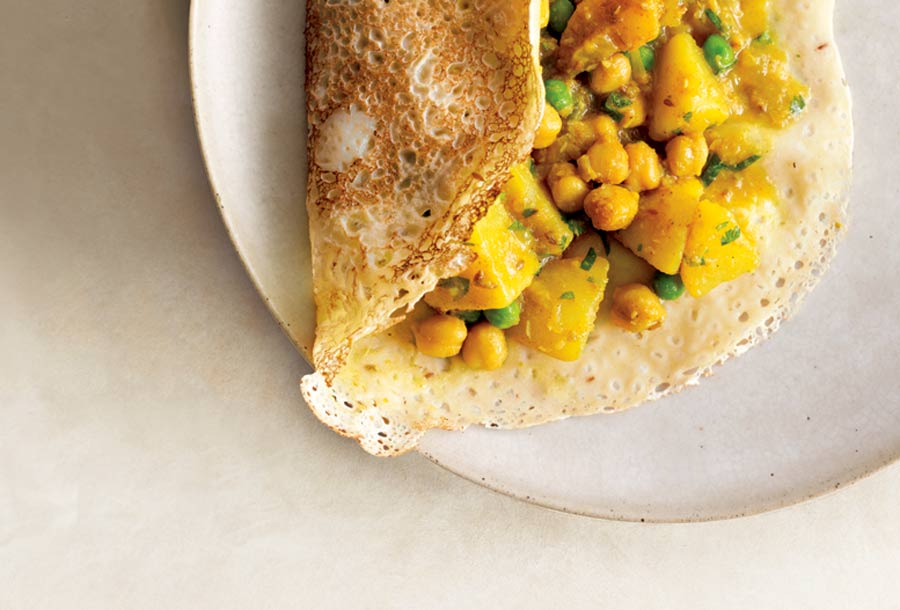 Rava dosas—savory, crisp-edged crêpes popular in south India—are typically made from semolina and rice flours. We stuff them with hearty vegetables cooked in a blend of spices, chile, garlic, and ginger.–The Editors of Gourmet
LC Done In A Jiffy Dosas Note
We never would've thunk that made-from-scratch dosas would be doable for dinner on a weeknight. Guess who was wrong. To ensure things go as slickly for you as they did for us, read through the recipe first, gather all your ingredients, and then get to work peeling potatoes as you're keeping an eye on the coconut and cumin being toasted in the skillet. Next, make the masala and then bring it to a simmer while you chop your onion. Toss the potatoes in with the spices and, while the masala cooks, set about making your dosa batter. Somewhere along the way, uncork a bottle of white wine and have a sip, seeing as you'll definitely have the time to spare.
Rava Dosas with Potato and Chickpea Masala
Quick Glance
40 M
1 H

Serves 4
Print Recipe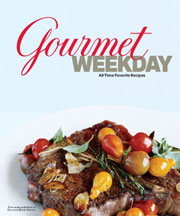 Ingredients
For the masala filling

1 1/2 pounds Yukon Gold potatoes

1/3 cup dried unsweetened coconut flakes

2 teaspoons cumin seeds

One 3-inch jalapeño chile, coarsely chopped, including seeds

One 2 1/2-inch piece ginger, peeled and coarsely chopped

3 garlic cloves, smashed

1 tablespoon curry powder

1/2 teaspoon ground cinnamon

1/2 teaspoon ground turmeric

1/3 cup vegetable oil

1 3/4 cups cold water

1 teaspoon salt

1 large onion, chopped (about 3 cups)

One 15- to 19-ounce can chickpeas, rinsed and drained

1/2 cup frozen peas (do not thaw)

1/2 cup chopped cilantro leaves

For the rava dosas

1/2 cup semolina flour

1/2 cup rice flour

1/2 cup all-purpose flour

1/2 teaspoon cumin seeds

1/2 teaspoon salt

2 cups cold water

Vegetable oil for brushing
Directions
Make the masala filling

1. Peel the potatoes and cut them into 1 1/2-inch pieces. Place the potatoes in a bowl and add enough cold water to cover.

2. Toast the coconut in a 12-inch heavy skillet over medium heat, stirring occasionally, until golden, about 3 minutes. Transfer to a small bowl. Wipe out the skillet and toast the cumin seeds over medium heat, stirring until the seeds are fragrant and a shade darker, about 30 seconds. Transfer to another small bowl. Set the skillet aside.

3. Purée the jalapeño, ginger, and garlic in a blender along with the curry powder, cinnamon, turmeric, oil, 1/4 cup water, and salt until smooth. Transfer the purée to the skillet and cook over medium-high heat, stirring, until thickened slightly, about 1 minute. Add the onion and cook, stirring occasionally, until it begins to soften.

4. Drain the potatoes, then add to the onion along with the cumin seeds and cook over medium heat, stirring occasionally, until the potatoes are barely tender, about 10 minutes.

5. Add the chickpeas and remaining 1 1/2 cups water, scraping up any brown bits from the bottom of the skillet. Cover and briskly simmer until the potatoes are tender, 16 to 20 minutes more. Add the peas and cook, covered, until just tender, about 3 minutes. Remove from the heat and stir in the toasted coconut and cilantro. (The masala filling, without the coconut and cilantro, can be made 8 hours ahead and chilled. Reheat before stirring in the coconut and cilantro.)

Make the rava dosas

6. While the masala cooks, whisk the flours, cumin seeds, salt, and water in a bowl.

7. Generously brush a 12-inch nonstick skillet with oil and place over medium-high heat until it shimmers. Pour 1/2 cup batter into the skillet, swirling to coat the bottom. Cook, undisturbed, until the dosa is set and the edges are golden, about 2 minutes. Flip using a rubber spatula and cook until the underside is golden in spots, about 1 minute more. Transfer to a plate. Repeat. Stack the dosas and cover loosely with foil to keep warm.

8. To serve, spoon the filling into dosas and serve immediately.
Rava Dosas with Potato and Chickpea Masala Recipe © 2012 The Editors of Gourmet. Photo © 2012 Condé Nast Publications. All rights reserved. All recipes and photos used with permission of the publisher.
If you make this recipe, snap a photo and hashtag it #LeitesCulinaria. We'd love to see your creations on Instagram, Facebook, and Twitter.