This is my version of a delicious ceviche I tasted in Jipijapa, an old colonial town in the province of Manabí. The fresh tomato sauce seasoned with lime and orange juice is soupy and delicious. What makes it different from other tomato-enriched ceviches from coastal Ecuador is the addition of a dollop of peanut butter right before serving. Ecuadorian ceviches are not overly spicy, as people prefer to add the hot pepper to their food at the table. I sometimes use red serranos or jalapeños, but I also love the stronger heat and aroma imparted by peppers of the habanero or Scotch bonnet type.–Maricel E. Presilla
LC Uh, Waiter, There's Peanut Butter In My Ceviche Note
Yup. Nutty, nubbly, natural peanut butter. In ceviche. You could omit it, and your friends and family may spoof it and tease you, saying, "Waiter, there's peanut butter in my ceviche," but why knock it before you try it?
Shrimp Ceviche
Quick Glance
1 H
3 H, 20 M

Serves 6 as an appetizer
Print Recipe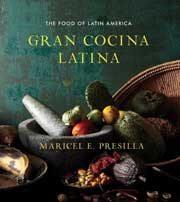 Ingredients
For the shrimp ceviche

1 pound medium shrimp, with shells and heads intact

1/2 large (about 6 ounces) red onion, peeled

A few sprigs cilantro

2 teaspoons coarse sea salt

1 teaspoon black peppercorns

6 cups cold water

For the onion relish

1 large (about 12 ounces) red onion, peeled and thinly slivered lengthwise

1 tablespoon salt

1 to 2 red serrano peppers, jalapeños, or Scotch bonnet peppers, stemmed and thinly sliced crosswise and, if desired, seeded

Juice of 4 large limes, about 1/2 cup

1 garlic clove, mashed to a paste

2 tablespoons finely chopped cilantro leaves or more to taste

For the tomato sauce

2 pounds very red vine-ripened medium tomatoes, cored and coarsely chopped

Juice of 4 large oranges, about 1 1/4 cups

3 tablespoons ketchup

2 teaspoons salt, or to taste

For the peanut butter

4 ounces (about 1 cup) lightly roasted, unsalted, shelled peanuts

For the final assembly

Dijon or yellow mustard (optional)

Chopped cilantro leaves

Coarsely chopped roasted peanuts
Directions
Make the shrimp

1. Rinse the shrimp, then peel and devein them, reserving the shells and heads. Set aside.

2. Place the shrimp shells and heads in a medium pot with the onion, cilantro, salt, and peppercorns. Cover with the water and bring to a boil over medium heat. Cook for 5 to 10 minutes. Remove the shells and solids with a slotted spoon and discard. Add the shrimp to the pot. Cook until pink and cooked through, barely 1 minute. Using a slotted spoon, transfer the shrimp to a bowl, and let cool. Reserve 1/4 cup cooking liquid.

Make the onion relish

3. Place the onion and the salt in a medium bowl and cover with cold water. Let sit for 10 minutes, stirring occasionally with your hands.

4. Drain the onion in a colander and rinse well under cold running water. Transfer the onion to a medium bowl and add the hot pepper, lime juice, garlic, and cilantro and toss to combine. Add the shrimp and mix well. Let sit for about 10 minutes.

Make the tomato sauce

5. Place the tomatoes in a blender or food processor and process into a smooth purée (you should have about 3 cups). Strain the purée through a medium-mesh strainer into a bowl, pushing down on the solids to extract as much liquid as possible. Add the orange juice, ketchup, and reserved shrimp broth to the tomato liquid and season with salt to taste. Pour this liquid over the shrimp and onion mixture and stir to combine. Refrigerate until lightly chilled.

Make the peanut butter

6. While the ceviche chills, prepare the fresh peanut butter. Place the peanuts in a small food processor or a nut butter attachment for a blender and process at high speed until chunky and sorta pastelike. Scoop the peanut butter into a small bowl. (Alternatively, you can just use a large scoop coarsely ground natural peanut butter, preferably with a small handful chopped peanuts stirred into it.)

Assemble the ceviche

7. Divide the shrimp and a generous amount of sauce among 6 wide bowls or soup plates. Place a dollop of peanut butter and a bit of mustard, if desired, over the shrimp. Garnish with the cilantro and some chopped peanuts and bring to the table. Pass around spoons, as the sauce is very soupy.
Shrimp Ceviche Recipe © 2012 Maricel E. Presilla. Photo © 2012 Gentl & Hyers. All rights reserved. All recipes and photos used with permission of the publisher.
If you make this recipe, snap a photo and hashtag it #LeitesCulinaria. We'd love to see your creations on Instagram, Facebook, and Twitter.