Keith Raimondi, mixologist extraordinaire, added a fun Mexican element to this cocktail by sweetening the drink with syrup also derived from the agave plant. Keith recommends making your own jalapeño chile-infused tequila by placing a slice of jalapeño in a bottle of tequila blanco and letting it sit for several hours, periodically checking the level of spiciness. Let the tequila get a touch more fiery than you'd typically prefer, as the liqueur and agave nectar will blunt the heat just a bit.–Jose Garces
Chile-Spiked Margarita FAQs
What kinds of chiles can I use in my infused tequila?
It's no secret that people's taste in chile peppers varies dramatically. This recipe makes for an admittedly tame margarita, the heat just barely discernible. If you burn for more than a whisper of warmth in your cocktails, consider steeping more than a single slice of jalapeño in the bottle of booze. You can slice a whole pepper lengthwise (so it doesn't float). Or opt for a more beguiling sort of chile, say a shishito pepper, a smoky chipotle, or even a hot, hot, hot habanero. Of course, you can let the chile steep for longer than a few hours. All of these techniques will lead to a spicier tequila.
Do all margaritas contain orange liqueur?
Not exactly. Some purists prefer to make their margaritas with only tequila, agave nectar, and lime juice. They boast that their version is a perfect balance of tart and sweet, with a big focus on the quality of the tequila used. Us? We're not purists. We appreciate margaritas in all forms. This subtly spiced chile-spiked version is a perfect balance of sweet, subtle heat, a little salt, with a bit of tang. The orange liqueur helps to bring out the citrus notes and makes for a well-rounded cocktail that we believe even the spicy-averse might develop a taste for.
Chile-Spiked Margarita
This take on a traditional margarita is not only delicious but stunning to behold. Tequila blanco (aka silver tequila) is a style of tequila bottled immediately after it's distilled from the agave plant. It pairs well with chips and salsa, chips and guac, or pretty much any other Mexican-inspired snacks.
Equipment
8 margarita glasses (optional)
Ingredients
1 1/2

cups

chile-infused tequila blanco

,

(see headnote above)

2/3

cup

light agave nectar

1

cup

fresh lime juice

,

(you'll need about 10 limes, plus 1 more lime, cut into 8 wedges, for garnish)

3/4

cup

orange liqueur

,

preferably Cointreau or Grand Marnier

Ice

Kosher salt

,

for rims of glasses

1

jalapeño chile

,

sliced crosswise into rings, seeded if desired
Instructions
Pour the tequila, agave nectar, lime juice, and orange liqueur over ice in a large pitcher and stir vigorously.

To salt the rims of the 8 margarita glasses, pour enough salt into a saucer so that it's about 1/4-inch deep. Cut a little notch in the flesh of a lime wedge and run it along the rim of the glass until the edge is uniformly moistened, making a nice clean line on the outside of the glass. Hold the glass by the bottom and gently tip the outer edge into the salt, rolling to coat evenly. Tap or shake gently to remove any loose grains. Repeat with the remaining lime wedges and glasses.

Fill each salt-rimmed glass with fresh ice, pour in the margarita mixture, garnish with a jalapeño slice (or, if you're brave, an entire jalapeño) and a lime wedge, and serve.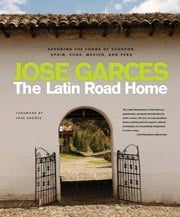 Nutrition
Serving:
1
drink
Calories:
237
kcal
Carbohydrates:
24
g
Protein:
1
g
Fat:
1
g
Saturated Fat:
1
g
Sodium:
4
mg
Potassium:
49
mg
Fiber:
1
g
Sugar:
20
g
Vitamin A:
32
IU
Vitamin C:
12
mg
Calcium:
5
mg
Iron:
1
mg
Nutrition information is automatically calculated, so should only be used as an approximation.
Recipe © 2012 Jose Garces. Photo © 2012 Jason Varney. All rights reserved.
---
Recipe Testers' Reviews
This chile-spiked margarita recipe bumps up the standard margarita. The premixed varieties are just plain horrible [even in a pinch]. Most bars try to get too inventive and they either end up being too sour, too sweet, or filled with too many fruity flavors that don't really add to the overall drink. I love to make my own infused vodka and chiles were next on my list and tequila seemed like a better choice.
I did let the tequila develop quite a bit of spiciness, but next time I'll let it sit for a longer time and possibly leave in a few more seeds. There were mixed reactions from my various tasters. No one thought the chile-spiced margaritas were too spicy, but some of us thought it could have been bumped up a notch. I've been using more agave nectar lately and it really gives a nice depth of sweetness. In this drink, I chose to use a light nectar, just to avoid giving it an off color. I also think it would be nice to combine some cayenne or chile powder with the salt for the coating on the glasses.
For the brave, I think this may be good with a serrano pepper or a habanero (that's more than I could handle). I'm anxious to try this on some friends who judge margaritas according to which premixed brand is better!
There's nothing quite like a great margarita, made with fresh juice and quality liquor to chase away the end of winter. I steeped the jalapeño for two hours (though "periodically checking the level of spiciness" was enjoyable in itself…) and decided to be cautious about the amount of spice in the finished drink.
As a regular margarita it was great. I always love the addition of orange liquor and fresh lime juice. The agave nectar made me have one of those "why didn't I think of that" moments as it dissolved perfectly without the extra step of making simple syrup. However, the slight prickle of heat in the finish was really enjoyable and made us sit up a little straighter.