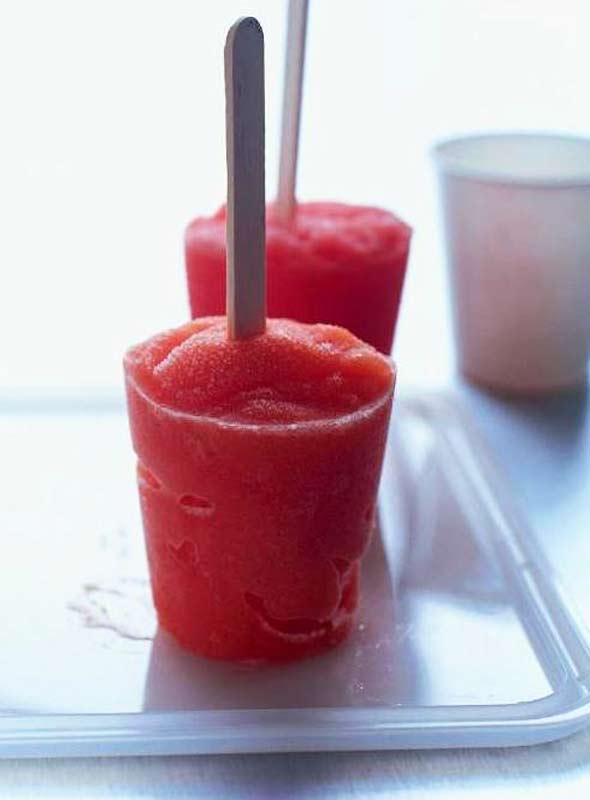 These Popsicles are the perfect refreshers for a summer barbecue. Full of fruit flavor, they are ideal for children and adults alike. For a more sophisticated treat, omit the Popsicle sticks and serve a few scoops of the sorbet in chilled cocktail glasses.–Susie Theodorou
LC Lazy Summer Sorbet Note
Look, we don't judge. So go right ahead and happily lick some Popsicles if you please, regardless of whether there's the pitter-patter of little feet in your domicile. Feel a little sheepish? We encourage you to let that go, although if you feel the need you can easily turn these handy DIY pops into a sophisticated sorbet, just as the author mentions above. But like we said, no judgment here.
Tropical Fruit Popsicle
Quick Glance
25 M
4 H

Makes 12 popsicles
Special Equipment: Ice cream maker, 12 plastic or paper cups, and 12 popsicle sticks
Print Recipe
Ingredients
2 cups cold water

2/3 cup granulated sugar

4 pounds seedless watermelon, rind removed and fruit cut into chunks, or 3 pounds ripe papaya, peeled and seeded, or 5 ripe mangoes, peeled and fruit cut away from the pit

Juice of 2 limes
Directions
1. If making Popsicles, place twelve 1/3-cup plastic or paper cups on a baking sheet and place in the freezer.

2. Warm the water and sugar in a small saucepan over low heat, stirring until the sugar dissolves. Bring to a boil and cook until a light syrup forms, about 5 minutes. Pour the syrup into a bowl and let cool to room temperature.

3. Dump the fruit in a blender (a food processor will yield a different, less desirable texture) and purée until smooth. You may need to do this in 2 batches. Strain the purée through a sieve to remove any seeds or large lumps. Mix the purée with the cooled syrup and stir in the lime juice until well combined. Refrigerate for 1 hour.

4. Place the purée in an ice cream machine (you may have enough to make 2 batches) and process for 30 to 40 minutes or according to the manufacturer's instructions.

5. If making Popsicles, once the sorbet is thick, spoon it into the chilled cups and insert a Popsicle stick in the center. Freeze for 2 hours or until solid. To serve, hold the cup between the palms of your hands for 30 seconds, then gently ease the cup away from the Popsicle. To store, place the Popsicles in freezer-safe resealable plastic bags.

If making sorbet, once the sorbet is thick, serve it immediately or transfer it to a resealable container with a tight-fitting lid and freeze for 2 hours or so to firm it. The Popsicles–or the sorbet, if you choose not to spoon it into cups–is best the same day although it will keep for up to 2 weeks in the freezer.)
Granita
No ice cream maker? No problem. Opt for a granita rather than a sorbet, which has a coarser consistency than sorbet and requires no special equipment aside from a fork. Just pour the mixture into a metal baking dish and freeze for several hours, scraping it every 30 minutes with said fork.
Tropical Fruit Popsicle Recipe © 2007 Susie Theodorou. Photo © 2007 Deirdre Rooney. All rights reserved. All recipes and photos used with permission of the publisher.
If you make this recipe, snap a photo and hashtag it #LeitesCulinaria. We'd love to see your creations on Instagram, Facebook, and Twitter.