Not only is this smoked turkey tender and flavorful, but it also leaves your oven free for all your other dishes. And the beauty of it is that all you need is salt and water, plus whatever combo of spices that you fancy.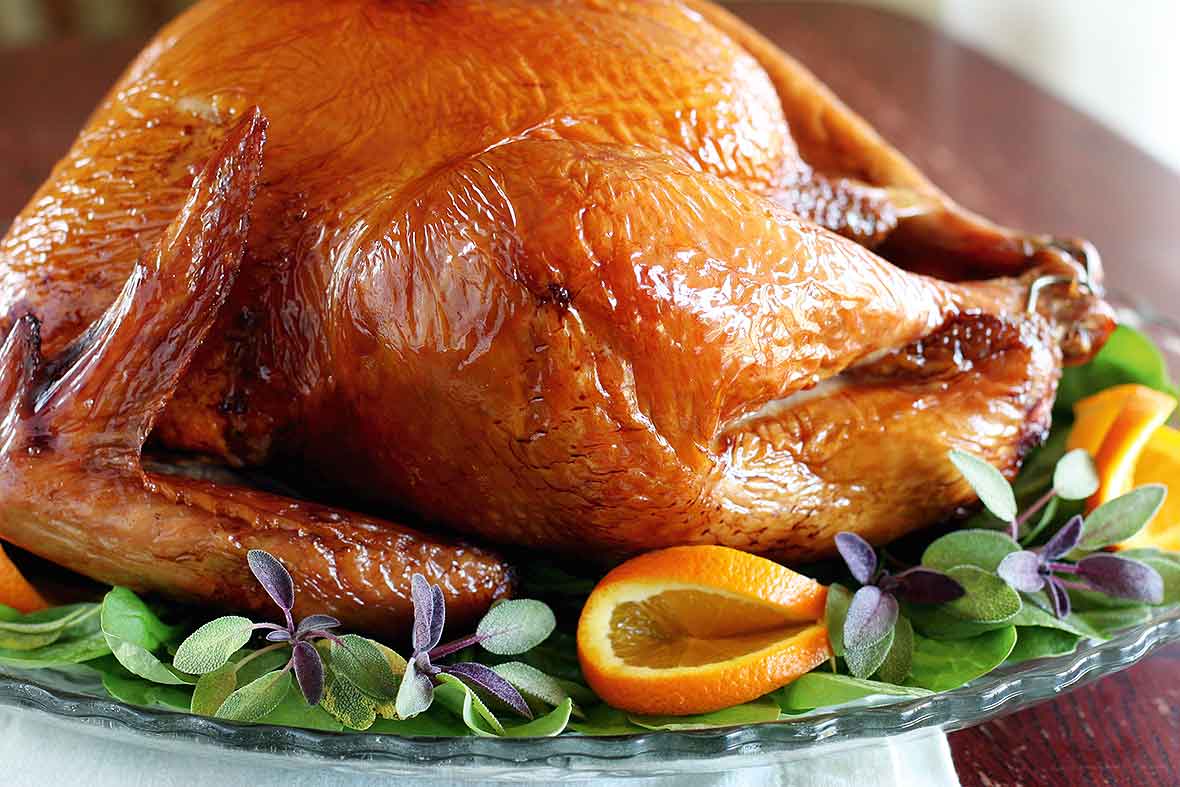 Brining is the method of immersing meat in a saltwater solution to increase its capacity to hold moisture. The scientific explanation is much more involved, but in layman's terms, liquid is drawn into the fibers and cells of the meat during brining via the process of osmosis. The extra moisture helps to combat the drying that naturally takes place when meat is subjected to heat, and the result is a juicier entrée. Even brined meat that is slightly overcooked will stay juicy and moist. An added bonus to brining is that any flavors added to the water—sugar, soy sauce, beer, or juice, for example—will also be pulled into the meat.
Brining is very easy and does absolute wonders for meat, but it does require some planning. The most basic ingredients are water and kosher salt (use a ratio of 1 gallon water to 1 cup kosher salt), but you will probably want to add other things for added flavor.
Most brine recipes will call for a certain amount of water with a certain amount of salt and then the other ingredients. If you want to experiment with your own recipes, make sure to keep to the recommended ratio of 1 gallon liquid to 1 cup salt. You can substitute things like apple juice for some of the water if you're using a large amount (such as a cup or more). However, ingredients like soy sauce, Worcestershire sauce, lemon juice, and hot sauce, which are added in small amounts, should be in addition to the water and not in place of it.
Be sure to use kosher salt in your brine solutions, since it dissolves in water more readily than most other types of salt.–Jeff Phillips
LC Not Just For Turkey Note
Although this simple-as-can-be brine works magic with your Thanksgiving centerpiece, it's not just for turkey. Oh no. Far from it. Pork and chicken also respond favorably to its charms. And you can rejigger the recipe any way you see fit by tossing in some alternate flavorings. We've offered several of the author's faves in the recipe that follows, but care to share what you fancy? Please do so in a comment below.
Turkey Brine
This turkey brine works well with lots of other meat besides turkey–pork and chicken are especially good.
Ingredients
2

gallons

water

2

cups

kosher salt

Other ingredients, such as black pepper, cloves, rosemary, thyme, crushed red pepper flakes, brown sugar, Cajun seasoning

or what have you (optional)
Directions
Bring the water to a boil in a large stock pot over medium-high heat. Add the salt and stir until it's completely dissolved and the water is clear. If desired, add other ingredients and allow the brine to come to a low boil. Turn the heat down to low and allow the brine to simmer for about 15 minutes.

Remove from the heat and let cool to room temperature. Then refrigerate until the brine solution reaches a temperature of 33 to 39°F. (This is crucial to keep the turkey safe from spoilage.) Pour the brine into a large nonreactive container of some sort (this could be just about anything that's large enough to contain the brine and the turkey. Add the turkey. There should be enough brine to submerge the bird. The bird will tend to float, so to keep it completely submerged, place a heavy plate on top of it or stick a brick or can or something heavy in a resealable bag and place it on the bird. Refrigerate for 8 to 12 hours.
Notes
No-Heat Variation
This time-saving variation should be used only when you're keeping the brine basic (that is to say, when you're not adding any sugar or spices, which would require heat to dissolve or bring out the oils or flavors of the ingredients). Fill a large container with 2 gallons water. Add 2 cups kosher salt and stir until it is completely dissolved and the water is clear. If you wish, add other basic liquid ingredients to this solution, such as low-sodium soy sauce, Worcestershire sauce, hot sauce, lemon juice, apple cider, beer, etc.
Show Nutrition
Serving:
2
gallons
Calories:
10
kcal
(1%)
Carbohydrates:
2
g
(1%)
Protein:
1
g
(2%)
Fat:
0.2
g
Saturated Fat:
0.04
g
Polyunsaturated Fat:
0.04
g
Monounsaturated Fat:
0.1
g
Sodium:
113379
mg
(4930%)
Potassium:
181
mg
(5%)
Fiber:
1
g
(4%)
Sugar:
0.2
g
Vitamin A:
2401
IU
(48%)
Vitamin C:
38
mg
(46%)
Calcium:
223
mg
(22%)
Iron:
3
mg
(17%)
If you make this recipe, snap a photo and hashtag it #LeitesCulinaria. We'd love to see your creations on Instagram, Facebook, and Twitter.
Originally published October 20, 2013
Recipe © 2012 Jeff Phillips. © 2013 All rights reserved. All materials used with permission.
If you make this recipe, snap a photo and hashtag it #LeitesCulinaria. We'd love to see your creations on Instagram, Facebook, and Twitter.