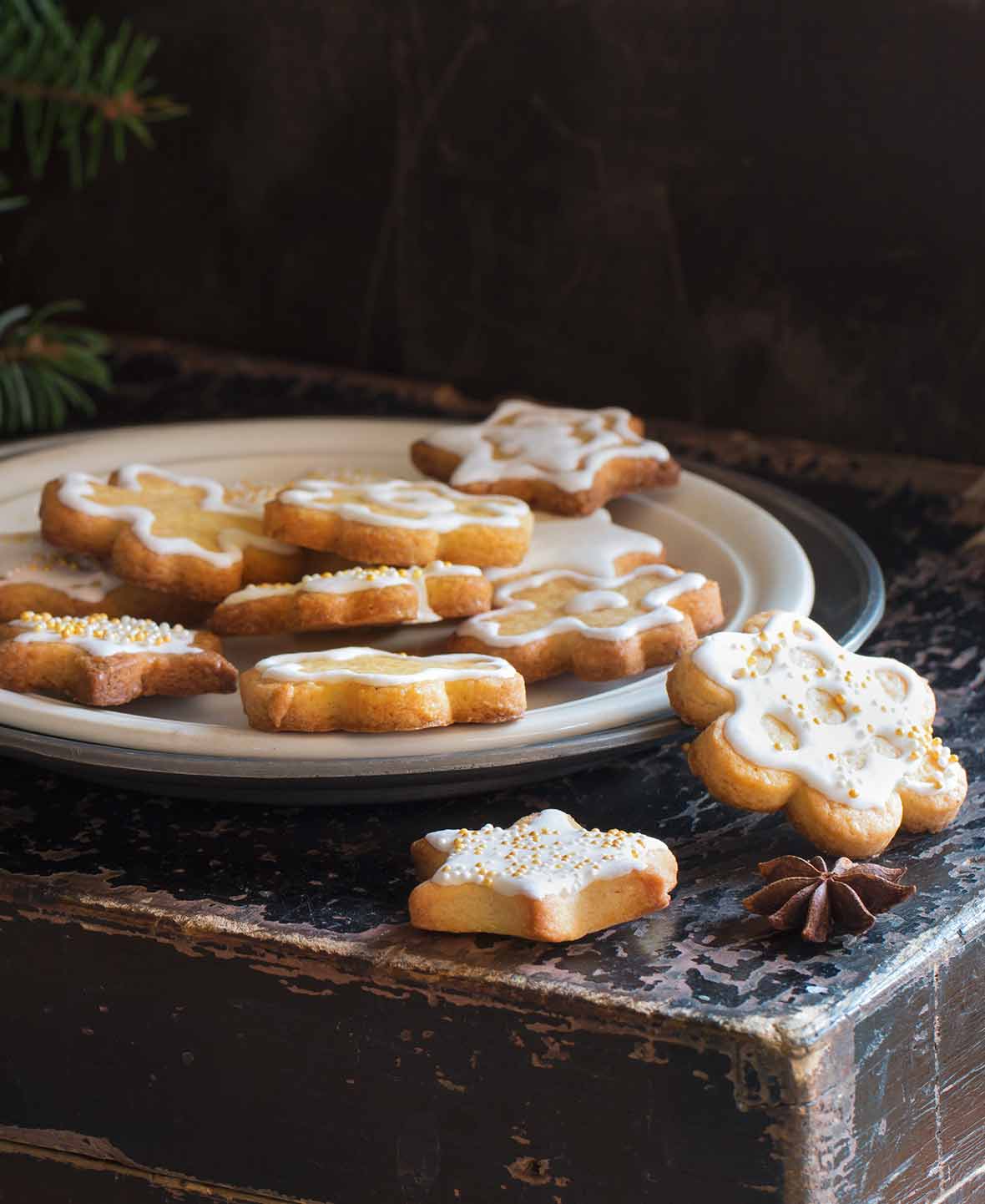 Champagne glazed sugar cookies are a simple roll-out, cut-out cookie made with four ingredients handed down by a grandma that then got gussied up by a Manhattan pastry chef's Champagne icing.
This Champagne-glazed sugar cookies recipe from celebrated pastry chef Christina Tosi is a charmer. And not because of the cookies' delicate crunch and effervescent icing. It's a recipe handed down from her grandmother and calls for just four ingredients. Despite its simplicity—actually, perhaps because of its simplicity—it's the recipe that inevitably wins the Momofuku Milk Bar staff party holiday bake-off each year. Which is both impressive and ironic if you're familiar with the sorts of complicated creations that come out of the Momofuku bakery.
The Champagne glaze is Tosi's signature tweak to the recipe. And it's a swell one. She's loving making it with the affordable Chandon's Blanc de Noir at the moment. Acording to Tosi, the glaze also doubles as a killer icing for pound cakes, muffins, and layer cakes.
However, you can skip the glaze, if desired and use these sweet sugar cookies to create a stunning Christmas cookie tree instead.–Renee Schettler Rossi
LC Cookie Tricks From Christina Tosi Note
We swoon to Christmas cookies. We swoon to Christina Tosi. Therefore, as you can imagine, we are swooning like mad to these Christmas cookies from Christina Tosi. We're also swooning to how gosh darn doable this recipe is, made even more so by Tosi's thoughtful tricks that she thought to include along the way, both in the recipe itself and right here…
If you're prone to rolling pin anxiety, instead of rolling the dough into 2 disks, shape it into 2 logs, whatever diameter you prefer, and refrigerate the logs for at least an hour and preferably overnight. Slice the dough into rounds 1/4 inch thick, arrange on a baking sheet lined with parchment, and bake as directed.
If you don't have any cookie cutters, follow the advice above for rolling pin anxiety.
If you haven't a rolling pin, reach for a Champagne bottle—an unopened one—instead.
Champagne Glazed Sugar Cookies
Champagne glazed sugar cookies are a simple roll-out, cut-out cookie made with four ingredients handed down by a grandma that then got gussied up by a Manhattan pastry chef's Champagne icing.
Ingredients
For the cut-out cookies
2

sticks (8 oz)

unsalted butter

at room temperature

1/2

cup

light brown sugar

2 1/4

cups

all-purpose flour

plus more for the work surface

1/2

teaspoon

kosher salt
For the Champagne glaze
2

cups

confectioners' sugar

1/4

cup

Champagne (brut or rosé)

plus more as needed

Food coloring

(optional)

Sprinkles

(optional)
Instructions
Make the cut-out cookies
In a stand mixer fitted with a paddle attachment, beat the butter and brown sugar on medium-high speed for 2 minutes, until well incorporated. Add 2 1/4 cups flour and the salt and mix on low speed until well incorporated, about 1 minute. Flatten the dough into 2 evenly shaped disks or pancakes. Wrap in plastic wrap or wax paper and refrigerate for at least 1 hour and up to overnight. (Don't skip the chilling. It's essential for the dough to be workable.)

Preheat the oven to 350°F (177°C). Line a baking sheet with parchment paper.

Remove 1 disk of dough from the refrigerator, dust on both sides with a sprinkling of flour (about 1/4 cup total) and roll out to 1/4-inch thickness with a rolling pin. You may need to let the dough rest at room temperature until soft enough to not crack when you attempt to roll it, 10 to 15 minutes.

Cut the dough into your desired cookie shapes—Champagne flutes, perhaps?—and gently transfer them to the baking sheet. (Lightly flour an offset spatula to make cookies easy to transfer from the counter to the baking sheet before baking.) The colder the dough, the easier it is to cut and transfer to the baking sheet, so work quickly. Repeat with the remaining disk of dough.

Bake the cookies for 10 to 12 minutes, or until slightly golden around the edges. Let cool to room temperature. (You can freeze the cooled, undecorated cookies for up to 1 month.)
Make the Champagne glaze
Dump the confectioners' sugar in a largish bowl and slowly whisk in the Champagne. If the glaze seems too stiff, add a little more Champagne, 1 tablespoon at a time, until the desired consistency is achieved. Whisk in the food coloring, if using.

Frost the cooled cookies with the Champagne glaze and, if desired, bring on the sprinkles. Now share them! (You can store the cookies in an airtight container on the counter or in the fridge for up to several days or in the freezer for up to several weeks.)
Notes
In Advance Advice
You can make and bake the undecorated cookies ahead of time and store them in an airtight container in the freezer for up to a month. Let the cookies thaw completely and then slather with the Champagne glaze.
Nutrition
Serving:
1
cookie
Calories:
168
kcal
Carbohydrates:
23
g
Protein:
1
g
Fat:
8
g
Saturated Fat:
5
g
Polyunsaturated Fat:
1
g
Monounsaturated Fat:
2
g
Trans Fat:
1
g
Cholesterol:
20
mg
Sodium:
51
mg
Potassium:
23
mg
Fiber:
1
g
Sugar:
14
g
Vitamin A:
235
IU
Calcium:
8
mg
Iron:
1
mg
Nutrition information is automatically calculated, so should only be used as an approximation.
Recipe © 2014 Christina Tosi. Photo © 2014
Co Sierra Club
. All rights reserved.
---
Recipe Testers' Reviews
I loved these cookies. The dough is easy to prepare and rolls out pretty well, but you MUST let it chill for at least an hour. I found that chilling it overnight was better. I chose to roll out half to cut out cookies and rolled the rest into logs and cut them into thin sliced cookies. The dough was very versatile in that way. I used a small tea cup cookie cutter that was about an inch in diameter. The cookies were delicious. As for the glaze, I found that 1/4 cup Champagne to 2 cups sugar was not enough liquid. The icing was too stiff to spread, so I stirred in 1 more tablespoon Champagne and that transformed it into a good consistency for a spreadable glaze. The icing seemed to be missing something. I could barely taste the Champagne over the sweetness of the sugar. I think if a little vanilla could be added it may have been better. I also thought if the Champagne could be replaced with something a little bolder, like a liqueur or a port, it may have stood out a little more. All that said, if a sweet icing is something you fancy, this is definitely the recipe for you.
I love every recipe I've tried by Christina Tosi and this one didn't disappoint. Crisp and elegant and a nice change of pace from the typical vanilla or almond cutout cookie.
I made the dough a day ahead and used the "roll it into a log" option as I'm not a fan of rolling and cutting dough. Let the rolls warm a bit on the counter to avoid cracking and chunking. I cut them slightly thinner than 1/4 inch as I favor a crisp cookie. Bonus: using the log method, you get nice cookies without the floury mess and distortion from transferring cookies to the pans.
Once on the pans, these baked well and had a pleasant crumb without being too crumbly or too doughy. Note that these do not self-level or puff: the way they go in is the way they come out, flaws and all. Also, it's best to give them some color for best flavor.
The glaze gives the cookies a pleasant flavor with a bit of tang. Most people will not guess what it is. It also covers up flaws—another added bonus. I dressed them up with glaze and topped them with pearl sugar to make them a little special. These are simple, elegant, and tasty. Definitely adding these to my cookie collection. They'll be made often, especially when I have a bit of leftover Champagne to use.
Originally published November 24, 2013