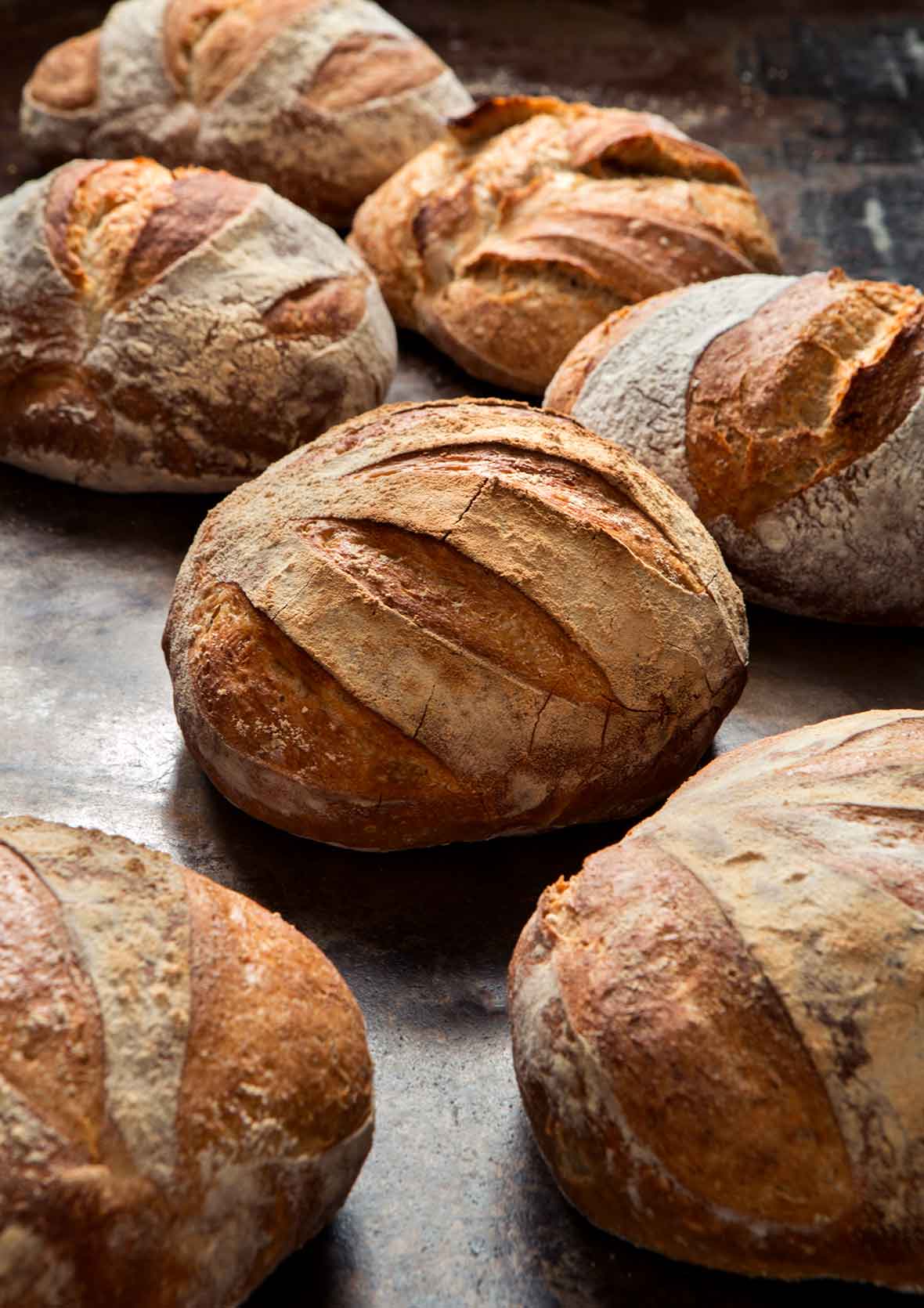 This no-knead 5-minute artisan bread is truly "revolutionary." That's the word the authors who created this quick homemade bread recipe use to describe it, and we couldn't agree more. Like so many rustic bread recipes, it relies on just pantry staples of all-purpose flour, yeast, salt, and water. But what distinguishes this recipe, its true genius, is the technique. There's no kneading required.
More than that, though, you can stash it in the fridge for later. So you simply forget about it until you're overtaken by the craving for freshly baked bread. When that happens, you just grab the dough from the fridge, lop off enough for a loaf, shape it, let it rest a few moments, and then slide it in the oven before you continue to go about your life. We're talking 5 minutes of effort here. Seriously. Just don't forget to come back later to retrieve the best loaf of artisan bread you've ever experienced from the oven.–David Leite
No-Knead 5-Minute Artisan Bread FAQs
Does this bread really take just five minutes?
Okay. If you want to get technical, this bread does take a little more than 5 minutes to make, but that's only if you include the resting and baking time. But in terms of actual effort? Seriously, it's just 5 minutes. We've relied on this recipe hundreds of times, and we can assure you that 5 minutes hands-on time is all you'll ever invest at any given stage in the recipe. That's nothing for a loaf of rustic artisan bread that's homemade. Nothing short of a miracle, that is.
Can I bake this in a Dutch oven? If yes, oven temp and cook time?
You absolutely can use a Dutch oven here. I do it often. Use the temperature stated in the recipe. You'll want to preheat your Dutch oven (and its tight-fitting lid) for at least 30 minutes. To help you lower the loaf in the pan without burning yourself, make a parchment-paper sling.
Why is my no-knead bread soft not crusty?
There are several reasons. The biggest issue is a poorly calibrated oven. Even twenty-five degrees can make a difference. Always use an oven thermometer to be absolutely sure.

The second issue is not enough steam in the oven. Now, I know what you're thinking: How can moist steam make for a dry crisp crust? It all has to do with the starches present in the flour. When the bread bakes, its skin heat up enough so that the starch molecules pop open and become jelly-like. They then continue to bake and firm up to a crusty loaf. The moisture from steam is what kicks this process into action.

In step 14, the hot water splashed into a shallow pan is what creates that steam. If you use a Dutch oven, there's enough steam from the wet dough to do the job. Although, I often toss a few ice cubes in the pot for good measure
How To Make Other Shapes Of Bread
The authors created this recipe so that it can accommodate any shape loaf, whether the round boule you see in the photo above, a baguette, bâtard, ciabatta, couronne, crusty white sandwich loaf, Pullman sandwich loaf, or soft dinner rolls. The recipe below instructs you on how to make the French boule (pronounced "bool" and meaning "ball"). But if you're experienced in shaping the others, or want to Google instructions on the others, the dough will work admirably.
No-Knead 5-Minute Artisan Bread
This no-knead 5-minute artisan bread show you how to make homemade bread in just minutes a day without fuss. Quick, easy, rustic, entirely doable even by novices, and the best loaf you'll ever bake.
Ingredients
3

cups

lukewarm water (100°F or 38°C)

,

plus more for the broiler tray

1

tablespoon

granulated yeast (active dry, instant, quick rise, or bread machine is fine)

1 to 1 1/2

tablespoons

kosher or other coarse salt

,

to taste

6 1/2

cups

unbleached all-purpose flour

,

measured by the scoop-and-sweep method

Cornmeal

,

for dusting (optional)
Instructions
Make the dough
Warm the 3 cups water just a little so that it feels just slightly warmer than body temperature. That should put it at about 100°F (40°C).

In the large bowl of a standing mixer or a 6-quart container with a lid, mix the yeast, warm water, and salt. Don't worry about getting the yeast to dissolve.

Add the flour to the yeast mixture all at once, then use a spoon or stand mixer to mix until the flour is completely incorporated and you have a blobby dough. (If you're hand-mixing the dough and it becomes too difficult to incorporate all the flour with the spoon, just use very wet hands to press the mixture together.) Don't knead the dough! It's not necessary. You just want the dough to be uniformly wet and loose enough to conform to the shape of its container. All you need to do is be certain that there are no dry patches of flour.

Loosely cover the container and let the dough hang out at room temperature until it begins to rise and collapse or at least flatten a little on the top, about 2 hours. (Relax. It's bread dough, not a newborn. You don't need to monitor it constantly. And don't worry about the dough being precisely double or triple its original volume as you would with a traditional bread recipe. Just walk away, go about your business, and come back in 2 hours. Seriously.)
Stash the dough in the fridge
After 2 hours, stash the container of dough in the fridge. That's it. (If your container isn't vented, you want to ensure the gases can escape by leaving the cover open a crack for the first couple days in the fridge; after that, you can seal it.)

You can use the dough anytime after the initial 2-hour rise, although the refrigerated wet dough is less sticky and easier to work with than dough at room temperature, so it's best to refrigerate the dough overnight before handling it. Once refrigerated, the dough will seem to have shrunk back upon itself as though it will never rise again—that's normal. Whatever you do, do not punch down this dough. You're trying to retain as much gas in the dough as possible, and punching it down knocks gas out and results in denser loaves. Just be certain to use the dough at some point within 14 days.
Shape the dough into a loaf
When you want to bake a loaf of artisan bread, dust a pizza peel or a baking sheet turned upside down with cornmeal or line it with parchment paper.

Grab a hunk of the dough and use a serrated knife or scissors to cut off about a 1-pound piece of dough. Hold the dough in your hands and, if necessary, add just enough flour so the dough doesn't stick to your hands. (What you're trying to do is surround the surface of the dough with flour so that it can be handled. You're not trying to incorporate more flour into the dough, so for the love of all things good, resist the temptation to get rid of all the dough's inherent and lovely stickiness by working the flour into the dough.)

Gently stretch the surface of the dough, tucking the ends underneath the ball and rotating it a quarter turn as you go. (See video above.) Most of the dusting flour will fall off, and that's okay, because as we just said, it's not intended to be incorporated into the dough. The bottom of the ball of dough may appear to be a collection of bunched ends, but it will flatten out and adhere during resting and baking. The rest of your round loaf should be smooth and cohesive, and the entire shaping process should take no more than 20 to 40 seconds—don't work the dough any longer or your loaves may be dense.

Place the ball of dough on the prepared pizza peel or baking sheet, seam side down with all the collected bunched ends on the peel or board. Let it rest for about 40 minutes. It doesn't need to be covered. (You may not see much rise during this period, but don't fret. It will rise much more during baking.)
Bake that gorgeous-looking loaf
Preheat the oven to 450°F (230°C) for at least 20 to 30 minutes. Preheat a baking stone (or an upside-down cast-iron skillet or baking sheet) on a middle rack for at least 20 to 30 minutes. Place an empty metal broiler tray on any rack that won't interfere with the rising bread. (Do not use a glass pan as it could shatter.)

Dust the top of the raised loaf generously with flour and, using a serrated bread knife, slash a 1/2-inch-deep cross or a couple gashes or a tic-tac-toe pattern in the top. There's no need to dust the flour off the loaf.

Place the far edge of the peel or the upside-down baking sheet in the oven on the baking stone or cast-iron skillet or upside-down baking sheet a few inches beyond where you want the bread to land. Give the peel or baking sheet a couple quick back-and-forth jiggles and then abruptly pull it out from under the loaf. The loaf should land on the baking stone with very little drama.

Quickly but carefully pour about 1 cup hot water into the broiler tray and immediately shut the oven door to trap the steam. Bake the bread for a total of 20 to 35 minutes, until the crust is richly browned and firm to the touch. Because the dough is so wet, there's very little risk of it becoming dry despite how dark the crust may become. (If you're using a baking sheet rather than a baking stone, you may need a little extra time—up to 50 minutes total—for the bread to be done.)

Remove the bread from the oven and let the loaf cool completely, preferably on a wire rack for the best flavor, texture, and slicing. (Crazily enough, a perfectly baked loaf will audibly crackle, or "sing," when initially exposed to room temperature.) The crust may initially soften but will firm when cooled.
Video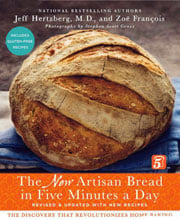 Adapted From
The New Artisan Bread in Five Minutes a Day
Buy On Amazon
Nutrition
Serving:
1
slice
Calories:
74
kcal
Carbohydrates:
16
g
Protein:
2
g
Fat:
1
g
Saturated Fat:
1
g
Polyunsaturated Fat:
1
g
Monounsaturated Fat:
1
g
Sodium:
263
mg
Potassium:
23
mg
Fiber:
1
g
Sugar:
1
g
Vitamin A:
1
IU
Vitamin C:
1
mg
Calcium:
4
mg
Iron:
1
mg
Nutrition information is automatically calculated, so should only be used as an approximation.
Recipe © 2013 Jeff Hertzberg | Zoë François. Photos © 2013 Stephen Scott Gross. All rights reserved.
---