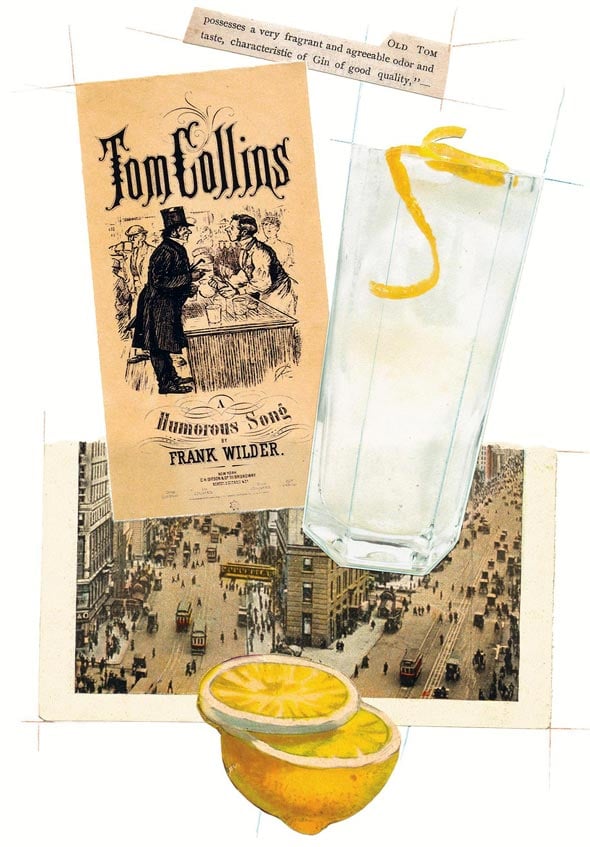 In 1876, "Professor" Jerry Thomas published the first-known recipe for the Tom Collins, a cocktail featuring "Old Tom," a sweetened gin that was popular in the nineteenth century. Mixed in a tall, ice-filled glass with lemon juice, sugar, and soda water, the Tom Collins is essentially a gin-spiked sparkling lemonade perfect for hot summer afternoons.
In the early 1880s, the Tom Collins hoax swept New York, inspiring copycat pranks, tribute songs—and even a cocktail. Several newspapers, including the below account, described the hoax similarly:
"A joker meets a friend and accosts him with 'Have you seen Tom Collins?' 'No, who the deuce is Tom Collins?' 'Well, I don't know much about him, but he says he knows all about you and is telling terrible lies and scandals…'"
The joker then tells the victim to look for Tom Collins at the saloon around the corner, but in that bar and every other one he enters, he is told that Tom Collins has just left. The victim eventually realizes he has been tricked, and the hoaxer buys him drinks.
The game so captured the minds of New Yorkers that it spawned several songs like, "Tom Collins Is My Name," with its lyrics, "I'm here, I'm there, I'm everywhere / And rather hard to find / So don't attempt to look me up / Unless you're well inclined."–Erica Duecy
LC Tom Collins Note
We just realized "Tom Collins"—as in the cocktail—is an entry in Merriam-Webster. Love that.
Tom Collins
Ingredients
1

teaspoon

superfine sugar

(or just blitz granulated sugar in a blender until finely ground but not powdery; omit if using Old Tom gin)

1/2

ounce

fresh lemon juice

2

ounces

London dry gin or Old Tom gin

(such as Hayman's)

6

ounces

soda water

or more, as needed

1

long strip

lemon zest

preferably organic
Directions
Dump the sugar and lemon juice in a Collins glass or other tall, narrow glass. Stir to dissolve the sugar, then add the gin, several ice cubes, and soda water and mix gently to combine.

Submerge the lemon zest in the glass so it spirals around the ice cubes. We think you know what to do from here…
Originally published June 18, 2014
Recipe © 2013 Erica Duecy. Illustration © 2013
Poul Lange
. All rights reserved. All materials used with permission.
If you make this recipe, snap a photo and hashtag it #LeitesCulinaria. We'd love to see your creations on Instagram, Facebook, and Twitter.