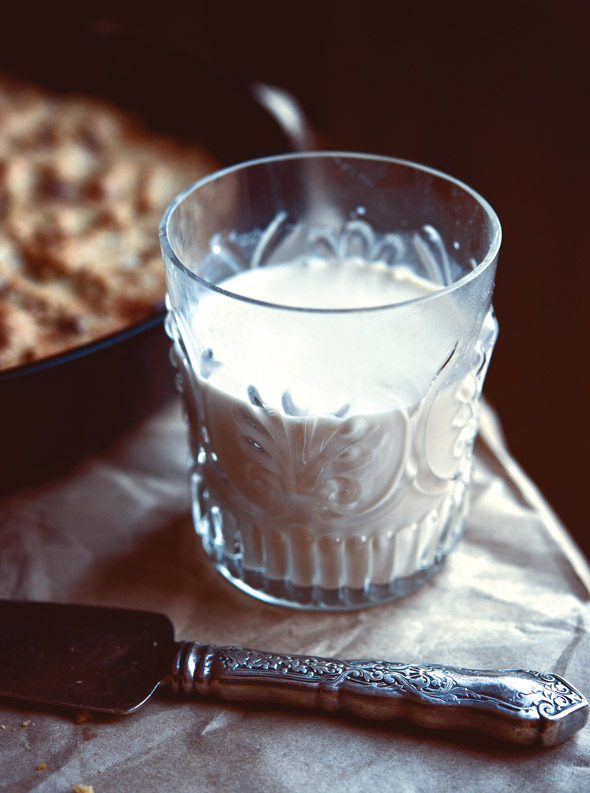 For the freshest, purest taste, buy almonds in bulk and make your own almond milk. It requires soaking the almonds overnight or while you are at work, after which you can have almond milk in just minutes. Cashews are another delicious nut to use in this recipe if you want.–Georgia Pellegrini
LC Putting That Leftover Almond Meal To Swell Use Note
Fact: Almonds are expensive.
Fact: You're going to need almonds for this recipe.
Fact: You're going to have some leftover almond shrapnel from this recipe.
Fact: Rather than throw out the almond shrapnel, put it to swell use. The way we see it, you've got at least 3 options: 1. Spread it in a baking dish and toss in a 200°F oven until dry and sandy, about 4 hours. Let cool and, if necessary, pulverize in a food processor, and keep at room temperature to use in place of almond meal. 2. Mix 1 cup almond meal, 1/4 cup light brown sugar, 1/8 cup olive oil, and 2 tablespoons honey and stash in a Mason jar in the fridge for up to several months. Rub in a circular motion on your skin, and then rinse. 3. Mix a little almond meal into your dog's dinner.
Almond Milk
Quick Glance

(4)

15 M
6 H, 15 M

Makes about 5 cups
Special Equipment: Cheesecloth
Ingredients
Email Grocery List
Directions
Dump the almonds in a large bowl and add enough cold filtered water to cover. Let the almonds soak on the counter or in the fridge for at least 6 hours and preferably overnight.
Drain the almonds, discarding the soaking liquid. Toss the drained almonds in a blender or, if you have one, a Vitamix and add the cold filtered water. Blend for 1 1/2 to 2 minutes, until the mixture is white and frothy and very nearly smooth.
Rinse a cheesecloth under cool running water and then squeeze out the excess water. Fold the cheesecloth several times to ensure it's numerous layers thick and place it in a fine-mesh strainer. Place the strainer over a bowl or pitcher and pour the almond mixture through the cheesecloth a little at a time, pressing on the solids with the back of a wooden spoon or ladle. If the cloth becomes too full of almond meal, gather the cheesecloth together at the edges to form a ball and gently squeeze the excess liquid out of the meal through the cheesecloth and the strainer until no more can be extracted. Then shake the the almond meal from the cheesecloth, rinse the cheesecloth again under cool running water, and strain more of the almond mixture. (You can save the meal and dry it in the oven for homemade almond flour, or use it to make an almond exfoliating body scrub.)
Use the almond milk immediately or stash it in an airtight container in the refrigerator for 3 to 5 days (you may need to shake to recombine prior to using).
Flavored Almond Milk
To flavor homemade almond milk, you have a whole host of options, including vanilla, honey, cinnamon, cocoa powder, or maple syrup. Add a smidgen to the blender along with the almonds and water and blend, then strain as directed. Taste and adjust the amount of flavoring, if desired.
Recipe Testers Reviews
Almond Milk Recipe © 2014 Georgia Pellegrini. Photo © 2014 Georgia Pellegrini. All rights reserved. All materials used with permission.
If you make this recipe, snap a photo and hashtag it #LeitesCulinaria. We'd love to see your creations on Instagram, Facebook, and Twitter.