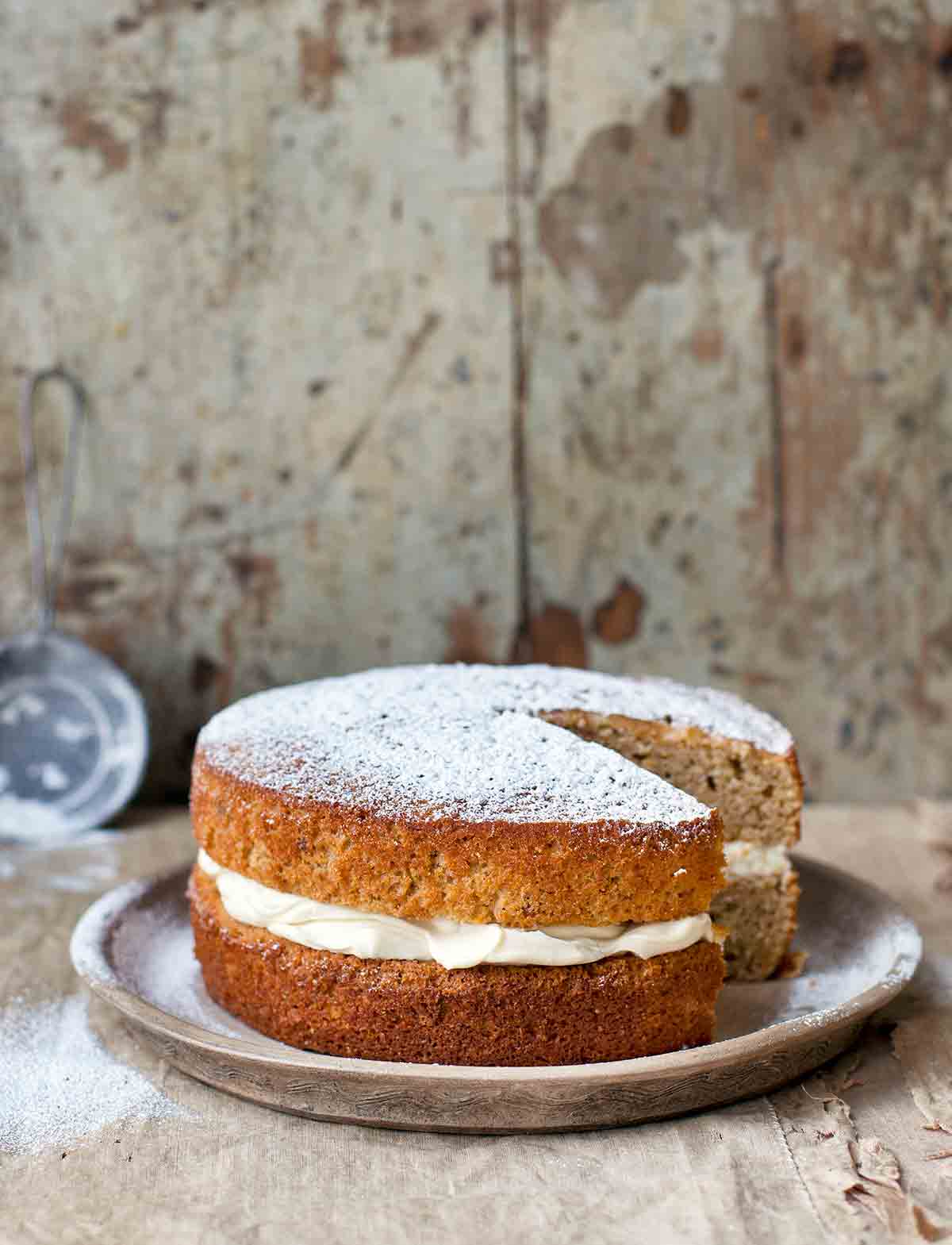 This maple parsnip cake, made with parsnips, apples, brown sugar, maple, and a mascarpone frosting is a welcome change from traditional carrot cake. Go on, try something new.
We [Editor's Note: The royal we here refers to The Ballymaloe School] subscribe to a variety of food magazines from all over the world. We all love to flick through them–they spark off ideas and occasionally we find a little gem like this maple parsnip cake recipe for a delicious winter dessert, which was inspired by a recipe from BBC Good Food.–Darina Allen
LC Hey, Carrot Cake, We've Met Someone New Note
Though not quite as sweet as everyone's beloved carrot cake, this unpretentious maple parsnip cake is a welcome change of pace. And it never fails to wow even the most ardent veggie adversaries, whether the cake is stacked in lovely layers or spread out flat in a baking dish. [Editor's Note: For the simpler, single-tier version that's made in a 9-by-13-inch baking dish, take a gander at the variation beneath the recipe.] As for the mascarpone and maple frosting that's judiciously slathered atop, we'd all be a little better off if there was more of that on the cake—and in our lives.
☞ Like cake recipes? Try these:
Maple Parsnip Cake
A little more rustic version of the everyday carrot cake, made with parsnips, apples, hazelnuts, and a lush maple mascarpone icing.
Equipment
Two 8- or 9-inch cake pans
Ingredients
For the parsnip cake
12

tablespoons

unsalted butter

plus more for the pan

3/4

cup

light brown sugar

1/2

cup

maple syrup

3

large

eggs

2

cups

all-purpose flour

2

teaspoons

baking powder

2

teaspoons

pumpkin pie spice

3

cups

peeled and grated parsnips (about 2)

1

cup

peeled, cored, and grated apple (any variety; about 1 medium)

1/2

cup

pecans or hazelnuts

roughly chopped

1

tablespoon

finely grated orange zest

preferably organic

1/3

cup

fresh orange juice
Instructions
Make the parsnip cake
Preheat the oven to 350°F (177°C). Lightly butter two 8- or 9-inch cake pans and line the pans with parchment paper cut to fit.

Warm the butter, sugar, and maple syrup in a saucepan over low heat, stirring occasionally, until completely combined. Remove from the heat and let cool slightly, then whisk in the eggs.

Sift the flour, baking powder, and pumpkin pie spice into a large bowl. Gently fold in the butter and sugar mixture just until combined. Add the grated parsnips and apple, pecans or hazelnuts, orange zest, and juice and stir just until combined. Spread the mixture into the pans and bake for 25 to 40 minutes, until a toothpick inserted in the center comes out clean. Cool the cakes in the pans on wire racks for 5 minutes. Run a thin knife around the edge of the cakes and then invert them onto the rack, remove the pans, and let stand for at least 1 hour or until completely cool.
Make the maple frosting
Beat the mascarpone and 3 tablespoons maple syrup in a medium bowl until well blended. Taste and, if desired, add up to 1 tablespoon more maple syrup.
Assemble the cake
Place 1 of the cakes on a cake stand or a serving plate. Plop a few tablespoons frosting on the cake and spread it evenly over the top. Situate the second cake, bottom side up, on the frosted cake. Spoon the rest of the frosting on the second cake and spread it evenly over the top, leaving the sides unfrosted. If desired, dust with confectioners' sugar just before serving.
Notes
Maple Parsnip Cake Variation
Maple Parsnip Sheet Cake
Instead of using two 8- or 9-inch round cake pans, use one 9-by-13-inch baking dish. Just smooth the batter in the buttered pan lined with parchment. The baking time will be the same as directed in the recipe for the round cakes. Cool the cake in the pan and frost it in there, too. Easy peasy.
Nutrition
Serving:
1
serving
Calories:
667
kcal
Carbohydrates:
77
g
Protein:
9
g
Fat:
36
g
Saturated Fat:
20
g
Polyunsaturated Fat:
3
g
Monounsaturated Fat:
8
g
Trans Fat:
1
g
Cholesterol:
143
mg
Sodium:
60
mg
Potassium:
510
mg
Fiber:
4
g
Sugar:
42
g
Vitamin A:
1057
IU
Vitamin C:
16
mg
Calcium:
179
mg
Iron:
3
mg
Nutrition information is automatically calculated, so should only be used as an approximation.
Recipe © 2013 Darina Allen. Photo © 2013
Laura Edwards
. All rights reserved.
---
Recipe Testers' Reviews
I'm not a big fan of carrot cake, finding it overly sweet, but parsnips are my all-time favorite vegetable, so I had to try this maple parsnip cake recipe. This cake was quick to prepare and assemble, not to mention delicious—full of flavor and complexity. It baked perfectly at 35 minutes exactly. The parchment paper was a saving grace and should be emphasized. The mascarpone with maple syrup wasn't overly sweet. It spread quite smoothly, and even though I was scraping the frosting close to the cake, I didn't get lots of crumbs. I had enough frosting to cover a very thin layer in the middle and a slightly more generous covering on the top. Unfortunately, the recipe didn't make quite as much frosting as I'd have liked. This cake didn't even make it to dinner since everyone who stopped by ended up slicing into it and then went back for seconds. A big hit in this house!
This maple parsnip cake is a really great dessert that will delight those who eat it. The cake is moist, dense, yet super light. The spices are well-balanced and add to the essence of the cake. The parsnip gives the cake a unique flavor that is truly delicious. I used two 9-inch round cake pans, and the cake took 25 minutes to bake. The only trouble I had was with the mascarpone icing. I blended the mascarpone with the maple, and the result was the consistency of thick potato soup. I thought if I let it set in the refrigerator overnight it would firm up and become spreadable, but this was not to be. It was still soupy the next morning. Because I didn't want to waste the mascarpone cheese, I did the only thing I could think of to stabilize it. I added confectioners' sugar—about 2 1/2 cups when all was said and done. The icing seemed a bit sweet to me, so I squeezed in a tablespoon of lemon juice. It was still pretty sweet, but I went with it. Everyone loved it! No one said anything about the icing being too sweet; in fact, everybody wanted more icing. Even with the additional confectioners' sugar, the icing was only enough to cover the middle and top of the cake. All in all I think I will use cream cheese next time.
This maple parsnip cake was very moist. It was a little sweet for me, but that's just my taste. To balance it, I would serve it with a stout sauce for St. Patrick's Day.
Originally published November 14, 2014