The food of one's childhood is quite a force to be reckoned with, something that lingers in our memories and, in so doing, reminds, comforts, haunts, inspires, explains, and countless other things. We each come to understand this relationship in our own way, and in our own time. Without any more blathering on our part, here's the late Joan Rivers, indulging us with her inimitable, opinionated, and—who are we kidding—profound way of seeing the Jewish food of her younger years, excerpted from the effusively charming Eating Delancey: A Celebration of Jewish Food.—Renee Schettler Rossi
My mother was a very chic woman, very well-read, a great hostess, and a horrible cook. She literally couldn't cook anything beyond just a few dishes. There's an old joke: What does a Jewish woman make for dinner? Reservations. That was my mother. She did cook a few things: Kasha varnishkes and gribenes, which I just loved until I was about 13 and realized how fattening they are. And we always had challah.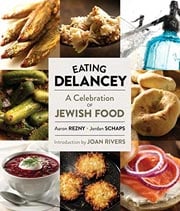 So how did I develop my love for good Jewish food when it wasn't on our table daily? I'll tell you. My father was a doctor in Brooklyn. Most patients paid him but some could not afford to, and so they'd bring food in exchange for medical services. We got soup, blintzes…you name it. Oh my God, the food…it was just terrific and this is how I grew up—eating such food cooked with love and delivered by infirm and dying patients.
I still yearn for all of those delicious childhood treats. Matzo balls that melt in your mouth! Chopped liver that's just creamy enough. Flanken so tender that it doesn't require a knife to eat it.
I look at Jewish food and think, "How can anyone hate the Jews with all of the scrumptious things they produce?" I still can't believe the Israelis won the Six Day War because with all of those tasty goodies, when did they find the time to pick up their weapons and fight? I'm imagining them just sitting around eating their rations and saying, "Yeah, yeah, we'll get to the fighting in a little bit."
The food of my childhood…prune hamantaschen, a good macaroon, tzimmes! I'm in heaven. And chicken feet. Oh my god, those burnt, scraped chicken feet. Sign me up. I'm in. The only thing that I'll pass on is Manischewitz. I don't like sweet wine. But even that's worth it if it's paired with flanken's cousin, a good brisket.
© 2014 Joan Rivers. Photo © 2011
Karen Adelman
. All rights reserved. All materials used with permission.