Eating Delancey | powerHouse Books, 2014
Caterer to the stars Mary Giuliani has a confession to make. But she ain't feeling guilty about it—nor should she.—Renee Schettler Rossi
Confession: I've always wanted to be Jewish. When I was in the fifth grade, I raised my hand and told Sister Joyce I could not participate in religious education class that day. When she sternly asked me why, I responded, "I'm really Jewish." What precipitated this revelation was watching Yentl the night before with my grandfather on the pullout couch in our living room. I was hooked!
You see, my grandfather was actually my first Jewish enabler. Papa worked in SoHo and lived in Bushwick, so he drove over the Williamsburg Bridge every day to work, and on his way home he would always stop at Katz's for either a pastrami or tongue sandwich and a bottle of Cel-Ray soda.
I must have been seven years old when he took me out for this, a fine culinary meal, and if Yentl didn't have me at hello, that first well-done hot dog, square knish, and root beer meal changed my life.
I come from a VERY Italian family that treasured three things equally: Jesus, meatballs, and al dente spaghetti. However, it was my very Italian parents who decided to move from Bushwick the year I was born to a town on Long Island called Great Neck. Population: 99% Jews. The migration of my mom, dad, sister, and grandparents made up the other 1%.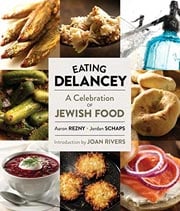 It was there that incredible people like the Levinsons, the Balkins, and the Gads entered my life. While Sundays were for meatballs and spaghetti at my house, Friday nights were for brisket and gefilte fish at the Gads. Diggy and Hal took me to my first aufruf and my best friend Lauren allowed me to attend Hebrew school with her so often that by the time I turned 13, I was able to recite the Haftorah.
And the boys…there was Ivan Goodstein, Andrew Finkelstein, Derek Silberstein, and Josh Rothstein. If there wasn't a "stein" at the end of his name, I wasn't interested.
Their mothers were less than interested in me and I'll never forget standing in line at the bagel buffet at Andrew Finkelstein's bar mitzvah when I overheard his mother's friend point and say, "You're OK with your son dating that shiksa?" I of course went to my Papa that night and asked him what "shiksa" meant. After a brief tutorial in the words shiksa and goy, he then divulged that he was in fact a Shabbos goy himself. A very proud moment in our family history indeed.
It was also at the 130+ B'nai Mitzvahs that I attended where I developed a deep love for the pig in a blanket, so much so that I have gone on to devote my career to that hors d'oeuvre. And I continue to love all things Jewish: there is not a knish I do not cherish, kugel makes me knell, and Barbara Streisand will blast loudly and proudly from my iPod until the day I die.
Shisksa, goy, Shabbos goy…I wear it as a badge of honor. Call me what you want! As long as you save a space for me in the hora circle and bring me a blintz or a warm slice of challah, I'll be putty in your hands.