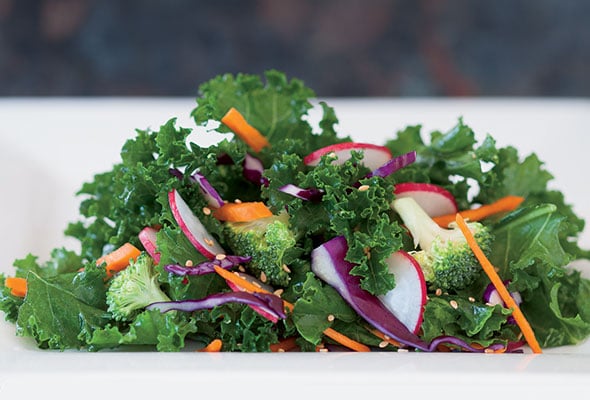 This raw kale salad could be one of the most health-packed salads I've ever made, and that's saying a lot. It's also delicious as well as colorfully appealing.–Catherine Walters
LC Sexy Salad Note
Hey, raw kale is sexy, right? Because not only is it one of the most sulfurous-containing greens around (c'mon, soooo sexy!), it's actually really quite lovely when the leaves are simply massaged with oil and become just a touch relaxed and limp (uh, maybe sorta sexy?). As for the seaweed in this raw kale salad recipe [Editor's Note: Please don't tell David. We're hoping he doesn't notice.], the author of this recipe reassures, "Don't be intimidated. It's very mild tasting and full of iron and calcium." Still, if you'd rather not venture to the seaweed aisle in the grocery store, we understand. No pressure. But hey, perhaps next time?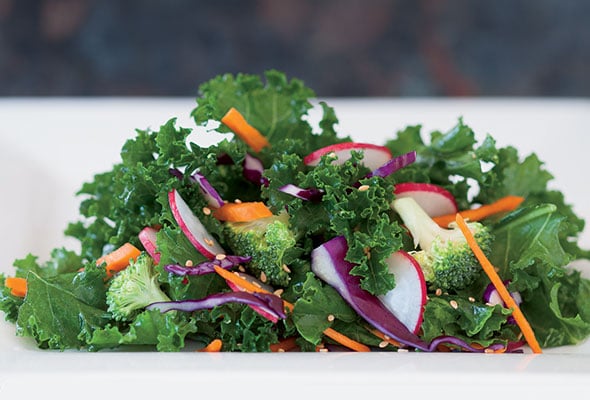 Raw Kale Salad
This raw kale salad tastes fantastic and is also fantastically healthy with a combination of kale, broccoli, carrots, radish, and cabbage. A sesame dressing and a sprinkling of seaweed seal the deal.
Ingredients
For the kale salad
4

cups

very roughly chopped kale

1

tablespoon

extra-virgin olive oil

2

pinches

sea salt

2

cups

small broccoli florets

,

(optional)

1

large

carrot

,

peeled and cut into matchsticks or shredded

2

cups

red cabbage

,

sliced as thinly as you can

4

red radishes

,

sliced thinly and then cut into half-moons, or 1 daikon radish, peeled and cut into matchsticks

1/2

cup

dried arame seaweed

,

(optional)

2

tablespoons

sesame seeds

,

toasted
For the dressing
2

tablespoons

fresh lemon juice

2

tablespoons

tahini

2

teaspoons

pure maple syrup

1/2

teaspoon

very finely chopped fresh garlic

4

tablespoons

extra-virgin olive oil

2

teaspoons

soy sauce

,

(optional)

1

tablespoon

water

Sea salt
Instructions
Make the kale salad
Rinse and dry the kale. Rip or cut the leaves from the stalk into bite-size pieces, discarding the stalk or reserving it for another use. Toss the kale in a large bowl. Sprinkle with the olive oil and salt. Using your hands, massage the kale for 2 to 3 minutes, until the kale is glistening. (If it seems too oily, use a paper towel to blot up some of the moisture.)

Mix in the broccoli, if using, carrot, cabbage, and radishes.

If using the arame, place it in a small bowl and cover with 1 cup hot water. Let it soak while you make the dressing, then drain and pat it dry with a paper towel. Cut the long strands into bite-size pieces and toss into the salad.
Make the dressing
Whisk together the lemon juice, tahini, maple syrup, garlic, olive oil, soy sauce, if using, water, and salt to taste in a small bowl. Add additional water if it's too thick. Try a bit of the salad in a small bowl with the dressing to see if you need to make any adjustments.
Assemble the salad
Just before serving, dress the salad and toss. (You may not need all the dressing.) Sprinkle with the sesame seeds.
Notes
Raw Kale Salad Variation
Raw Kale Salad Recipe, Hold The Tahini
If tahini—a thick paste made from ground sesame seeds—is unavailable, add 2 additional tablespoons olive oil to the dressing and omit the water.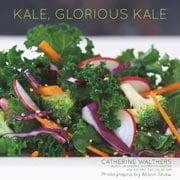 Nutrition
Serving:
1
serving
Calories:
296
kcal
Carbohydrates:
17
g
Protein:
6
g
Fat:
25
g
Saturated Fat:
3
g
Polyunsaturated Fat:
5
g
Monounsaturated Fat:
15
g
Sodium:
366
mg
Potassium:
632
mg
Fiber:
6
g
Sugar:
6
g
Vitamin A:
10487
IU
Vitamin C:
134
mg
Calcium:
275
mg
Iron:
3
mg
Nutrition information is automatically calculated, so should only be used as an approximation.
Recipe © 2014 Catherine Walthers. Photo © 2014 Alison Shaw. All rights reserved.
---
Recipe Testers' Reviews
I was already a big fan of kale salads, but this raw kale salad really checks all the boxes for me. I loved the combination and colors of the vegetables and the dressing was the perfect complement for the kale greens. Massaging the kale with the olive oil and salt took a little over 4 minutes, but it was the last of this season's kale from the garden and was a little tougher than what one would have bought at the store. The greens didn't seem too wet, so there was no need to blot it with paper towel. The dressing whisks together very quickly in just a couple of minutes, and I added just a pinch more salt than I'd added in the beginning. Next time, I might not add this, as the kale had been seasoned at the beginning, and I did notice a slightly salty taste. Just before serving, I sprinkled the salad with toasted black sesame seeds, as that is what I had on hand. I opted not to use the arame seaweed but one day will be brave enough to try it. The family raved, and there was just enough salad left over for me to take for lunch the next day. The kale had not wilted nor had the salad become soggy. I will be making this recipe on a regular basis, as it was a big hit, and it's very good for you. I missed the bite of onion in the salad so will probably add a sweet onion next time.
Just looking at this raw kale salad makes me feel healthy and virtuous. It's a beautiful combination of fresh flavors and crunchy texture, and it was easy to put together. There's a lot left to the imagination in determining the quantities of ingredients for the recipe. I used radishes as I think they add a beautiful color as well as crunch. Definitely massage the kale, as that is what takes it from leaves to tender delicious salad greens. We dressed the salad that was to be eaten immediately and stored the leftovers separate from the dressing. Admittedly, I didn't care for the dressing, as I'm not a fan of tahini, but my tasters liked it, and I easily substituted the non-tahini dressing variation for myself. The leftover salad was still quite good and crunchy the next day. Suffice to say that despite the cutting and chopping, this is a simple recipe that can be thrown together easily.