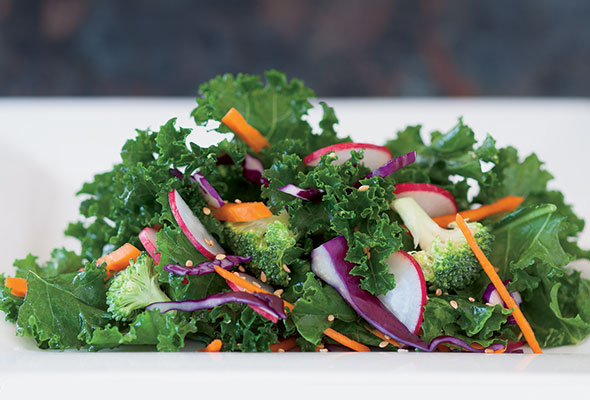 This raw kale salad could be one of the most health-packed salads I've ever made, and that's saying a lot. It's also delicious as well as colorfully appealing.–Catherine Walters
LC Sexy Salad Note
Hey, raw kale is sexy, right? Because not only is it one of the most sulfurous-containing greens around (c'mon, soooo sexy!), it's actually really quite lovely when the leaves are simply massaged with oil and become just a touch relaxed and limp (uh, maybe sorta sexy?). As for the seaweed in this raw kale salad recipe [Editor's Note: Please don't tell David. We're hoping he doesn't notice.], the author of this recipe reassures, "Don't be intimidated. It's very mild tasting and full of iron and calcium." Still, if you'd rather not venture to the seaweed aisle in the grocery store, we understand. No pressure. But hey, perhaps next time?
Raw Kale Salad
Quick Glance
15 M
15 M

Serves 4 to 6
Print Recipe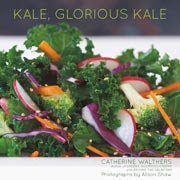 Ingredients
For the kale salad

4 cups very roughly chopped kale

1 tablespoon extra-virgin olive oil

2 pinches sea salt

2 cups small broccoli florets (optional)

1 large carrot, peeled and cut into matchsticks or shredded

2 cups red cabbage, sliced as thinly as you can

4 red radishes, sliced thinly and then cut into half-moons, or 1 daikon radish, peeled and cut into matchsticks

1/2 cup dried arame seaweed (optional)

2 tablespoons sesame seeds, toasted

For the dressing

2 tablespoons fresh lemon juice

2 tablespoons tahini

2 teaspoons pure maple syrup

1/2 teaspoon very finely chopped fresh garlic

4 tablespoons extra-virgin olive oil

2 teaspoons soy sauce (optional)

1 tablespoon water

Sea salt
Directions
Make the kale salad

1. Rinse and dry the kale. Rip or cut the leaves from the stalk into bite-size pieces, discarding the stalk or reserving it for another use. Toss the kale in a large bowl. Sprinkle with the olive oil and salt. Using your hands, massage the kale for 2 to 3 minutes, until the kale is glistening. (If it seems too oily, use a paper towel to blot up some of the moisture.)

2. Mix in the broccoli, if using, carrot, cabbage, and radishes.

3. If using the arame, place it in a small bowl and cover with 1 cup hot water. Let it soak while you make the dressing, then drain and pat it dry with a paper towel. Cut the long strands into bite-size pieces and toss into the salad.

Make the dressing

4. Whisk together the lemon juice, tahini, maple syrup, garlic, olive oil, soy sauce, if using, water, and salt to taste in a small bowl. Add additional water if it's too thick. Try a bit of the salad in a small bowl with the dressing to see if you need to make any adjustments.

Assemble the salad

5. Just before serving, dress the salad and toss. (You may not need all the dressing.) Sprinkle with the sesame seeds.
T-shirt Variation
Raw Kale Salad Recipe, Hold The Tahini
If tahini—a thick paste made from ground sesame seeds—is unavailable, add 2 additional tablespoons olive oil to the dressing and omit the water.


Raw Kale Salad Recipe © 2014 Catherine Walters. Photo © 2014 Alison Shaw. All rights reserved. All recipes and photos used with permission of the publisher.
If you make this recipe, snap a photo and hashtag it #LeitesCulinaria. We'd love to see your creations on Instagram, Facebook, and Twitter.