Thanksgiving TV scenes lists some of the very best episodes from the screen throughout recent decades that capture the humor, dysfunction, and, yes, the happiness of a Thanksgiving with family.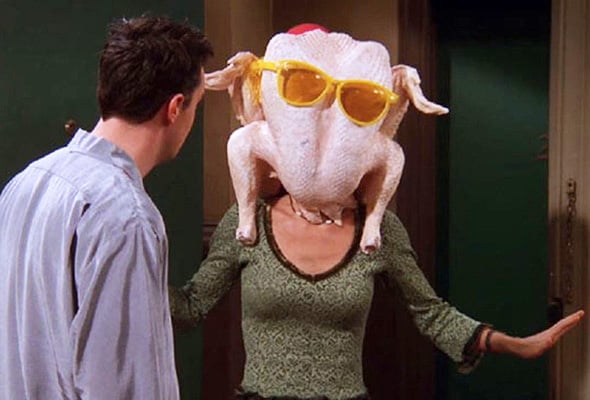 We know. We know. You've already been binging on Netflix, Hulu, Amazon Prime, YouTube, and every other conceivable source of animated escape in unholy and unprecedented fashion the last eight months. But anything worth doing is worth doing in excess. So regardless of whether you've been sequestered at home with family for the better part of the year or are missing them beyond words this Thanksgiving, maybe what you need to be reminded of are the quirks and humor that play into everyone's Thanksgiving. Because by seeing the dysfunction in someone else's family, perhaps you'll end up having more appreciation for the unique and familiar kind of crazy that only your family can muster. That's something special for which we all can give thanks. —Renee Schettler, Jenny Latreille, and Carol Anne Grady
Everybody Loves Raymond
Debra keeps dropping the damn turkey.
This is Us
"Wake up, baby. It's Turkey Day!" That's how an overly exuberant Randall wakes his wife Beth before he proceeds to drag everyone else out of bed for his favorite day of the year.
The Simpsons
Wow. Where to even begin? How about when everyone migrates from the dining table to the couch in front of the football game? Or when everyone's favorite pointy-haired boy makes cranberry sauce à la Bart.
What's Cooking?
There's no one scene that we're particularly enamored with in this laugh-out-loud Thanksgiving comedy that takes us through the vantage of four different families and their dramatically different approaches to Thanksgiving. Just gonna have to watch the entire thing.
Friends
There are, admittedly, lots of memorable Friends Thanksgiving moments. Joey cavorting in Phoebe's maternity pants comes to mind. Though we're partial to the time Monica danced for Chandler with a turkey on her head.
Funny People
The rambling toast delivered by Adam Sandler feels more like a commencement address than it does a toast. But just as poignant and filled with advice. And, natch, a touch of silliness.
A Charlie Brown Thanksgiving
Not certain we need to say anything other than if you haven't experienced Snoopy and the gang tossing together Thanksgiving dinner in recent years, it's time.
Rocky
Don't tell us you'd forgotten that Rocky and Adrian had their painfully awkward yet crushingly sentimental first date on Thanksgiving? (If you had, stop everything and watch the entire movie, including the part where Paulie pushes Adrian and Rocky together by literally shoving the Thanksgiving turkey out the back door.)
The Last Waltz
For music buffs, this Martin Scorsese documentary shadows the farewell concert from the Canadian-American rock group The Band on Thanksgiving Day, including performances by Eric Clapton, Joni Mitchell, and Neil Young.
All in the Family
It'd be easy to assume that you know how Archie Bunker would explain Thanksgiving's beginnings. We're willing to bet that you don't. (And yes, he gets the word "dumbbell" in there.)
The Gold Rush
Charlie Chaplin, in that inimitable way of his, dishes up an old boot for Thanksgiving dinner. We love when he twirls the shoelace around his fork as though it were a strand of spaghetti.
Black-ish
Not-so-well-disguised family dynamics get called out in cringe-inducing candor in this clip from the Auntsgiving episode.
Saturday Night Live, 1975 – Paul Simon Monologue
Watching Paul Simon stomp off stage in a wobbly, misshapen turkey costume during the second episode ever of Saturday Night Live is both entertaining and cringe-inducing. Just like the very best family dinners.
Little Fockers
Sorta impossible to get the eerily funny blood-spattered turkey carving scene from Little Fockers out of your head once you've seen it.
Pieces of April
There's an undercurrent, to put it mildy, of sadness throughout this movie. Yet the naive determination on the part of the character played by the young Katie Holmes to make Thanksgiving dinner for her dysfunctional and estranged family is endearing in a very humorous way.
WKRP in Cincinnati
Only the dingbats at this small-time radio station could actually believe turkeys can fly.
Bob's Burgers – Now We're Cooking Without Gas
Year-round burger flipping makes Bob Belcher obsessive about Thanksgiving turkey. Numerous episodes throughout the seasons capture this in hilarious fashion. Our fave is in season 10, when Bob is every one of us who fully commits to cooking our little hearts out for the holidays.
The West Wing
"I love my country." Those are the words uttered by President Bartlett in response to learning there's a hotline staffed by experts to answer questions on how to safely cook a stuffed turkey in a scene from The West Wing. The entire episode arguably culminates with the arrival of live turkeys awaiting the presidential pardon.
Brokeback Mountain
This bittersweet movie launches with back-to-back Thanksgiving dinner scenes. Neither is forgettable. Things start with a tension-filled table moment between Jake Gyllenhaal's character and his father. You can be thankful this isn't the scenario at your home this year.
St. Elsewhere
Forgive the ersatz resolution and audio quality of the video. We simply appreciate that it captures a relatively serene moment from the Thursday night classic. We're talking, of course, about the unforgettable Thanksgiving benediction delivered by the ever-thoughtful Dr. Westphall.
The Blind Side
This feel-good film about family, togetherness, and thankfulness reminds us of the importance of being grateful for what we've got, especially in this turn-off-the-TV-and-say-grace Thanksgiving dinner scene.
Walk the Line
Cringe-inducing family confrontations that feel like a punch to the gut. That pretty much describes the Thanksgiving dinner to which Johnny Cash invited his father. We don't see the food, but we certainly feel the emotions. May as well watch the entire movie. Available on Hulu.
Cheers
A potluck dinner with the gang at Cheers. Diane dressed as a pilgrim. A food fight. Pretty much the entire episode is a must-see.
Home for the Holidays
While attempting to carve the turkey, a floppy-haired Robert Downey Jr. from decades ago accidentally lands the hen in an in-law's lap. Honestly? It's the mother rushing off for baking soda that we find so endearing. [Editor's Note: Some language in this scene isn't suitable for children.]
Planes, Trains and Automobiles
There isn't an actual Thanksgiving dinner scene in this film, but there is the moment at the end of the movie when Neal is finally on his way home to his wife and kids and imagines their faces—as well as the turkey and pie coming out of the oven—before he stops and goes back for his comic sidekick.
The Ice Storm, 1997
Craving something heavier and more depressing? The Ice Storm fits the bill with a brilliant ensemble cast and laden with satirical commentary of teens growing up in the early 70s.
Avalon
Anyone with siblings will recognize the ridiculous falling out that ensues when the family carves the turkey without one of the brothers present. And anyone with older relatives who like to hear themselves tell and retell the same story again and again and again will recognize the Thanksgiving dinner scene in Avalon, which simultaneously celebrates and questions the notion of a day of thanks.
The Three Stooges
Curly is in charge of stuffing the turkey in this slapstick Thanksgiving short.
The Turkey Song
If you watch no other Thanksgiving clip, you simply must sit through Adam Sandler's original performance of The Turkey Song. It is, in itself, something for which we give thanks.
Lez Bomb
Lez Bomb is a sleeper of a charmer filled with mishaps and veteran actors and coming out to your family over Thanksgiving dinner. Lighthearted enough to keep the peace while still showing profound respect for the message of tolerance and acceptance.
These scenes are but a handful of what's out there. Not seeing your fave uproarious must-watch-every-Thanksgiving scene or movie? Kindly let us know in a comment below! Wear your mask, wash your hands, stay away from large gatherings, and Happy Thanksgiving!
© 2020 LC Editors. All rights reserved. All materials used with permission.