These small batch chocolate chip cookies make just enough for two. Made with butter and brown sugar and all the usual ingredients. Because if you're anything like us, small batch is better than no batch. Sometimes much better.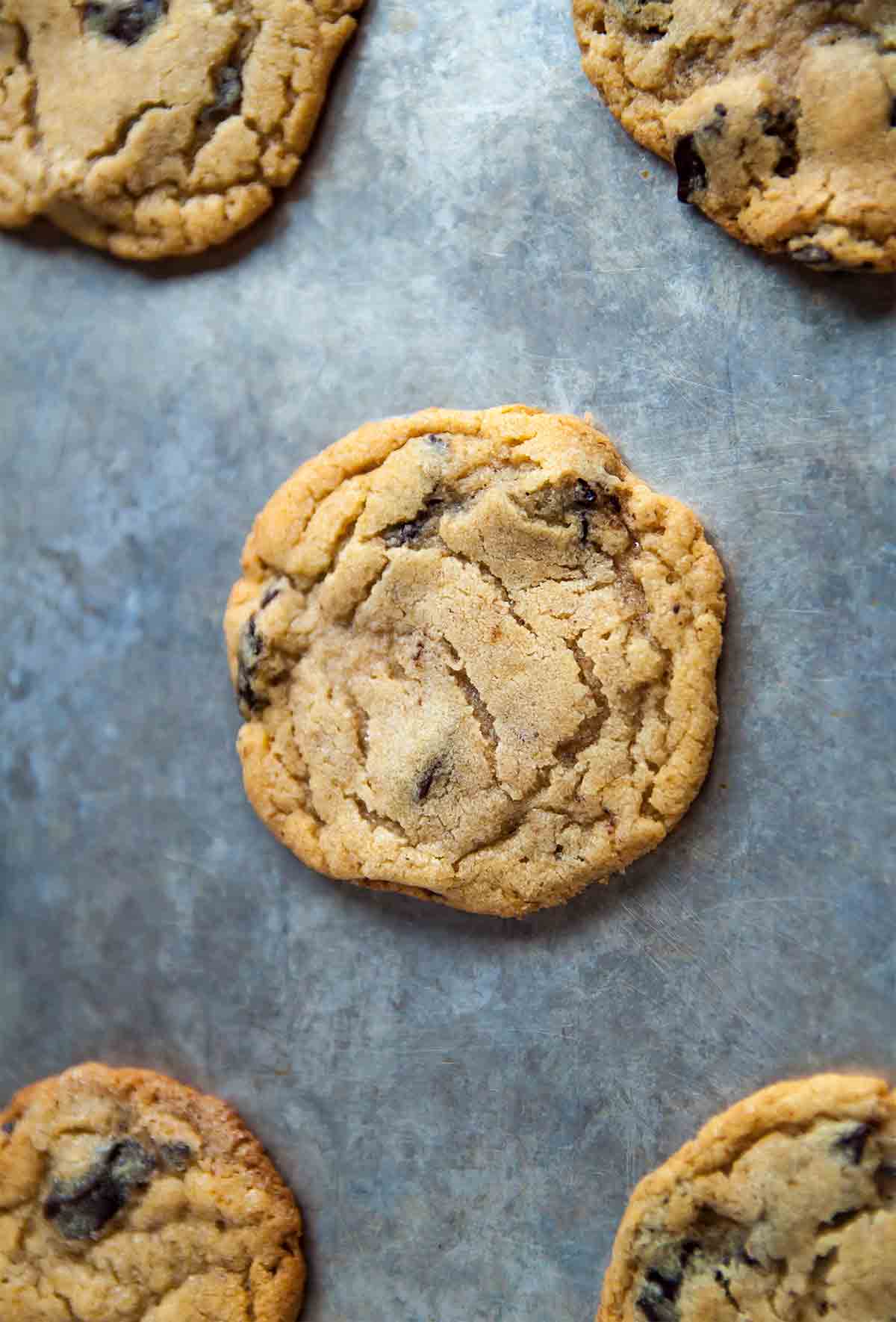 How long can I keep these small-batch chocolate-chip cookies?
Expect cookies that are slightly fragile with crisp edges and chewy centers and, when snatched straight off the baking sheet while warm from the oven, are unabashedly gooey in the center in the loveliest possible way. Actually, they'll make you almost regret not baking more. Almost. The cookies are at their best when warm. As the cookies cool, they meander into cakey territory. Not that we expect the cookies to last until they're cool. Nope, not at all. 
Small Batch Chocolate Chip Cookies
Quick Glance

(1)

15 M
25 M
Makes

12
Print Recipe
Ingredients
Directions
Preheat the oven to 375°F (191°C) and line a baking sheet with parchment paper or a silicone mat.
In a medium bowl using an electric mixer on medium speed, beat the butter, shortening, brown sugar, and granulated sugar together. Beat very well, about 45 seconds. Add the egg yolk and vanilla and beat until combined.
☞

Tester tip:
You may need to occasionally scrape the sides of the bowl while mixing to incorporate all the ingredients since there's a smaller amount than usual.
In a small bowl, whisk together all the remaining ingredients, except the chocolate chips, and add this mixture in 2 batches to the butter mixture, beating until just combined. Stir in the chocolate chips.
If thin, flat, crisp-edged, almost lace-like chocolate chip cookies are desired, immediately divvy the dough into 12 equal balls or heaping tablespoons and space them evenly on the prepared baking sheet and slide them in the oven. If slightly thicker yet still not cakey chocolate chip cookies that don't spread during baking are desired, cover and refrigerate the dough until chilled through, at least 8 hours, before divvying the dough into 12 equal balls or heaping tablespoons and spacing them evenly on the prepared baking sheet and sliding them in the oven
Bake the cookies for 8 to 12 minutes. The cookies will spread somewhat during baking and may look underdone—as in pale, pale golden brown—even when fully baked. Let the cookies rest on the baking sheet for a few minutes
–they're incredibly when warm—and then carefully use a thin metal spatula to transfer them to a wire rack to cool slightly before descending upon them with your cookie craving.
Print Recipe
Recipe Testers' Reviews
I was raised on the Toll House recipe, with cookies more cakey than chewy, so it was with bated breath that I tried this recipe. But I think it's possible I'm never going back. These were delicious, and my husband devoured 5 in the first 10 minutes. The problem, for those of you who've read the recipe title, is that this was nearly half the batch. Nom. Nom.
I was drawn to this small batch chocolate chip cookie recipe because of the smaller quantity it offers. Sometimes you just want to whip up a small batch of cookies and not have to go through halving a recipe. I was delighted that the recipe was very easy and that I was able to get through the recipe so quickly.
Most of the ingredients are kitchen staples with the exception of the espresso powder. I had a little trouble finding it, but I finally did. The cookies took 12 minutes to bake, resulting in cookies that were golden brown, gooey, oozy, and chewy right out of the oven. That is the best time to eat them.
By the time the family was done raiding the goods, there were only 2 cookies left, which had cooled down completely. I found that these cookies didn't have the same "oomph" as those eaten warm. They seemed to dry out a bit and didn't have that rich taste. I would definitely give these another try. I had to bake them for 12 minutes to get a golden brown color and crisp edge.
Small Batch Chocolate Chip Cookies Recipe © 2015 Christina Lane. Photo © 2015
Christina Lane
. All rights reserved. All materials used with permission.
If you make this recipe, snap a photo and hashtag it #LeitesCulinaria. We'd love to see your creations on Instagram, Facebook, and Twitter.