LC Tipsy Cupcakes Note
First, we just have to say, WHY DID NO ONE THINK OF PUTTING RED WINE IN RED VELVET CUPCAKES UNTIL NOW?! Okay. Got that out of our system. Whew. (As an aside, when we asked that question on social media, one of our dear readers, bless her, responded,  "Actually some of us washed 'em down with red wine…does that count?" Yes! Yes it does, lovely lady!)
A question we hear a lot is can you actually taste the wine in these cupcakes? Some of us thought we could, some of us thought we couldn't. Maybe that's just the wine talking. Our only disappointment with this rich, deeply flavored chocolate cupcakes recipe is the food coloring in the ingredients list. We'd been secretly hoping the red wine contained within would somehow be sufficient to lend them a splash of racing car red. But nope. For that you'll need food coloring—natural food coloring, please and thank you. And mind you, the recipe calls for just 1/2 cup red wine. Best either be prepared to drink the rest of the bottle or buy a small bottle. (We didn't get a small bottle.)
Red Velvet Cupcakes
Quick Glance
Quick Glance
15 M
1 H, 15 M

Makes 12
Print Recipe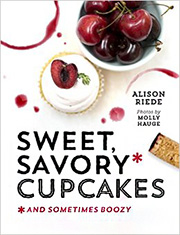 Ingredients
For the red velvet cupcakes
For the cream cheese frosting
Directions
Make the red velvet cupcakes
Preheat the oven to 350°F (177°C). Line a standard cupcake tin with 12 paper liners.
Using a stand mixer or handheld mixer on medium speed, beat the sugar and butter in a large bowl until light and fluffy, at least 2 minutes. Slowly add the eggs, 1 at a time, and mix on medium speed just until combined. Reduce the speed to low and add the vanilla extract, red wine, and food coloring.
In a separate bowl, combine both types of flours, the baking soda, salt, and cocoa powder. Slowly add the dry ingredients to the wet ingredients and mix on medium speed until smooth, about 2 minutes.
Using a spoon, divide the batter evenly among the 12 cupcake liners and bake for 18 to 20 minutes, or until a toothpick inserted into the center of a cupcake comes out clean. Let cool at least 20 minutes.
Make the cream cheese frosting
Using a stand mixer or handheld mixer on medium speed, beat the butter and cream cheese together for 3 minutes. (You want to be certain to get all the little lumps out of the cream cheese or they'll end up in your frosting.) Add the vanilla and mix on medium speed until thoroughly combined. Slowly add the confectioners' sugar while beating on low for 1 minute. Gradually increase the speed to high and beat until fluffy, about 3 minutes.
Assemble the cupcakes
Gently pipe or slather frosting onto each cooled cupcake. (The frosting is pretty sweet, so you may wish to take a lick before deciding just how much or how little you want to spread on the cupcakes.)
Print Recipe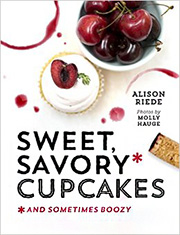 Recipe Testers Reviews
Red Velvet Cupcakes Recipe © 2015 Alison Riede. © 2015 All rights reserved. All materials used with permission.
If you make this recipe, snap a photo and hashtag it #LeitesCulinaria. We'd love to see your creations on Instagram, Facebook, and Twitter.