This is perfect. Just perfect. Right when I finally caved to friends and family and accepted their choruses of "David, it's always about you" that were being pounded into my head, I won the IACP's First Book: Julia Child Award for The New Portuguese Table. Don't get me wrong for a second: I'm utterly and totally thrilled about it. It's an amazing honor that I'll always cherish.
But come on people. How can I possibly make this about me?
I guess if I were an ordinary, self-centered, look-at-me-I'm-Sandra-Dee kind of  braggart, I could allow myself carte blanche to take hostages in the Kingdom of Moi and talk endlessly about me. But the truth is, I'm an embarrassment to my species (and my tagline), because all I was thinking about as I obsessively trawled Twitter on awards night were the people who were part of this journey. A decade is a long time to ruminate on, research, reject, pick up, reject again, pick up again, and—finally—complete a book. Along the way, a lot of people have proffered words of encouragement, a simple meal when I was traveling through Portugal, and threats involving substantial bodily harm if I didn't follow through.
So here, in no particular order, are beijinhos to many who made a difference. Read more "Okay, It's Not All About Me" »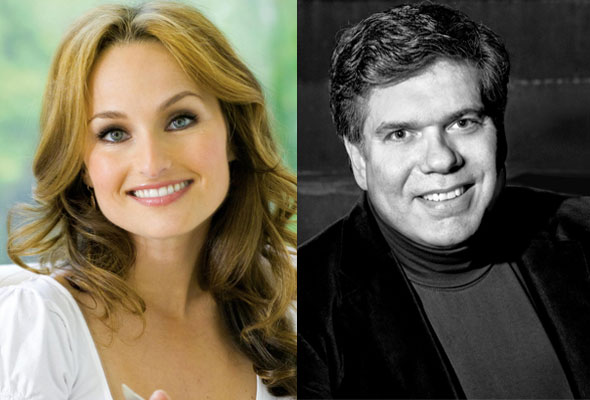 Giada De Laurentiis and I have a lot in common. We're so similar, in fact, it's highly likely we were separated at birth. Go with me on this.
1. She cooks. I cook.
2. She wrote five cookbooks. I wrote a cookbook. (And we have the same publisher, Clarkson Potter.)
3. She's regularly on The Today Show. I reminisce regularly about my appearance  on The Today Show.
4. She weighs about 114 pounds. My left thigh weighs about 114 pounds.
5. And just look at those smiles.
Uncanny, right? I know.
That's what I thought when she and I were gabbing on the phone the other day. (Okay, well it wasn't just us on the line. It was a blogger conference call into Potter's offices about her new book, Giada at Home, and five other people were also gabbing.) But, honestly—and I'm utterly, entirely certain Giada felt this—it's as if everyone else just faded away. You know how in those TV shows where lost relatives are reunited the picture suddenly gets all fuzzy around the edges? That was us. Read more "Giada and Me: Separated at Birth" »
The funny thing about fulfilling a lifelong wish is that you never think about the After Happily Ever After. As I've said before, I've been dreaming about being on The Today Show's sets since I was a teenager, long before I was a food writer, associate creative director, advertising copy writer, past life regressionist (don't ask), waiter (read: actor), college student. Don't get me wrong—it was more than I ever imagined it to be.
Ah, but what bedlam these three and a half minutes hath wrought. (Thirty seconds were shaved from my initial four minutes, hence the change in the post's title. But, hey, who's counting? I made the most of every single one of those 210 seconds.)
So, the breakdown: Renee, Cindi, The One, and I were met precisely at 7:30 a.m. by a Lexus limo that whisked us to the side door of the Today Show. Adrienne, one of NBCs pages, escorted us into the green room, where my entourage hung out while I went upstairs to the studio kitchen to prep for the segment, with Bianca Henry (food stylist extraordinaire) and Lish, her assistant. Not long after, Adrienne ushered Renee, Cindi, and The One into the studio, where we proceeded to take far too many pictures. Read more "Three and a Half Minutes of Fame" »