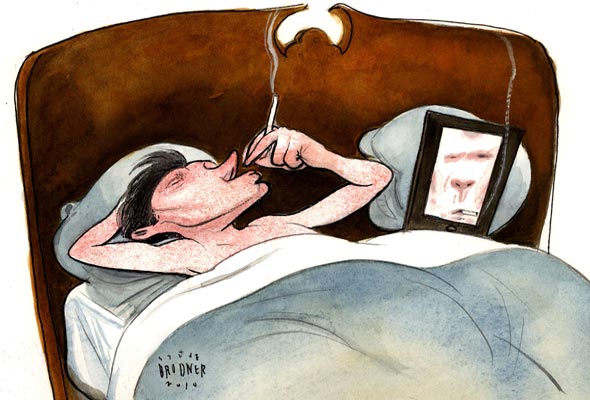 The One (Who Brings Me Love, Joy, and Happiness) likes to joke that I have a boyfriend: my Apple laptop. His comment, wrapped in a crackling tempura coating of snark, is usually lobbed my way if my surfing squashes one of our regularly scheduled activities, like betting on which people featured on "Antiques Roadshow" will fake excitement when auction estimates of their family treasures don't live up to their expectations. Although I hate to admit it, when the computer blinkers are on, it's like a stolen glance from across the room. Suddenly I'm sucked into wormhole after wormhole of technological eye candy, bewitched by the pixel, lost in the throes of m4v grandeur.
I've been hearing this you-have-a-boyfriend rant for years now, ever since I bought my first laptop in 1993. And if The One's comment is true, then my past is littered with all sorts and sizes of boy toys: the hairy brute with tats on his arms and legs (my G4 desktop tower), a dandy with a penchant for bright colors (my tangerine iMac G3), and my current fascination, the sleek, handsome, and understated silver fox (my 17-inch MacBook Pro).
But if my laptop is my boyfriend, then my iPad is definitely my lover. You know the kind—that slender iTalian in a black Armani suit who has a gun-slinger walk, is just a tad bit louche, lights your cigarette by bringing it up to his, and haunts your reverie years after the last time you tumbled out of his bed. Read more "I Have Taken a Lover, the iPad" »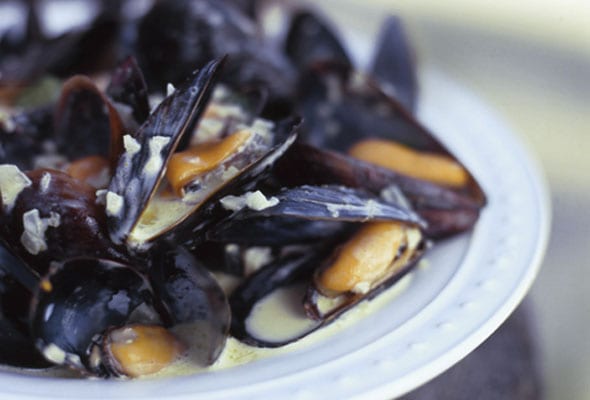 It's not my custom to contemplate mussels. In fact, I don't think about them at all, except when I see them on a menu, preferably steamed in a light white-wine broth. So on a recent trip to Nova Scotia, I was surprised to find myself so seduced and intrigued by these ancient bivalves as I followed them from a National Geographic-perfect inlet to my empty plate, in fewer than eight hours.
It began when The One and I boarded the "barge with no name," the crown jewel of the one-vessel Indian Point Marine Farms fleet, co-owned by Peter Darnell. "We tried to name her," Darnell said offhandedly, "but it didn't take." Wasn't it tempting fate to ride in an unchristened boat, I wondered. To be on the safe side, I silently baptized her Nova Lox, a tribute to my morning breakfast. Read more "Mussel Bound" »
This is perfect. Just perfect. Right when I finally caved to friends and family and accepted their choruses of "David, it's always about you" that were being pounded into my head, I won the IACP's First Book: Julia Child Award for The New Portuguese Table. Don't get me wrong for a second: I'm utterly and totally thrilled about it. It's an amazing honor that I'll always cherish.
But come on people. How can I possibly make this about me?
I guess if I were an ordinary, self-centered, look-at-me-I'm-Sandra-Dee kind of  braggart, I could allow myself carte blanche to take hostages in the Kingdom of Moi and talk endlessly about me. But the truth is, I'm an embarrassment to my species (and my tagline), because all I was thinking about as I obsessively trawled Twitter on awards night were the people who were part of this journey. A decade is a long time to ruminate on, research, reject, pick up, reject again, pick up again, and—finally—complete a book. Along the way, a lot of people have proffered words of encouragement, a simple meal when I was traveling through Portugal, and threats involving substantial bodily harm if I didn't follow through.
So here, in no particular order, are beijinhos to many who made a difference. Read more "Okay, It's Not All About Me" »