Nature may abhor a vacuum, but, apparently, it adores symmetry. On February 16, 1992, one of the people who indelibly shaped my life—my maternal grandmother—died. Feelings of security and optimism and a sense of self, now so resolute that they seem hardwired into my DNA, got their toehold in quiet afternoons cooking with her at her ancient white stove, a triple layer of cardboard wedged under one shapely leg—the stove's, not hers.
This February 16th, someone else who had an impact on my life died. It's not, mercifully, The One, a family member, or a friend. But still, my life got a little dimmer—by about 100 watts. The person: Ronald Howes, Sr.
In the early '60s, Mr. Howes invented the toy that, powered by two low-watt light bulbs, came to delight battalions of little girls—and me: Kenner's Easy-Bake Oven. Just as my grandmother found ways of shunting my breathtaking lack of athletic prowess into hours of cooking, Mr. Howes gave me an out. And an outlet. Whenever my three cousins—Barry, TJ, and Jeff—would ask me to go out and play some form of ball (whether base, foot, or basket), I had an excuse. "I'm baking cakes with Claire," I'd shout through the window. Claire, another cousin, was the official owner of a harvest gold Easy-Bake Oven. And when the inevitable and expected ridicule was heaped on me, I would bake with a fury. Read more "A Light Forever Dimmed" »
As you know, I'm a thoroughbred Portagee (a nickname given unto my people, derogatory for sure). But I've embraced my inner pork chop—another needling dig—and have no qualms about who I am, what I'm called, and what I like. And one of the things I adore are bolinhos de bacalhau, or salt cod fritters. It would be considered cultural treason if I didn't love these little fried nuggets of salt cod and potato goldenness. What's not to love? We Portuguese have been marrying the two ingredients for centuries: Bacalhau à Gomes de Sá (casserole of cod, sliced potatoes, onions, hard-boiled eggs, and olives), Bacalhau à Brás (scrambled eggs encasing shoestring potatoes and flakes of cod), Bacalhau Cozido com Todos (basically, boiled cod, potatoes, and vegetables), and—well, you get the idea.
So when The One and I recently went to Allium in Great Barrington, MA, and I took a look at the menu, for a moment everything around me went pleasantly fuzzy. Kind of like looking at the world through the wrong end of a smudgy telescope. There, at the top of the appetizer list, was bolinhos de bacalhau with harrisa aïoli. My countrymen were relying upon me, I told myself. So what if harrisa was a North African condiment? The real balls of the dish (pun intended) were the fritters. It was my national duty, being a citizen of Portugal, to order them. Read more "Spanish Cod Fritters" »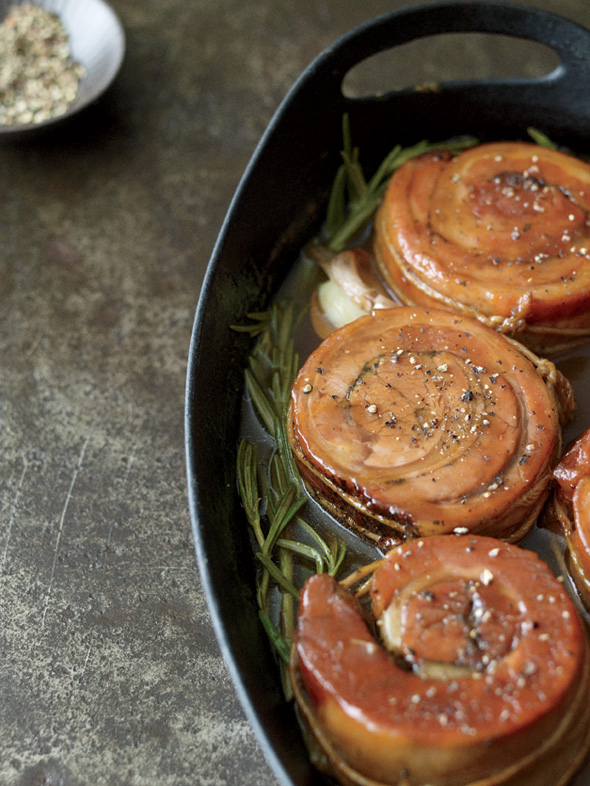 The One's birthday extravaganza went off without a hitch. And I take back everything I said in my last post. The One overcame his Luddite ways and actually picked up the remote to fiddle with his new stereo, the crowds along Fifth Avenue were thinner than usual, the night wasn't terribly cold, and the decorations were better than usual. (The ten-ton Norway spruce at Rockefeller Center was sparkling with predominantly green lights to symbolize its energy-saving feature: 30,000 LED bulbs, which were partially powered by solar panels atop of the Rock.) Read more "We Heart Hearth" »